9 Perfect Coloring And Activity Books For 4/20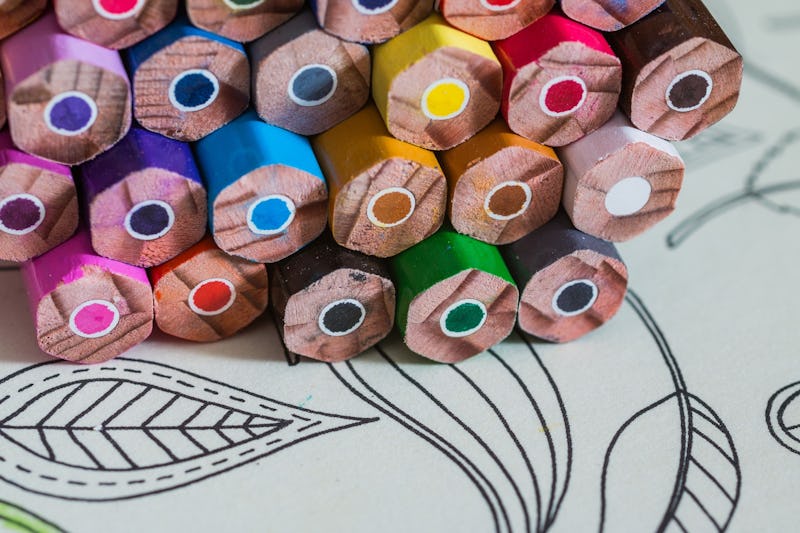 Every smoker's favorite day of the year is finally upon us, and while pot heads everywhere will be celebrating by sharing a peace pipe or two, there are so many awesome stoner-friendly activities to do in between blunts. If you'll be celebrating this year, you can plan an outdoor activity, retreat to the kitchen for some very special baking projects, or get lost in any of these perfect coloring and activity books for 4/20. A day filled with getting toned and tapping into your creativity — what could be better than that?
Since it's popularization in the counter culture, 4/20 has become an annual celebration for stoners everywhere, a sort of "National Weed Day." Usually, it's a day for pot heads to gather together and bask in the glory of marijuana in all of its forms under the warm April skies. It's the perfect occasion to plan a weed-infused picnic, smoke and sun tan in the back yard, or find another fun outdoor adventure, but 4/20 is also the perfect excuse to get stoned and unleash your inner artist.
From musicians to painters to writers, artists throughout time have praised the benefits of marijuana on their creative processes. Whether it helps lower inhibitions or heighten a sense of artistic freedom, there seems to be no doubt that smoking affects creativity. Embrace the effects and spend 4/20 with one of these nine perfect coloring and activity books every stoner will love.
This stoner-friendly coloring book may only have 13 images, it is packed with enough fun to keep you entertained for hours. Original drawings by Gem Ginger feature beautiful women, marijuana in its many forms, and even bonus material including word searches and logic games.
Page after page of 36 psychedelic illustrations from nine different artists will delight stoners with a penchant for coloring and a love of all things funky in The Stoner's Coloring Book. A great book for a day of getting lost in beautiful and intricate illustrations, this is the perfect book for 4/20.
3. The Portlandia Activity Book by Fred Armisen, Carrie Brownstien, Jonathan Krisel, and Sam Riley
Instead of binge watching Portlandia on Netflix on 4/20, get outside and bring the show's official activity book with you. Filled with hilarious activities like "Terrarium Foraging" and "How to Crowdfund Your Baby," every stoner will find something to do in The Portlandia Activity Book.
If you want to spend your 4/20 like I used to in college, Raw Crafts is the perfect book to keep you company. Including ideas and instructions for crafts and jewelry made out of hemp, marijuana's other half, there's plenty to keep your hands busy all day.
You're going to want to break out the bright crayons for this book, because High Art's images, which range from mushrooms to pot leaves to cassette tapes, require some major colors. A great balance of complex designs and simple illustration, this is a great book for artists of every level.
Now you can learn to tie-dye your own clothes with the help of this easy-to-follow book. An age old stoner tradition with a modern twist, Tie-Dye can teach you how to turn all your boring white t-shirts into fun tops perfect for 4/20.
Just in time for 4/20 and the start of festival season, Flower Crowns will teach you how to make beautiful hair accessories. Trust me, it's easy enough to do in between joints.
There's no higher authority on stoners than the geniuses behind High Times magazine. They put their expert knowledge to work in their official activity book, which includes puzzles, poetry, weedoku, and more than enough fun activities to keep you busy long past 4/20.
Creativity isn't just limited to arts and crafts — writing more than counts. If you're more of a wordsmith than a artist, you'll get a blast out of this Adult Mad Libs book featuring 21 hilarious pages of fill in the blank exclusively about Mary Jane.
Images: Pixabay