Marina Mander Q&A: Words "Unlock Secrets"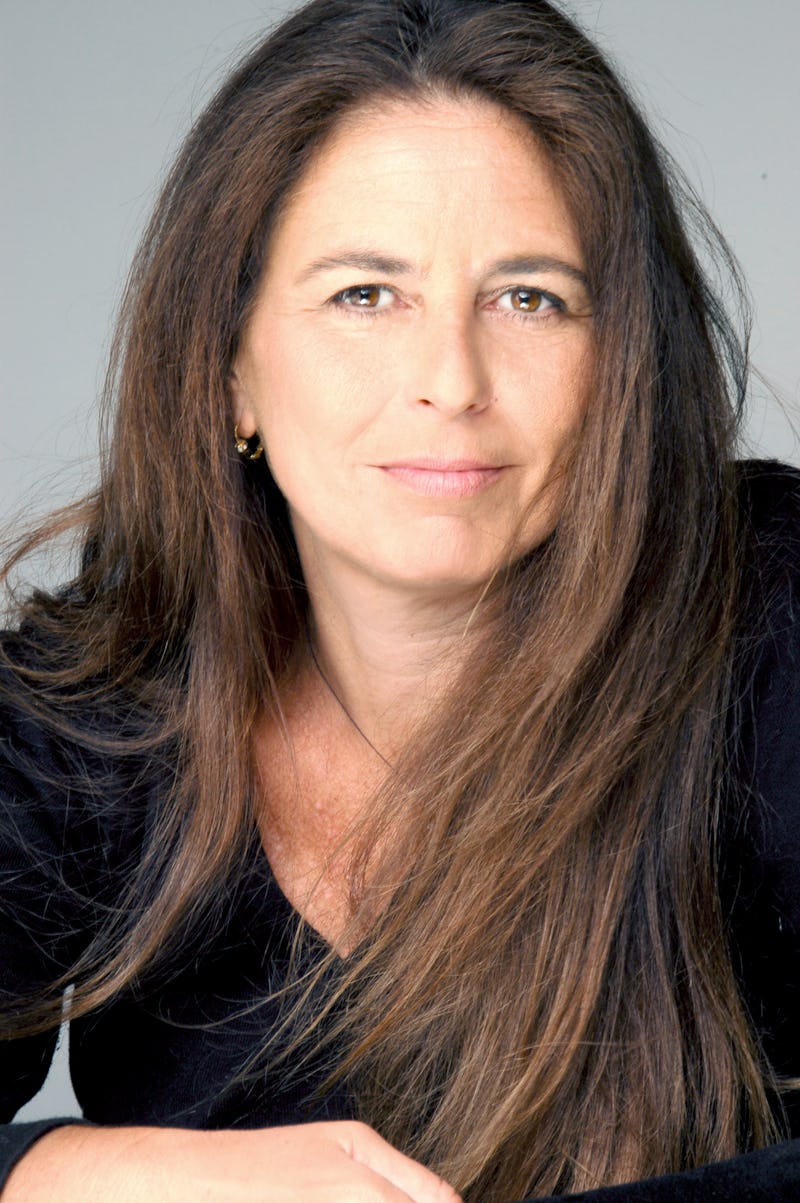 One February morning, fatherless Luca gets himself ready for school. His mom hasn't woken up yet, but he assumes it's because of her allergy medication, or the cold, or just general malaise. But when Luca gets home from school, she finds her still motionless and unresponsive. Luca, a curious and precocious kid who dreads above all else being identified as an orphan, decides to pretend to the world that his mother is still alive.
Marina Mander's novel The First True Lie (Hogarth) is the physically slim but emotionally weighty story of Luca's rapid-fire maturation and struggle with devastating circumstances. But Mander's book isn't depressing or upsetting. Luca is a character with seemingly limitless cleverness and insight. He forages for his survival and people-watches at the grocery store, assessing strangers' quirks based on what items they select. With his cat, Blue, as his confidant, Luca imagines going on adventures in space. He manages to support himself for a while, but as his mother's body decomposes, the smell becomes hard to ignore. Resilient and terrified of orphanages, Luca insists that he must keep the truth hidden. "The stories you invent are your personal lullabies," he says, finding comfort in story-telling.
Mander told us how she constructed Luca's narrative and voice, as well as what story-telling provides her.
BUSTLE: I've never read a character like Luca before. Did the book start with an idea of him, or of the plot?
MARINA MANDER: Everything I write starts from a theme, a fact, or a recurring thought that enlightens my imagination. The First True Lie was born just by thinking about a sad but true paradox of metropolitan life: there are plenty of people around, and yet you don't even know your neighbors. If you don't have relatives or friends or somebody to count on, you can feel lost and scared in a big city. Beyond the facade of normality, every drama can take place and nobody realizes it … people found dead in their apartments after day and days … they are usually aged ones, but such a terrible misfortune could befall also a single mother living alone with her little boy and a little cat. Who knows? Transforming this social issue into Luca's story was quite spontaneous: choosing a young boy's innocent perspective, a way to underline the bad logic of our lives creating at the same time a strong empathy with the reader. As transactional analysis says, we all have a parent, an adult, and a child in our ego-states, no matter how old we are. That's why, I think, Luca's voice can touch almost everybody's heart.
What's your process like?
Usually I start thinking about the "ifs" and "hows" that make a little seed grow. When I get to a rough idea of the whole story, I begin to write it. If I feel involved with my characters — loving or hating them, never mind — and words come out easily, it means that maybe I'm not totally wasting my time. Trial and error... "All I know is that I know nothing" as the philosopher said. When the novel is finished, I revise it step by step, again and again, this is the stage I love most: playing with words.
Luca spins tale after tale after tale, and the lies build that way. Did you struggle to make him credible?
I was really writing following Luca's thinking and feelings. I was there with him trying to invent, page after page, a way to face our terrible situation. More than a story-teller, I felt like a schoolmate or his cat Blue. We have read together Roald Dahl's Big Friendly Giant, we have attended Tom Sawyer's funeral, we have seen the kind of terrible movies where children are abandoned in horrible children's home, we know the same fairy tales, we share the same fears. Luca doesn't want to be put in an orphanage, he doesn't want to leave his beloved pet, these are the two simple but credible motivations that make Luca act as he does.
Some years ago I went to Nepal to write a report about child trafficking. I heard abandoned children praying to me with their eyes, sparkling with emotion, "Please, take me, take me!"
Believe me, nobody wants to be imprisoned in a institution! As Luca says, "It's better to use imagination, it's better to build your first true lie."
Luca's story is similar to Julien's in a French movie, Au Revior Les Enfants. Have you seen it?
I saw it many years ago at the Venice Biennale, but I've never thought about that movie again, until you just mentioned it. But it's true, Julien is a very smart boy, he loves books, he must keep a dangerous secret. There are some analogies between the two characters and the way they struggle to survive in that strange no-man's-land when you're no more a child but not yet an adult. And, most of all, not grown up enough to understand and accept the brutality of facts.
What's fun about writing young male characters?
Writing male characters is very interesting; most of my main characters are male. It's a way not to be overwhelmed by your own emotions, a trick to create a sort of distance between you and your character that allows you to be more creative and free. If the character is young, even better: I go back to my childhood, a happy period of my life that I remember very clearly.
In my last novel Nessundorma the main character was a twenty-something-years-old guy — somebody told me that he looks like Luca ten years after. I was so pleased by this comment!
What's hard?
Trying to be as faithful to my memories as I could, to avoid the risk of softening the facts. When you're are a child, if you're happy, you're very happy, but when you're sad, sadness seems to be a never-ending nightmare. Loneliness is a black hole, bad and good feelings are more vivid, not yet filtered by the compromises of adultness.
Words give Luca a sense of meaning and control. Through his story-telling, he's able to be self-sufficient. What do words provide you?
Exactly the same sense. As Luca says, "Words in a row make stories. You put things in a row and make a story out of it. Stories put things in their places. Then you're more relaxed. The stories you invent are your personal lullabies. Even when they're horrible they don't scare you anymore because you're the one who invented them."
I was very passionate about reading and writing very early. Like Luca, I used to study the dictionary like a book full of secrets: the mystery of words, the key to enter that peculiar adult world.
"Words are useful to understand what others are saying, the ones who think you can't understand."
Words are a powerful means to tell the truth or to tell lies, but as the great Italian poetess Alda Merini wrote: "Those who run out of lies cannot be saved." Another sad but true paradox.
Image: Ilario Butti