Here's How To Win A Copy Of The 'Illuminae' Sequel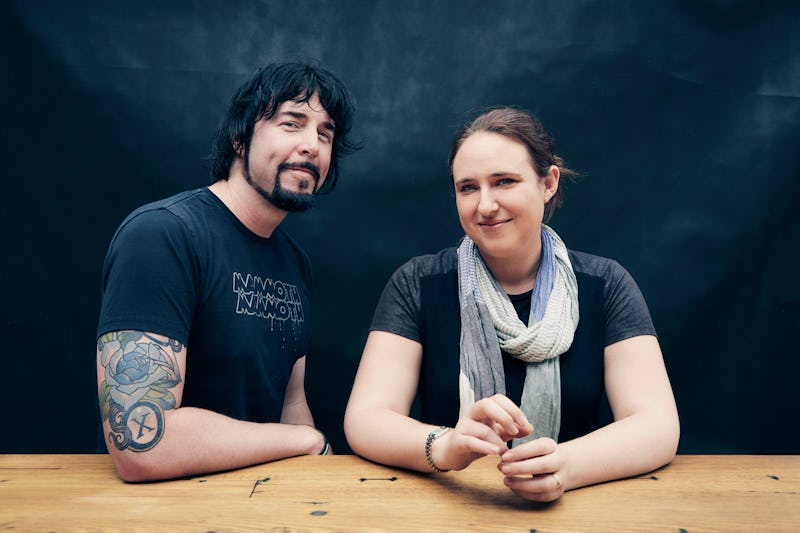 Writing one book — let alone a trilogy — with a friend sounds like a surefire way to ruin both the novel and the friendship. But Illuminae co-authors, Jay Kristoff and Amie Kaufman, proved it can be done when they teamed up to pen one of the most mind-blowing novels of 2015.
"We'd get together for brunch and talk shop every month or so with no intention of ever writing together," the Australian authors tell Bustle. At one of these brunch dates, Kaufman told Kristoff about a dream she'd had about a novel written entirely in email format. While most authors would balk at the idea of writing an entire trilogy in emails, these two embraced the idea as an intoxicating challenge.
Jay Kristoff and Amie Kaufman would meet at local pubs, and, over fries and drinks, they began to write what would become a three-book space-opera about a pair of teens named Kady and Ezra who are caught in the middle of an intergalactic war between feuding mega-corporations. Told through a dossier of emails, medical records, military files, IMs, search databases, interviews, posters, and video footage, and narrated by a compromised Artificial Intelligence program named AIDAN, Illuminae is an exhilarating, unforgettable story about two teenagers' quest to uncover the truth about their planet's demise and become the heroes their galaxy needs.
"After we decided AIDAN would become a narrator, we understood how wild we could make these files," the authors say. "Having AIDAN's madness influence the way the files read and would be read was our eureka moment."
The two Aussies divide their writing along character lines, and work and re-work each other's passages until they're satisfied. "We're constantly editing and discussing the other's work," they say. "So by the end, the lines become very blurred. It's challenging and time-consuming and an amazing amount of fun."
Whatever their process, it works: Illuminae is heart-pounding, unforgettable fun, jam-packed with just enough adventure, romance, and sci-fi elements to span multiple genres and entice all different kinds of readers. The novel received rave reviews from fans and critics alike (Kirkus and Publishers Weekly both gave it Starred Reviews), and it caught the attention of Hollywood. In fact, Brad Pitt plans to adapt The Illuminee Files series for the big screen.
The second installment in the trilogy, Gemina , will hit bookstores everywhere on October 18, 2016. The second in the series is both a sequel and a companion novel; Kaufman and Kristoff will introduce two new heroes, Hanna and Nik. Don't worry, though, Kristoff assures fans that Kady and Ezra will still very much be part of the action.
Until October, fans of the series can get their Illuminae fix at one of Kaufman and Kristoff's 12 U.S. tour dates.
The authors also exclusively announced to Bustle a very special competition taking place on their book tour. Fans who attend one of Kaufman and Kristoff's book tour dates will have the opportunity win an early copy of Gemina. The authors will be giving away two Advanced Reader Copies at every tour stop, so drop in for the chance to read the sequel before any of your friends. Just don't spoil it for the rest of us, OK?
Images: Random House