17 Unique Ways To Eat Garlic Bread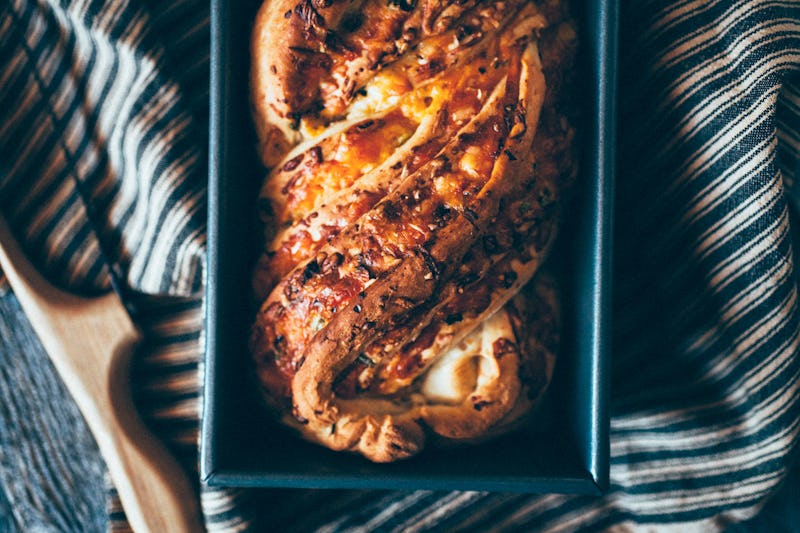 The only thing better than a bread basket is a bread basket filled with garlic bread — this most everyone knows to be true. But why limit yourself to the average variety when there are so many unique ways to eat garlic bread? Put cheese on it. Make it into knots. Add some herbs. Really, there's no limit to what you can do.
So, what exactly is it that makes garlic bread so amazing? It might be because it's a food you can make in a toaster. Or maybe it's simply because it's a food that pairs well with cheese, because really, cheese makes everything better. Or maybe it's simply just because bread is an unsung hero, always there for you whether you're waiting for a fancy dinner or simply at a chain restaurant. Let's be real: anyone who says they don't have a soft, flaky spot for those garlicky bread sticks is a downright liar.
So, the next time you're whipping up a nice meal or when you simply need to fill a desire for something soft, garlicky, and wholly irresistible, let these 17 garlic bread recipes lead the way. Not even the threat of garlic breath can hold you back.
1. Easy Cheese Bomb Bread
Melty mozzarella takes garlic bread to the the next level. Averie Cooks' cheese bomb bread is insanely addictive.
2. Garlic Cheese Bread
When in doubt, is there anything better than bread covered in garlic and cheese? Savory Sweet Life shows how to make basic even better.
3. Make-Ahead Crispy Garlic Bread
As it turns out, freezing garlic-and-butter-marinated bread results in even more delicious garlic bread, as Mel's Kitchen Cafe demonstrates. Just pop it in the oven when you're ready to enjoy it.
4. One-Hour Garlic Knots
You don't have to go to your local pizzeria for classic garlic knots. A Spicy Perspective makes them at home, slathering them in an irresistible garlic herb butter.
5. Garlic Bread Croissants
Forget the pan au chocolate. Damn Delicious' buttery, garlicky croissants are the peak of this French pastry.
6. Black Garlic Brioche Rolls
Who knew that brioche and garlic could be such an incredible combination? Domestic Fits uses black garlic because of its slightly sweet flavor.
7. Twisted Cheese And Scallion Bread
Once you get the hang of it, making twisted bread is a cinch. The Crepes of Wrath uses cheddar cheese for its sharpness.
8. Double Garlic Herb Garlic Bread
Don't be frugal with your garlic. The Kitchn shows that a heavy-handed serving of both garlic and herbs like parsley, basil, and oregano does wonders.
9. Garlic Herb Flatbread
For the perfect complement to a curry dish, try out Minimalist Baker's flatbread for a subtle garlic flavor.
10. One-Hour Soft Breadsticks
Sprinkle these basic breadsticks by Averie Cooks with plenty of garlic and herbs and you're set for the most amazing bread basket ever.
11. Garlic Knots
Forget plain dinner rolls — Mel's Kitchen Cafe transforms pre-made bread into something even better.
12. Focaccia Bread With Roasted Garlic And Olives
For a Mediterranean touch, A Spicy Perspective whips up an olive oil-brushed loaf of focaccia. Smashed roasted garlic delivers a sharp flavor.
13. Mini Garlic Monkey Bread
The best part about monkey bread is pulling it apart and eating it bit by bit — and even better, Damn Delicious makes it in just 10 minutes.
14. Spaghetti Bolognese On Crispy Garlic Bread Boats
Get ready for the ultimate carb indulgence: I Am A Food Blog proves that garlic bread should be served underneath pasta, not alongside it.
15. Cheesy Pull-Apart Bread
Scallions, garlic, and red pepper flakes are all a part of this game-changing bread by The Crepes of Wrath. Marvel at it and then devour it.
16. Rustic Rosemary Garlic Bread
Rosemary adds a fragrant touch to this fluffy garlic bread by Good Life Eats.
17. Cheese-Stuffed Bread Sticks
The only way to make bread sticks even better? Fill 'em with cheese. The Kitchn leads the way.
Images: The Crepes of Wrath (3); Averie Cooks (2); Savory Sweet Life; Mel's Kitchen Cafe (2); A Spicy Perspective (2); Damn Delicious (2); Domestic Fits (2); The Kitchn (2); Minimalist Baker; I Am A Food Blog; Good Life Eats