8 Easy Recipes For The End Of Passover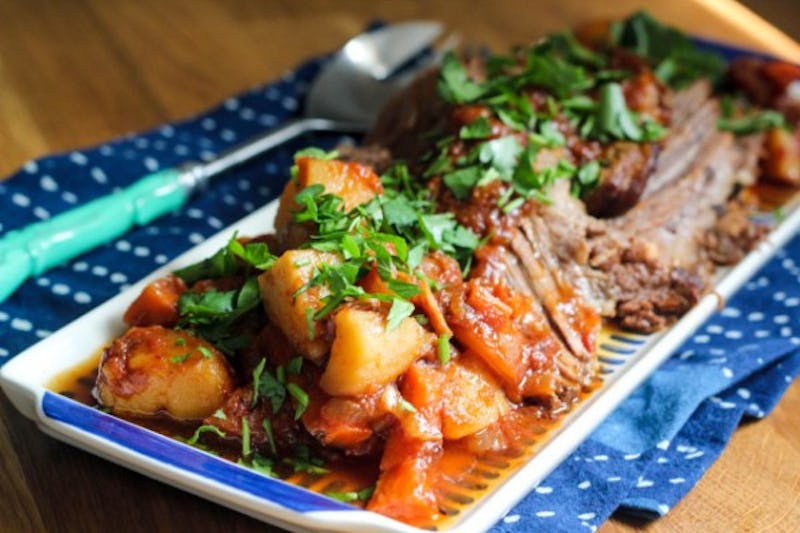 When it comes time to cook a big meal for your friends and family, most people get stressed out. Something always goes wrong. Passover started on April 22 and if you are starting to feel the heat, don't worry. This roundup of easy Passover food ideas will help you prepare a tasty meal even if you got stuck hosting again and you really don't have time for it. Or maybe you're not hosting but you still need to bring a dish to pass. The affordable and quick side dishes below would be perfect additions to the big meal.
All of these recipes require no more than 30 minutes of hands-on time and many can be prepared hours in advance so that there will be no last-minute disasters... such as my bone-dry, accidentally-boiled pork roast from last Fourth of July.
After all, Passover is essentially a celebration of freedom inspired by the exodus of the Jews from Egypt. Don't get stuck in the kitchen for hours — go celebrate! Each of these recipes combines minimum effort with maximum flavor. Enjoy!
Quick Tip: If you have a slow cooker but no oven, or vice versa, use this guide to converting slow cooker times to oven cooking times. Keep in mind that roasting something at 200 degrees in your oven is often the same as putting it in your slow cooker on low. So, if a recipe calls for you to roast a brisket in the oven at 200 degrees for hours, you could also put the brisket in your slow cooker on low for eight hours and achieve similar results.
Entrees
1. Classic Passover Brisket
This melt-in-your-mouth, make-ahead brisket is a classic that you can make year round. What's better than taking 20 minutes to add ingredients to a roasting pan (or slow cooker) and coming home eight hours later to slow-roasted perfection? For a twist to the traditional brisket, try this coffee-braised brisket with potatoes and carrots.
2. Short Rib Stew
Surprise your family with this delectable version of short ribs that probably hasn't been featured at the table before. All it takes is 20 minutes of trimming the meat and chopping some veggies, then seven hours low and slow for falling-off-the-bone short rib stew.
3. Carne Asada
What? A traditional Latin American dish at seder? Absolutely. Traditionally made with flank or skirt steak, then rubbed with fresh herbs and spices and slow-roasted, carne asada is a great way to shake things up. This recipe from 5 Dollar Dinners is affordable, to boot!
Side Dishes
4. Charoset
This is a Passover favorite, but there are tons of variations, and all of them are quick. Try this version with tart apples and fresh ginger, or go for this ultra-simple Iraqi charoset that only requires two ingredients.
5. Broiled or Roasted Asparagus
Seriously, it doesn't get easier than this roasted asparagus. Try broiling it or grilling it, too.
6. Grilled Zucchini with Lemon Salt
Healthy, quick, and the fresh lemon zest mixed with sea salt is a brilliant final touch to this simple grilled zucchini.
Desserts
7. Matzo Bark with Dark Chocolate, Cranberry, and Orange
No oven? No problem. Five ingredients, wax paper, and a microwave is all you need to make dark chocolate matzo bark.
8. Toffee Matzo Crunch
Not so different from matzo bark, but with a layer of crunchy, sweet toffee and pistachios for a salty kick, this matzo crunch recipe would be a refreshingly new addition to the traditional dessert offerings.
Images: What Jew Wanna Eat; Joy of Kosher with Jamie Geller; Cara, Phoebe/Big Girls Small Kitchen; The Kitchn; The Kitchn; Nom Nom Paleo; Jelly Toast; Tori Avey