Will Rihanna Puma Fur Slides Be Restocked?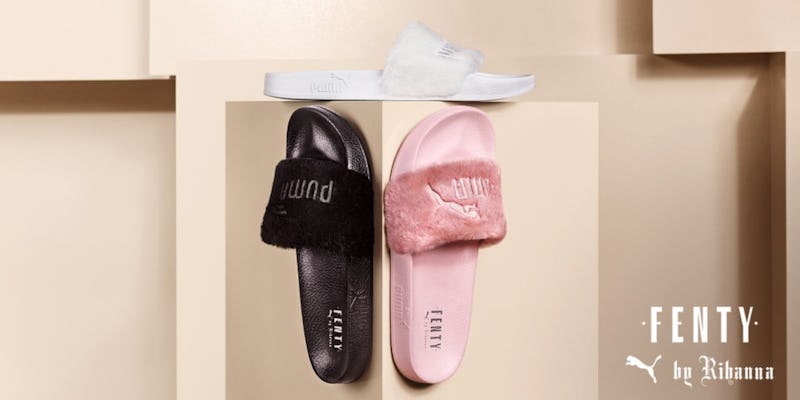 Life is full of so many highs and lows, especially when it comes to fashion. Or, more specifically, when it comes come to limited edition, highly anticipated fashion collabos. It was a high high when Rihanna's Puma Fur Slides, her third shoe following the sold-out Creeper and the fashion-forward trainers, went on sale online and in stores at 10 a.m. These glam shower shoes, which come in black, white, and a shell shade that looked like pink in some lighting and nude in others, are also know as "Leadcats" and are priced at $80. Some fans, shoppers, fashion types, and customers managed to snag the shoes yet others did not. The sellout and inability to make a purchase lead to some low lows for stylish athleisure lovers.
Of course, the RiRi Navy and beyond made a mad dash to shop and nearly broke the Internet trying to scoop up the turnt footwear that RiRi designed "with comfort and style in mind, having to travel extensively as part of her busy lifestyle," per the press release announcing the shoes. Now that the Rihanna Puma Fur Slides have launched and sold out, the burning question is this: Will they be restocked?
Here's the deal.
We don't know for sure if there will be a restock and when. Puma is not forthcoming with that information online or via social media just yet. Plus, the shoes just landed. The brand needs a minute to assess supply and demand.
What we do know is that Rihanna's Creepers, which I still desire in an unhealthy way, and Fenty Trainers sold out quickly. There is no concrete info on those being restocked, which further ups their limited edition and much-coveted status. They are hard to get and are not plentiful. Sadly, that could be the case for the Leadcat Fur Slides. The brand may purposely want them to maintain that hard-to-obtain status.
Bustle emailed the Puma PR team for information and details about a Fur Slides restock. We'll let you know when we hear back.
They look amaze! No wonder fans want a replenished supply.
You really cannot deny how awesome these slides are. You can hop around all summer and be comfy without sacrificing style.
Zendaya summed it up best — almost to pretty to wear. They are the ultimate mashup of high and low.
Images: Rihanna/Instagram (1); PUMA/Instagram (1); Zendaya/Instagram (1); Courtesy PUMA (1)