Where To Buy The Shell Fur Slides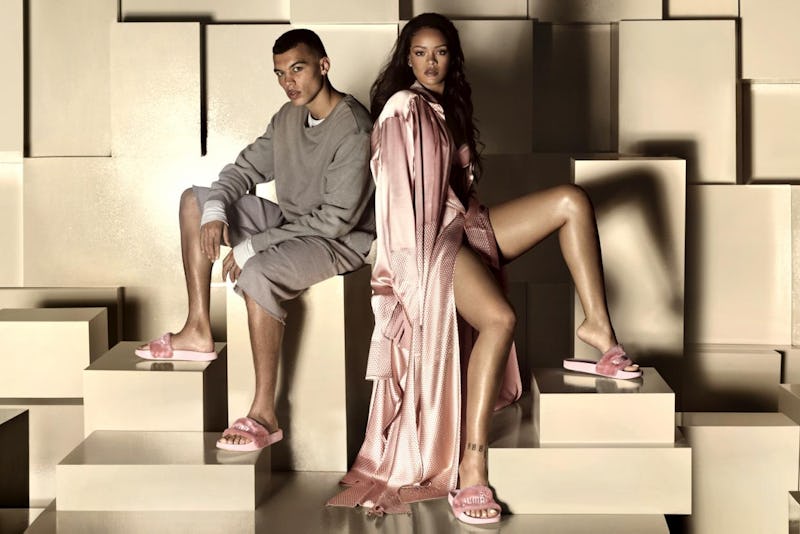 Update: The FENTY PUMA by Rihanna fur slides in shell are completely sold out on Nordstrom.com and puma.com. You can buy all the slides on eBay for about double the retail value, though of course it's always wise to shop with caution if you go the unauthorized retailer route.
Earlier: What is it about Rihanna's fur slides for PUMA that makes them so darn irresistible? Well, for starters, there's the nostalgia factor that goes along with such a clearly '90s silhouette. And that fur looks way more comfortable than the stiff plastic your classic pool slides were crafted with. But for me, specifically, it's the pinky-nude shade Rihanna's been so fond of wearing. Called "Shell" by the brand, it comes as no surprise that this particular colorway is selling out faster than the the black and white.
The fur slides finally went on sale Friday morning after about a half a year of teasing. Though PUMA only officially announced their on-sale date on April 11, Rihanna's been seen wearing the shoes around since last fall — and she seems to favor the Shell shade too.
Early Friday morning, all three colors of the slides were available to purchase at Nordstrom.com before anywhere else. But by 9:15 a.m. ET, the shell slides were only available in select sizes, with the white and black still in full stock. Still, if you're itching to get your hands on the Shell slides in particular, it seems that the rest of the PUMA retailers will be adding their stock come 10 a.m. ET — in which case, you better click fast.