The Lunar Chronicles Coloring Book Is Coming!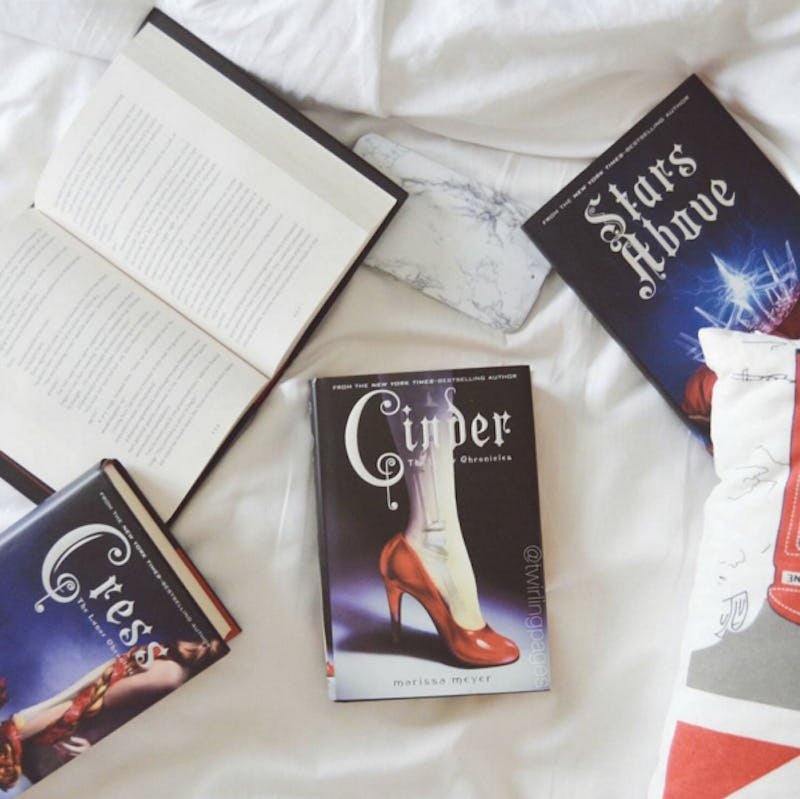 Sharpen your pencils: The Lunar Chronicles coloring book is coming to bookstores near you in winter 2017, Bustle can exclusively announce.
Macmillan Children's Publishing Group is bringing to life the world of the #1 New York Times Bestselling series, a fairy tale retelling with a sci-fi twist. In the first book of the beloved young adult series, Cinder — a teenage cyborg — confronts her wicked stepmother, starts a rebellion against the evil Lunar Queen, Levana, and meets (and maybe falls a little in love with) a handsome prince named Kai. Over the course of the series, Cinder and her pals — Scarlet, Cress, and Winter — fight to save their planet from The Lunar Queen.
Though Meyer did treat us to a collection of short stories earlier this year, the heart-pounding, intoxicating adventure officially ended in 2015 with the release of the fifth and final installment, Winter. But now, fans of Marissa Meyer's enthralling world have another chance to enjoy the fairy tale in vivid color.
"Although we've been discussing a Lunar Chronicles coloring book a number of weeks now, the knowledge that it's actually happening remains incredibly surreal, like a writing-career benchmark that I didn't even know to hope for," Marissa Meyer tells Bustle.
The coloring book will include commentary from Meyer, and will feature illustrations from artist Kathryn Adara.
"I'm so excited to have been given the opportunity to illustrate the Lunar Chronicles Coloring Book," Adara tells Bustle. "Not only because I'm a fan of the book series, but also because Marissa has created a world that is so fun to draw. The Lunar Chronicles world gushes inspirational elements such as a cyborg Cinderella, a futuristic Beijing, and a Queendom on the moon, as well as spaceships, satellites, mutants, and androids."
An exclusive sneak peek of the coloring book showcases all the beloved characters from the series: Cinder, Kai, Scarlet, Wolf, Cress, Kai, Winter, Jacin, and, of course, the magnetic, mysterious Lunar Queen.
Fans have plenty to look forward to in the year ahead. In November, Meyer will release Heartless , a retelling of the story of the Queen of Hearts, and in January 2017, the first of two of The Lunar Chronicles graphic novels, Wires & Nerves, will hit bookstores everywhere.
Images: twirlingpages/Instagram