Here's How To Get Free Stuff On Lover's Day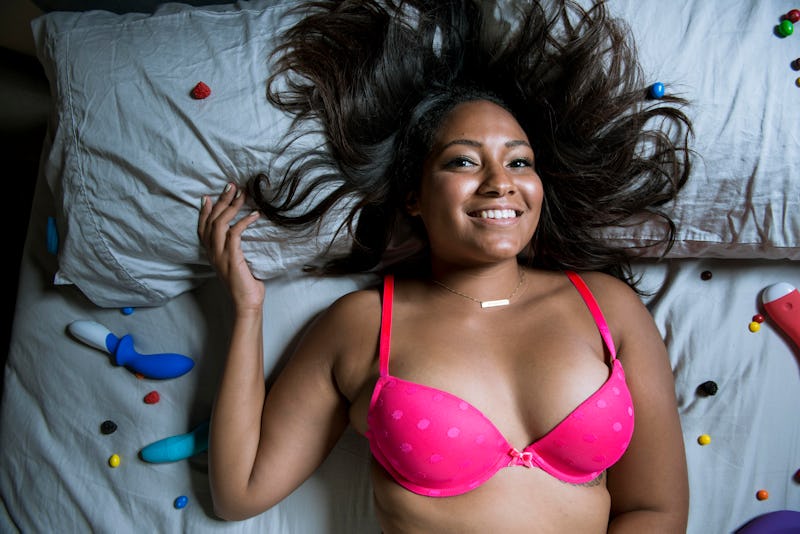 If you haven't started your countdown to Lover's Day, then you better start now because Lover's Day is on April 23 and it's one you may want to celebrate. It's basically a holiday for you and your partner to celebrate your love. If you're thinking, "Wait, didn't we just do that with Valentine's Day?" you're right, but this is another love-related holiday. Because you can never have too many holidays about love — and free stuff.
It should also be noted that April 23 is also Take a Chance Day (maybe you can finally tell your crush you're crushing on them) and it's a full moon weekend, a Pink Moon, to be exact so, basically, love, love, love, and more love.
In honor of Lover's Day 2016 (or for no particular reason), some businesses are taking the opportunity to give lovers of the world free goodies and discounts. Or, those of us who are single the chance to get in on those endless orgasms, because celebrating Lover's Day with your vibrator is totally encouraged.
Wicked Sensual Care is offering free lube from now through April 23. All you have to do is live in the United States, be at least 18 years of age, fill out a short form, follow Wicked Sensual Care on Twitter, or like their Facebook page.
But Wicked Sensual Care isn't the only company offering free or discounted goodies on Lover's Day. Here are four other places where you can score some awesome stuff. But first, check out the latest episode of Bustle's Sex and Relationships podcast "I Want It That Way":
1. LifeStyle Condoms Is Offering 40 Percent Off
Lifestyle Condoms is offering 40 percent off everything in their online store on April 23, in honor of Lover's Day. Purchases just need to be made between 12 a.m. and 11:59 p.m. ET on April 23, and when you check out, you need to use the code LOVERSDAY.
2. Adam & Eve Is Having An "Endless Orgasm Sale"
Although this particular sale isn't directly pegged to Lover's Day, it's still just in time. Sex toy shop Adam & Eve is having 25 percent off all their orgasm-inducing toys — most of which include vibrators. The collection of goodies currently on sale totally runs the gamut (there are even some anal beads and a penis pump in there), and if you end up with $59 or more in your basket, entering the code 59SHIP will get your free shipping, too.
3. Babeland Is Offering Free Gifts And Free Shipping
Again, not specific to Lover's Day, but Babeland is also having some great deals right now. First of all, they're offering free shipping on all eco-friendly sex toys, with the code ECO1516. Also, if you buy the Sqweel XT toy or the Calice vibrator from Fun Factory, each purchase comes with a free gift.
Images: Andrew Zaeh/Bustle; Giphy (3)