Can An Algorithm Predict 'GoT' Deaths?!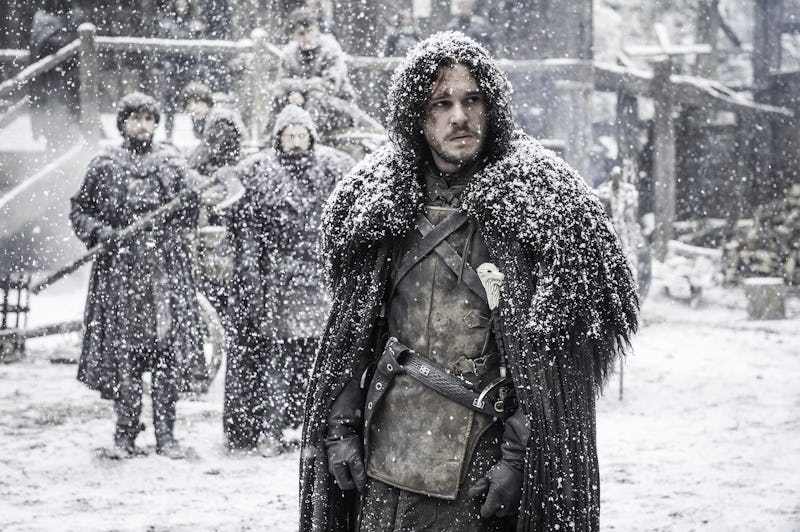 We've all been mourning Jon Snow since the end of Game of Thrones' fifth season. There's been hot debate over whether the ill-begotten Stark son is well and truly dead, with even Jon himself, Kit Harington, actively avoiding the question of whether he will return to Westeros alive. In fact, a majority of the actors involved with Season 6 have had to remain relatively tight-lipped about the details of the upcoming episodes, which continues to leave us adoring fans in a total state of upheaval. Now, listen, I don't mind maintaining an air of secrecy around Game of Thrones, but I'm over here singing the chorus to The Backstreet Boys' "Quit Playing Games (With My Heart)" and comfort-eating croissants while anxiously awaiting the season premiere Sunday, April 24. Thankfully, though, here today to make the waiting game a bit less painful is an algorithm that claims to predict the deaths of major Game of Thrones characters — which, you know, you can sort of take as a pre-spoiler, I guess?
Developed by students at the Technical University of Munich, the project is titled "A Song of Ice and Data" (a well-done pun if ever I've seen one). It's an enormous undertaking: According to The Guardian, the students have gathered statistics from all of George R. R. Martin's novels and the television series, as well as combing through the various Wikis and Twitter accounts associated with the sprawling fantasy world to create as thorough a statistical picture of who should actually be thriving and who should be stone-cold dead.
What are some of the biggest finds from "A Song of Ice and Data"? It's not an understatement to say that there's a boatload — and then some — of characters in this world: 2,028 characters to be exact. The study found that men are more likely to be nobles and women are more likely to be peasants. But! Fear not, ladies of Westeros and Essos! Your peasant status could actually mean you live longer than those pesky noblemen, so keep doing you.
The site also features some fun comparisons of who is more likely to die and currently features a list of who is currently in serious danger. On the "Most Likely To Die Next" page, Tommen Baratheon is given a 97 percent chance of getting the ax, with Stannis Baratheon (96 percent) and Daenerys Targaryen (95 percent) following closely behind. I am sincerely hoping this data is strictly data and not fodder for the Game of Thrones writers; if Daenerys Targaryen ever meets the end of her mortal coil, there will be an audible breaking of the hearts of thousands.
Perhaps the most heartbreaking revelation, though, is that Jon Snow only has an 11 percent chance of death. Yes, you read that correctly: 11. Percent. I mean, why couldn't we have had this information over a year ago?! Could we have saved Jon Snow from his gloomy end if someone had been armed with this small but powerful number? Considering Jon is dead, this information is making me severely oubt the legitimacy of this algorithim. I guess until Sunday's sixth season opener, I'll just have to continue to fervently hope that Jon Snow's death is but temporary, and that he rises from the dead like the warrior dreamboat that we all know him to be.
Images: Helen Sloan/HBO; Giphy (2)