Your Fave 'GG' Friendship Says So Much About You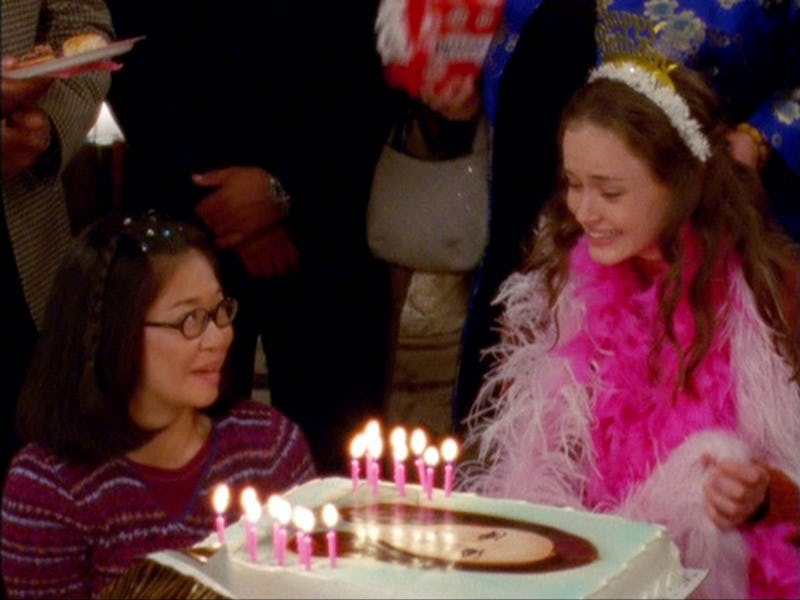 As much as Gilmore Girls was a family story, it was also a story about friendships. Think about it: Rory and Lorelai, Rory and Lane, Babette and Miss Patty — Gilmore Girls valued friendships a lot, sometimes more than it did blood bonds. In the world of Stars Hollow, the family you made was just as important as the family you were born into, and that led to some truly amazing friendships over the course of the series.
While I love every friendship Gilmore Girls threw at me, I have my favorite and I suspect you do to. Just like some characters resonated with you more than others, there is likely one friendship that spoke to you more than the rest. Your favorite Gilmore Girls friendship says a lot about you. Just as Rory and Lane are very different people, the relationship between Sookie and Lorelai and the one between Kirk and Luke is totally different. The one you respond to the most might have something to do with the relationships you have with your friends or simply speak to your personality.
One thing is for sure, the Gilmore Girls friendship that makes your heart beat a little faster also says a lot about who you are. Now go grab some Pop Tarts, and find out what it means if you are more of a Paris and Rory fan than a Lane and Rory fan.
Lorelai & Rory
Lorelai and Rory's unique mother/daughter bond is the most important friendship on the show. If you love the way Rory and Lorelai always make time for Godfather movie nights and post-breakup ice cream, then your best friend is likely a family member too. You have an amazing relationship with your family and you feel lucky to have been born into the world with built in besties. Confident, spirited, and ready to face anything the world throws at you — as long as your partner in junk food-eating is at your side, you are a genuinely happy person who everyone wants to be around.
Rory & Lane
You may have lots of friends, but there's only one person in your life who you feel safe blabbing about your crushes and insecurities to. An old soul, you always pick vinyl and real books over anything electronic, and you have a strong sense of nostalgia. When given the choice between a crazy night out and a cozy sleepover listening to music and watching John Hughes movies with your best pal, you will always choose the latter option.
Babette & Miss Patty
There is no denying you love a juicy bit of gossip, but there's nothing malicious about your desire to share secrets with those closest to you. If anything it speaks to how much you trust your friends. There is just no repressing your larger than life personality, and if anyone tries you will be the first to tell them off. You love to talk, laugh, and share, and you won't let anyone bring you down.
Lorelai & Sookie
You are a warm and giving person with a sharp sense of humor. There is a good chance you always identify with the sidekicks in books and movies, but that's not because you aren't the star of your own story. You just happen to be a keen observer who is supportive by nature. When someone needs a hug or baked goods you are there for them, but you also have a serious temper that flares if someone dares to put down the people you love.
Madeline & Louise
The quirk is strong within you, and you love it. Like Madeline and Louise, you don't care what anyone thinks about you. Chances are you have a totally symbiotic relationship with your BFF, and the two of you have planned out your futures so they compliment each other. Everything from your style to the way you talk is uniquely you, but when you show up somewhere without your best friend people always wonder where your other half is.
Paris & Rory
Intelligent, competitive, and unapologetically driven, if a relationship does not challenge you then you simply are not interested. Your life is overflowing with obligations and work projects so when you let someone into your inner circle that is a major deal. Not everyone can handle your serious nature, but your best friend not only loves how hard you work, she also challenges you to push yourself even further and you wouldn't have it any other way.
Luke & Kirk
Your heart is way more open than you will ever admit. When you see someone without a friend you feel compelled to be their buddy. Sure, allowing so many people into your life can be risky, but you just would not be you if you turned someone away. Thankfully you have a great sense of humor and endless patience, so you take all the wacky adventures your friends drag you on in stride.
The Life & Death Brigade Boys
Life is no fun without adventure. You want people in your life who will stay out all night with you and throw crazy parties. A kid at heart, you will never outgrow your wanderlust.
See? Your favorite Gilmore Girls friendship is just as telling as eavesdropping on a conversation between Babette and Miss Patty.
Images: Warner Bros. Television (9)