How To Snag Beyonce's 'Lemonade' Hoodie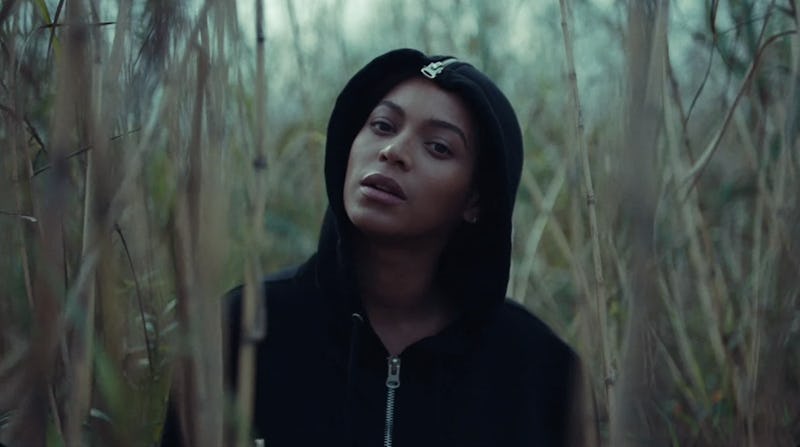 The release of Beyoncé's latest visual album Lemonade was the drop heard 'round the world on Apr. 23 — when the star touched upon themes of Black Lives Matter and intersectional feminism with as much empowerment and grace as has come to be expected of the 34-year-old. She utilized fashion — like a gorgeous yellow ruffled Roberto Cavalli dress — throughout; every piece feeling like a metaphor for something grander. However, it seems that the origin of the black hoodie worn at the beginning of Lemonade remains unknown. The additional zipper going from the back of the hood down to the top of the garment really elevated the piece beyond average athletic-wear, which begs the question: Is the hoodie an Ivy Park creation?
Beyonce's Ivy Park collection dropped at Topshop and Nordstrom recently, and definitely escalates athletic-wear beyond the basic hoodie, sweatpants, and sports bra looks we're accustomed to. Thus why the fashion-forward hoodie featured in Lemonade seems like it would be an Ivy Park original.
Unfortunately, this hoodie isn't a part of the existing collection as of right now, and therefore isn't available for purchase where Ivy Park clothing is sold. But that doesn't mean some of the clothing in the video, specifically this rad hoodie, isn't a preview of an upcoming Ivy Park line. We'll just have to wait this one out, guys.
Personally, I think this hoodie would be well worth the wait. Since Lemonade is so incredibly charged with racial imagery and progressive messages, owning a piece from Beyoncé's latest highly political work would be an honor for any fan — especially post "Formation," since Bey has seemingly shifted her focus to addressing politics, and creating art surrounding the unique experiences of Black women in America.
Plus, a hoodie with zippers in the front and the back leaves the potential for endless styling options.
Not to worry, though. In the meantime, you can peruse some hoodies with zipper detailing similar to that of the one in the video.
Black Hoodie With Back Zipper, $49, maorluz.com
Sure, the back zipper isn't as full as we might like it to be, but having it start in the lower back still leaves a number of options for styling your silhouette.
Sweatshirt Hoodie Sport Long Sleeve Back Zipper, $8.59, cndirect.com
This sweatshirt is missing the hoodie, but you can rock it with the back zipper open proudly.
You can also browse the other hoodies that Ivy Park offers until you can get your hands on the real thing — should it be Ivy Park, of course.
Neoprene Zip-Through Hoodie by Ivy Park, $82, us.topshop.com
Zip-Through Hoodie by Ivy Park, $52, us.topshop.com
Channel a little Bey with a back-zippered hoodie, and keep an eye out for any upcoming Ivy Park collections. I have a feeling that this Lemonade hoodie might be available for purchase sooner than we think.
Images: HBO (2); Giphy; Courtesy Brands