Thomas Picks Another Fight On 'Southern Charm'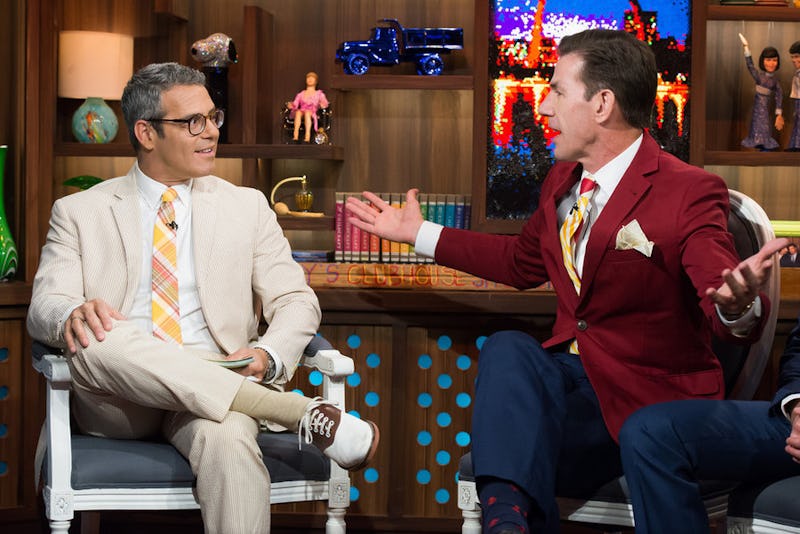 The drama isn't stopping on Southern Charm Season 3, and things are going to get even harder for Kathryn Dennis as she goes to the hospital, according to previews, after some complications with her pregnancy. But, that's not the only shocking moment of Monday's episode. An exclusive clip from Bravo shows that on the April 25 episode of Southern Charm, Jennifer Snowden and Thomas Ravenel fight after she claims Thomas wasn't there for Kathryn during her hospital stay. Thomas defends himself saying he was there for two hours before they started fighting, and he left so as not to upset her anymore.
I kind of get Thomas not wanting to fight with Kathryn while she was in a fragile state, especially since another preview clip showed that the reason Kathryn landed in the hospital in the first place was because she started bleeding after a fight with Thomas. But, I do wish the pair could get it together. At some point they need to realize that they have one child now and another on the way, and they really have to stop acting like children themselves. Thomas, especially, needs to get his act together. In the exclusive clip for Monday's episode, he picks a fight with Jennifer for stirring the drama pot and telling the rest of the gang that Thomas wasn't there for Kathryn. But, Thomas' loyalties need to be with Kathryn right now, and sometimes he just needs to swallow his pride and move on.
Maybe he had good intentions in leaving the hospital that day, but when the mother of your children is sick, you should be by her side. He needs to quit the arguing for awhile and let Kathryn know that he's there for her. And, step one would be to stop fighting with Kathryn and all of Kathryn's friends at dinner parties. Watch the clip above to see what not to do when your pregnant baby mama is in the hospital. And, see the full story unfold Monday, April 25 at 9:00 p.m. on Bravo.
Image: Charles Sykes/Bravo