Glitter Tears Are A Spring Trend Must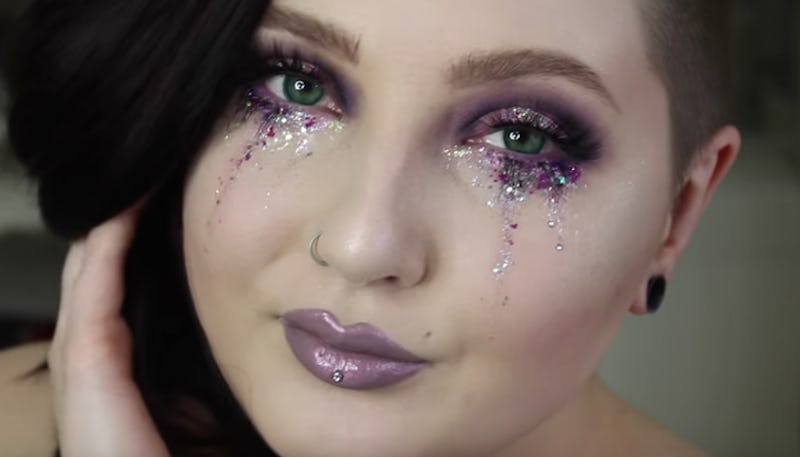 Mascara tears aren't exactly awesome, but glitter tears? Now that's another story! Trending hard on Instagram, glitter tears are one of the boldest spring looks to try and I'm pumped to break down how to get the look. Whether you go big with mega sparkles or just add a touch of shimmer, the results are bound to be gorgeous.
Fashionista reported that while the glitter tears trend started with a Vogue Paris cover featuring Christy Turlington, Elle Fanning began the U.S. craze when she rocked smudged deep gold glitter tears to the Saint Laurent show at NYFW in Feb. And it's been blowing up ever since, as professional makeup artists, amateur makeup goddesses, and actresses like Suki Waterhouse have been spotted with sparkly tears streaming down their cheeks.
If you're wanting to try the look for yourself, below is an amazing glitter tears YouTube tutorial from Jordan Hanz. As for rocking the look, Hanz offered some seriously excellent advice on her YouTube. She said, "Don't be shy to wear this out and about. I'm not usually very creative with my normal beauty makeup, but wearing this out have me SUCH a huge boost of confidence. It's such a fun look, and if you like it that's all that matters. F*** what's wearable and normal, cause we got some glitter!" #YasQueen
Here's how to get the look:
1. Smooth On Foundation And Concealer
You want to start with a smooth and clean base for the glitter to hold onto, so apply your favorite foundation and concealer. Hanz recommended Tarte's "Rainforest of the Sea" formulas!
2. Buff Nude Shadow Over Lid Then Deeper Shade In Crease
To make sure each color pops, start with a nude shadow over your lids. Follow by a deeper hue in the glitter colors you want to work with. In Hanz's case, this means a subtle warm mauve for purple glitter.
3. Add Deeper Color
Following the same halo crease shape, fill in with a richer color in the same family. Hanz is reaching for a "louder" purple.
4. Pat Bold Color On Top To Blend
For Hanz, this means hot pink!
5. Darken Crease
Next, add an even deeper hue over that halo crease to make it really pop.
6. Outline The Corners
To get all the drama you're after, add a little depth with black in each corner of your eyes.
7. Line Underneath And Add "Shadow Tears"
To give definition, reach for one of the more neutral shadow hues to help make the eye pop. Add soft streaks of shadow to guide where the tears will be.
8. Glitter Time
Start with "thinner" shimmer glitter all over where you want tears. Hanz used Violet Voss Secret Weapon Glitter Adhesive to make sure her glitter stuck!
9. Get Creative
Pop in as many colors as you want! Just remember to use glitter specifically designed for makeup so that you're less likely to damage your eyes in any way.
10. Add Colorful Liner
To make everything come together, add a bold liner to fill in blank spaces.
11. Pop On Lashes And Mascara
That's it! Now go and get your glitter on.
Images: Jordan Hanz/Youtube