11 Ways To Prevent Makeup Meltdown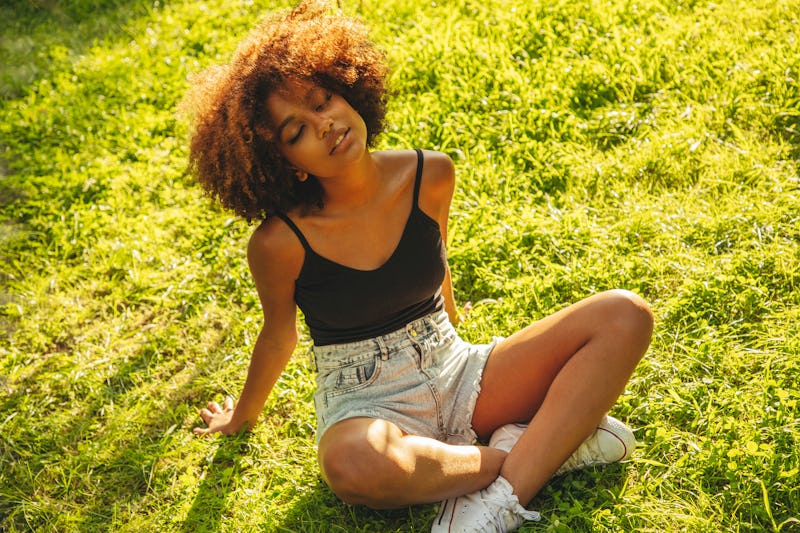 CoffeeAndMilk/E+/Getty Images
When most people think of spring and summer, days at the beach and afternoons by the pool are a few things that come to mind. However, for makeup lovers, warmer seasons are the time of year that brings about smudged eyeliner and melting foundation. Prevent summertime makeup meltdowns by learning how to properly prime, set, and seal your makeup. These tricks take seconds to do, and can make a world of difference in the way that you see your beauty routine.
When it comes to doing our makeup in the summer, no one starts off their routine hoping for it to be smudged and smeared by the end of the day. While we all have good intentions, it may actually be a few of our day-to-day beauty habits that are causing our makeup to crease or fade away. Just a few small actions can lead to a total beauty disaster. Prevent end-of-day beauty blunders by tweaking your everyday routine. For instance, I like to avoid using my fingers during the summer when it comes to applying my base makeup. I find that my fingers warm up the product too much, and can sheer out my coverage. This coupled with the warmer weather tends to make my foundation slide around my face. It isn't a cute look. If you're looking to improve the wear-time of your makeup, here are 11 ways that you can prevent makeup meltdowns.
1. Reach For Blotting Sheets
Clean & Clear Blotting Sheets, $7, Amazon
In an interview with TotalBeauty.com, makeup artist Charlie Green recommended using blotting papers to prevent makeup meltdown, "If you're hot, sweaty and shiny, you don't want to add powder onto oil and perspiration -- you'll get a floury, chalky mess!"
2. Choose The Right Primer For Your Skin
As any beauty guru could tell you, primer is integral for having long-lasting makeup. However, are you using a primer that's right for your skin? Be sure to not only look for primers that offer the results that you are looking for, but also cater to your specific skin type.
Try: NuFACE Gel Primer, $12, Amazon
3. Use A Mattifying Sunscreen
Dermadoctor Ain't Misbehavin' Sunscreen, $34, Amazon
Not all sunscreens are created equal. Avoid putting thicker SPFs on your face, as they could cause your makeup to breakdown. Instead, Womenpulse.com recommended reaching for a lightweight, mattifying sunscreen to layer under your day-to-day makeup.
4. Opt For A Lip Stain
Benefit Benetint, $30, Sephora
Sticky lips are the last thing that you want on a hot, summer day. Instead, Makeup.about.com suggested wearing a long-lasting lip stain in place of a gloss or waxy lipstick.
5. Blot Immediately After Applying Your Foundation
According to Troy Surratt, founder of Surratt Beauty, an easy trick for enhancing the wear time of your foundation is to press a tissue over the makeup to remove an excess oil.
6. Seal In Your Eyeliner
Gel liners tend to fade or smudge in the summer heat. Health.com suggested sealing in the liner by layering a powder shadow on top. Much like your face powder, the eyeshadow well help to set the liner, and keep everything in place throughout the day.
7. Set Your Eyeshadow
Are your oily eyelids bringing you down? Seal in your shadows by dusting a layer of translucent powder over your lids before applying your eye makeup. Glamour swears that this little trick will enhance the wear-time of your eye look.
Try: Ben Nye Translucent Powder, $17, Amazon
8. Cool Down
Applying your makeup post-shower could be the reason that your makeup is melting away. Your hot, damp skin is basically repelling all things makeup. According to makeup artist Charlie Green in an article on TotalBeauty, you should allow yourself 10 minutes to cool down post-shower before applying makeup.
9. Bat Your Lashes
Want lashes that look like Zoe Saldana's (don't we all)? Her makeup artist, Vera Steimburg, said in an interview with E! that her secret to smudge-free lashes is to use a metal lash comb after you apply mascara. Running the comb through your lashes will remove excess product, and help prevent unwanted smudging.
10. Spray All Day
NYX Matte Finish Setting Spray, $8, Amazon
Knowing the importance of setting your makeup with a setting spray is another key way to lock in your makeup. The non-sticky sprays help to hydrate the skin, while also acting as a sealant for your makeup, according to POPSUGAR.
11. Punch Up The Color
In order to prevent your blush from fading away, Real Simple suggested wearing a blush that is a few shades brighter than your normal tones. This brighter shade will fade more gradually into a tone that is still noticeable after a long day.
Go ahead and kiss your melting eyeshadow and foundation goodbye, because your makeup isn't going anywhere.
Images: Getty Images (7); Courtesy Brands