Hannah Is All For #YachtieLife On 'Below Deck Med'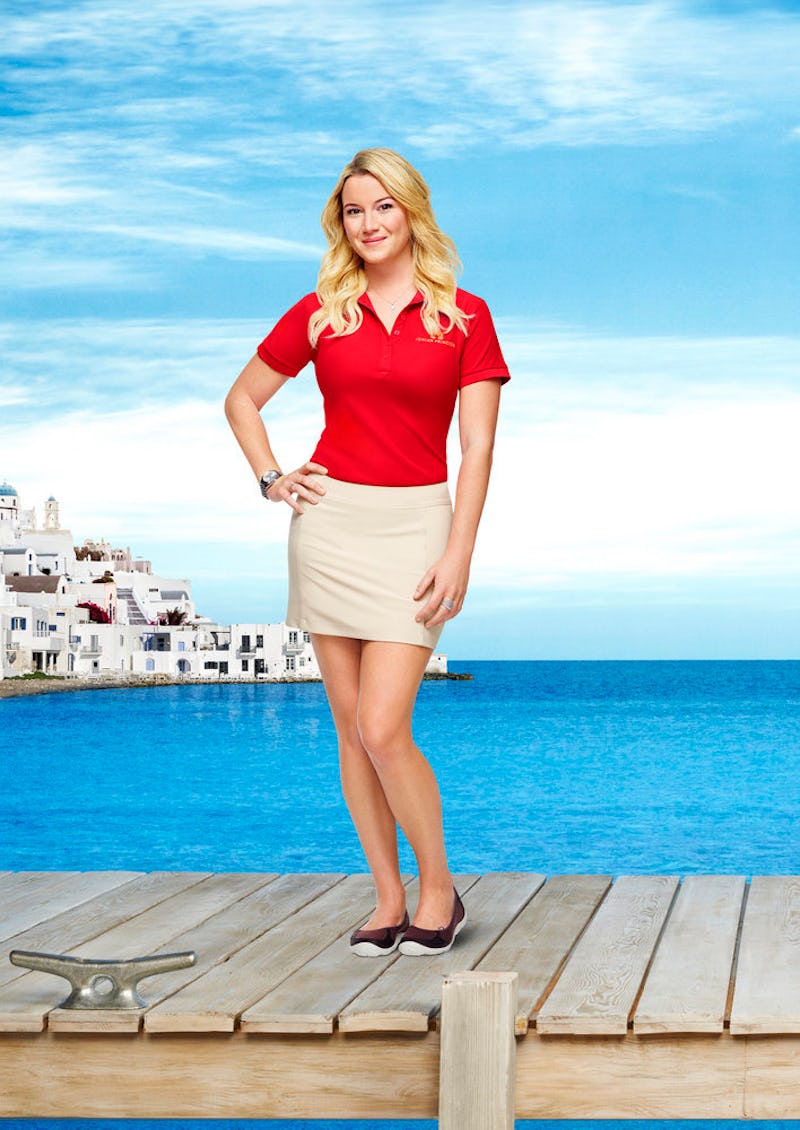 Summer is a time for sunshine, swimming, and reality television — especially for those of us nursing sunburns from all the sunshine and swimming. Bravo's reality television series Below Deck has combined all the goodness of summer with the luxury yachting industry and given us a gift from the reality TV gods. Now, Bravo is branching out with a new spinoff that's sure to have us eagerly glued to the screen, but if you're like me, then you're wondering who's coming aboard. So, who is Hannah on Below Deck Mediterranean and how will she add to the drama of the show's inaugural season?
Well, Hannah Ferrier is joining the cast of Below Deck Mediterranean as the chief stewardess, along with fellow cast members like the captain of the ship Mark Howard, chef Ben Robinson, first mate Bryan Hattenburg, as well as fellow stewardesses Julia d'Albert Pusey and Tiffany Copeland, among others. Like most stars on reality TV shows, Ferrier brings her own unique personality to the high seas in Below Deck Mediterranean. But, on this Bravo series, Ferrier will be need to coexist with the other crew members — along with their either compatible or incompatible personalities — all while working for the high-end clientele on vacation in the Mediterranean.
But, what exactly do we know about Ferrier? According to her official Below Deck Mediterranean bio on the Bravo site, Ferrier has been working as a chief stewardess for five years and hails from Australia. But, the most important note from Ferrier's bio is, hands down, that she has "a work hard, play hard mentality," which any reality TV fan can tell you is code for "totally going to cause addictive TV drama." But, in an interview with DirecTV, Ferrier pointed out that Below Deck Mediterranean isn't simply about partying, it's also about the careers of the yachties, which she says sets it apart from other reality television. Another fun fact: Ferrier watched a marathon of the Below Deck series after being offered the job on Below Deck Med.
As for what I could glean from Ferrier's social media, she's relatively new to Twitter and Instagram, so I can't give you much. But, I can tell you Ferrier is well-traveled, with photos from Ko Pha Ngan and Bangkok in Thailand, Santorini in Greece, and Montauroux in France. She also seems to have a passion for #YachtieLife, which certainly makes her the perfect fit for Below Deck Med. Plus, it's obvious from her social media that Ferrier gets along well with her Below Deck Med castmates, particularly Robinson and Copeland, so hopefully we can see more of that camaraderie when the show premieres.
So, when Ferrier makes he debut on Below Deck Mediterranean, you can bet that her career-driven attitude, as well as her ability to unwind and have some fun, will bring the drama on this new reality TV series. But, I also predict she may become the favorite of many viewers; her passion for her career and the fact that her coworkers seem to enjoy spending time with her has already won me over. I, for one, am excited to meet this chief stewardess on Season 1 of Below Deck Mediterranean!
Images: Tommy Garcia/Bravo