8 Magical Harry Potter Manicure Ideas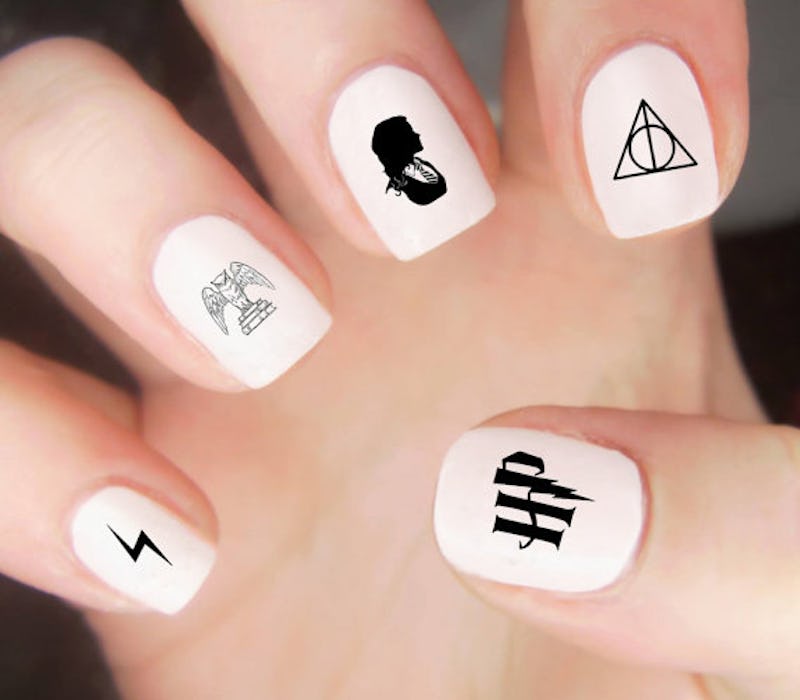 Remember in the early 2000s when the best way to dress up your nails was to pick up some glitter-speckled Wet 'n Wild? Well, those simple days are gone, because these days your manicure options are much more prolific; they even include Harry Potter manicures.
Of course, we can't all be nail art wizards. As a left-hander, I usually do an OK job on my right hand, but my left hand is a complete mess. It's safe to say that my manicure attempts rarely look like beautiful Instagram or Pinterest photos. Which means I can never have a beautiful manicure like that… right?
WRONG. Nail art geniuses have invented things like decals and pre-painted press-on nails, so even terrible manicurists like myself can have beautiful hands — what a time to be alive!
The best thing about these nail options is that they're extremely customizable. One can now choose from customized nail decals in any color, shape, or literary theme. Yes, that's right, these manicures are available in literary themes — which means that, obviously, I searched immediately for the Harry Potter options. Here are some of my favorites from the world of beautiful nail art that you can either buy or DIY right away.
The Classic Decal
Start simply and beautifully with a classic Harry Potter nail decal. From lightning bolts to deathly hallows, this press-on decals come in a great variety (the Etsy shop also has a second option with a dark mark, stag, and silhouette of your favorite trio), and they're super easy to apply. Buy them from LoveByLunaCo on Etsy.
The Hogwarts Crests
Want to show your Hogwarts appreciation? These decals come with the Hogwarts crest, and the crest of each of the four houses. They're colorful and detailed and will dress up any mani. Buy the decals here.
The House Decals
Of course, if you want to show your appreciation for a specific house, you can always try these decals. They take up your entire nail, so there's no need to use a colored base coat, and come in Gryffindor, Slytherin, Ravenclaw, and Hufflepuff. Buy them here.
The House Colors
If you want a more subtle HP manicure, why not go for house colors and skip the decals? This polish set comes with Slytherin-inspired silver and green, but you can also find it in the shades of the other three houses. For those HP fans who love the series, but don't want to go the decal route, you can buy this polish set here.
The 3D Hogwarts House Nail Experience
These nails aren't for the average fan. I call them a Nail Experience because, with that much bejewelling, it's more of an experience than a manicure. These false nail sets come in Gryffindor, Slytherin, Ravenclaw, and Hufflepuff, and each set is more fantastic than the last — you can find the particular one above here.
The Ford Anglia
Want an HP mani only the most devote fans will recognize? Try this polish in the shade of the Weasleys' flying Ford Anglia. Buy the polish here — and find more Harry Potter-inspired colors in the seller's Etsy shop. Bonus tip: this makes a great gift for all your Potterhead friends.
The Artistic Mani
These nails are a work of art: the painting features dementors from Deathly Hallows, and it also happens to glow in the dark. The hand-painted masterpiece is created to your specific nail measurements, and you can buy them here.
The Minimalist
If you want to show your love for HP, but you appreciate the minimalist look, pick up some of these Harry glasses decals. They go well with any color polish and are easy to apply — buy them here.
Images: Etsy/LoveByLunaCo (2), Etsy/SpellboundNails, Etsy/AllThingsDecals, Etsy/AMnails, Etsy/persoNAILityWRAPS, Etsy/StachedPolish, Etsy/StarryNail, Etsy/AuroraDecora