7 Indie Jewelry Brands For Your Inner Witch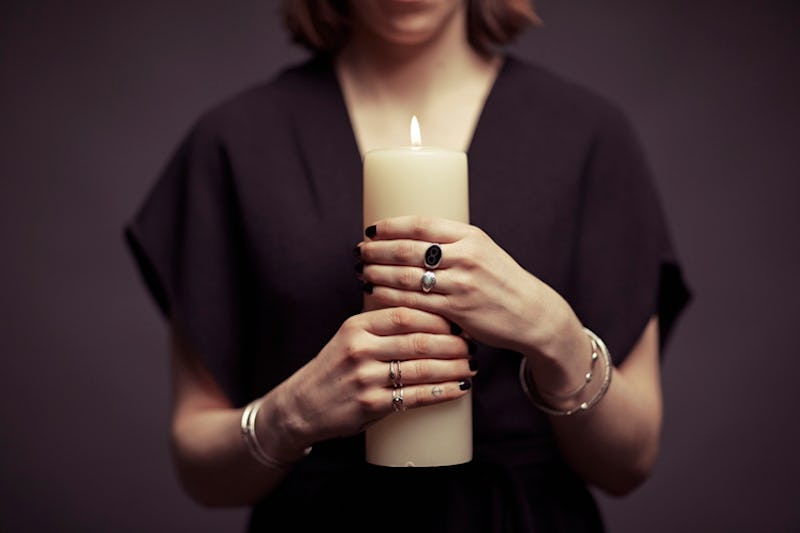 Whether you integrate the practice of magic into your life, or just enjoy the look of metaphysical accessories, it's hard to deny the appeal of mystical, witchy jewelry. Embracing your dark side can be freeing on far more levels than the sartorial. And, with many indie jewelry lines creating unique pieces that fuse exceptional craftsmanship with magical imagery and symbolism, there are countless gorgeous ways to satisfy any craving you might get for an edgy, romantic look.
For as long as I can remember, I've been fascinated by the imagery and lore associated with witchery and natural spirituality. From an academic perspective, I admire the way women have, for centuries, undermined patriarchal religious philosophies with more earth-centered practices. From a personal perspective, I gravitate towards the darkly powerful and natural imagery of witchy style for its mystical and proto-femininist overtones.
Whether you prefer crystals and protective charms, zodiac symbolism, vanitas-inspired skulls and bones, or nature-centered imagery, there's an independent maker out there creating the occult adornments of your wildest dreams. From inexpensive statement pieces to everyday heirlooms to one-of-a-kind luxury items, check out these seven independent jewelry brands for accessories that will add a touch of magic to your wardrobe.
1. Talon
Talon jewelry is the creation of California-based designer Emily Hirsch. Inspired by the free-spirited bohemenianism of '70s style, the urban energy of NYC, and the mystical elements of nature, Hirsch creates darkly romantic fine jewelry that fuses vintage motifs with contemporary shapes and styling.
Handmade in California with recycled metals, Talon's offerings include dramatic but wearable pieces like serpent infinity rings, zodiac pendants, and skull mini studs. These thoughtful accessories will quickly become treasured favorites in your jewelry box — contemporary heirlooms that will add just the right touch of mystery to any look.
2. Pamela Love
Designer Pamela Love originally trained in experimental film and fine arts before turning to jewelry. Bringing her aesthetic experience to play, along with a deep love of American folklore and intuitive spirituality, Love creates potently symbolic pieces for mystical seekers of all types.
Walking a line between rebellious edge and romantic adornment, designs like talon rings, dagger rosaries, and illuminas ear jackets are statement pieces you'll wear over and over again. On days when you need a little help accessing your inner strength and magic, the authentic attitude of these witchy embellishments will encourage you to take a stand for your best, most unapolagetic self.
3. Unearthen
If you love the soft, calming glimmer of natural stones, then LA-based brand Unearthen's talismanic crystal creations should appeal to your glittering sensibilities. From subtle, personal styles like delicate pendant necklaces, to dramatic, one-of-a-kind crystal topped watches, designer and creator Gia Bahm makes the kind of organically-inspired treasures that you'll adore.
Pick a stone you love, or search for a piece with properties that will inspire and protect. And, if you're looking for a truly unique engagement option that suits your bohemian sense of style, Bahm also creates stunning wedding rings for unconventional brides.
Want more fashion and beauty? Check out the playlist below, and be sure to subscribe to Bustle's YouTube page for more hacks and tricks!
4. Jamie Spinelo
For affordable, botanical, and animal-inspired motifs, independent Texas jeweler Jamie Spinello makes stunning and soulful pieces that depict the natural world in silver, bronze, and copper. If you feel best wandering the outdoors, then these earthy amulets are a beautiful way to keep nature close, even when you're stuck in a windowless office cubicle.
Ground yourself with a Medieval-inspired etched rose necklace, or go darker with a bold, garden spider finger cuff. With a substantial selection of diverse motifs and designs, you're bound to find a piece that sings to you.
5. Anthony Lent
Although jeweler Anthony Lent doesn't limit his work to occult or mystical styles, he creates some of the most over-the-top, witchy luxury jewelry that I've ever seen. From dangling diamond and gold bat earrings to blackened sterling skull rings based on Italian Renaissance anatomy drawings, these are the pieces you'd wear to the mystical gala of your wildest dreams.
While it would take some serious magic for me to ever be able to afford any of these pieces, I love to admire the craftsmanship and stunning designs that Lent comes up with. And, if I ever come into an ancient fortune, you can bet I'll be grabbing a pair of these extravagant jeweled skull earrings for myself.
6. Open House
Based in the Catskills of upstate New York, the independent jewelry line Open House creates pieces that combine a rustic, handmade feel with sleek, yet slightly unsettling designs. Bondage-inspired chokers, rough-cut rings, and unusual pendants all mix traditional folk art elements with punk and goth overtones.
Featuring spare, arresting shapes and magical symbolism pared down to minimal geometric forms, these designs are perfect for edgy minimalists and city-loving witches alike. Check out this line if you love refined, elemental styles with a rough-hewn touch.
7. ManiaMania
Mixing pop culture references with mystical traditions like alchemy and astrology, Australian brand ManiaMania combines the unique perspectives of art director Melanie Kamsler and stylist Tamila Purvis to stunning effect.
There's something deliciously decadent about these ornate designs. Glamorous, glittering, and just a bit gothic in style, pieces like the tiered Mars necklace, stacked Astaria cocktail ring, and dangling Alchemy earrings are dangerously dramatic enough for the witchiest amongst us.
If you love the dark edge or powerful spirituality of witchery and magical style, then you'll love all the contemporary jewelry brands making unique pieces for modern mystics like yourself. Whether you prefer clean, simple styles or bold, extravagant designs, these independent makers are creating stylishly potent pieces that will leave you absolutely enchanted.
Images: Courtesy Brands