Thomas & Landon Are Totally Not An Item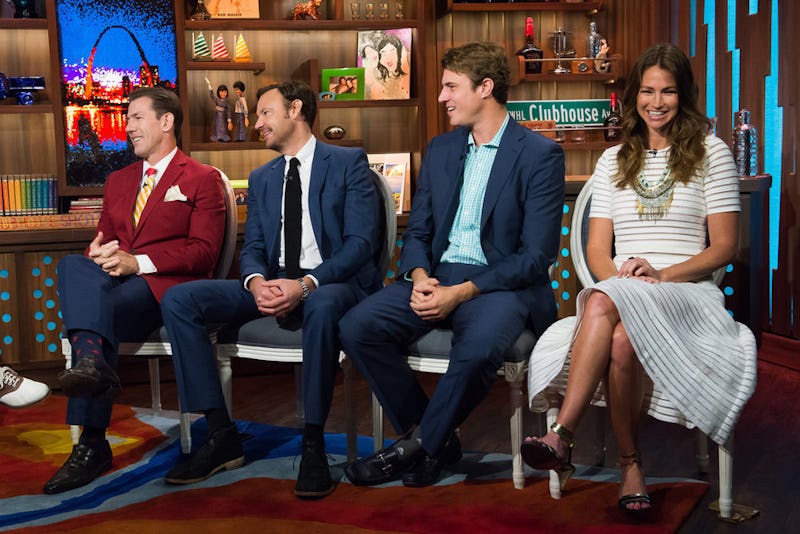 Reality shows are incestuous beasts — usually pretty much everyone has slept with everyone in their cast, so there's a lot of overlap and thus, a lot of potential for drama. I guess that's the point, huh? Anyway, ever since Landon Clements appeared on the scene in Season 2 of Southern Charm (she replaced the rebellious Jenna King from Season 1), Landon has been a magnet for dating rumors. First, everyone thought that she and Shep Rose were hooking up, but they both insist they're just old friends from college. I know, I'm disappointed, too. Now, there's an insinuation that Landon and good old Thomas Ravenel are spending romantic time together. But, hints on Southern Charm indicate Thomas and Landon have not hooked up, no matter what Thomas might suggest.
Now, I recognize that both Landon and Thomas are grown-ass people and they are free to do with their lives what they wish. It's really not my business to condemn them for their decisions, but since they're in the public eye and I love Southern Charm, the least I can do is speculate about it. While Thomas and Landon have grown closer in Season 3, I think a lot of the talk about them being romantically involved stems from floppy "evidence." Like Thomas decided to paint his daughter's room periwinkle instead of pink, and Kathryn thought that Landon had something to do with it because the dress she was wearing happened to be periwinkle. This is how rumors get started, people. It's not like Thomas was mature enough to refute it. And, all the "evidence" of them hooking up seems to come right out of his mouth, so I feel like he just wants the audience to think that, but it probably isn't true.
The truth is, Landon and Thomas now live in the same neighborhood — Landon was shown literally just biking over to his new home. And, since it's a new home that's being completely redone, it's convenient that Landon is also an interior designer. She is probably helping him pick out paint samples, and that's not a euphemism for anything larger. Landon appeared on Season 2 of Southern Charm just after being divorced, and she's insinuated on the show that her ex-husband — an older man — never had time for her. I'm not sure that Landon would want to jump into a relationship with Thomas — also an older man — who has two kids and plenty of other responsibilities. Landon's trying to figure out who she is, why complicate all of that?
In reality, Landon seems to be having plenty of fun on her own.
She's Visiting The Ballet
On a recent trip to New York City, Landon got to sneak backstage at the ballet. I'm not sure that outfit is yours to take home, Landon.
She's Starting The Weekend Early
This picture was taken on a Friday, meaning that Landon could just scoot off on what is technically a workday to go boating and shoot stuff. Doesn't sound bad to me. Also, the man in the photo is not Thomas Ravenel, though it sure looks like him.
She Is Watching Polo Matches
What a life — Landon gets to dress up in cute little dresses and drink rosé while watching polo. Can I be your friend, too? I am very good at drinking rosé and wearing great outfits.
So, is Landon hooking up with Thomas on Southern Charm? I don't think so. Is she having a great time otherwise? Oh, absolutely.
Images: Charles Sykes/Bravo