Will Shep And Landon Date On 'Southern Charm'?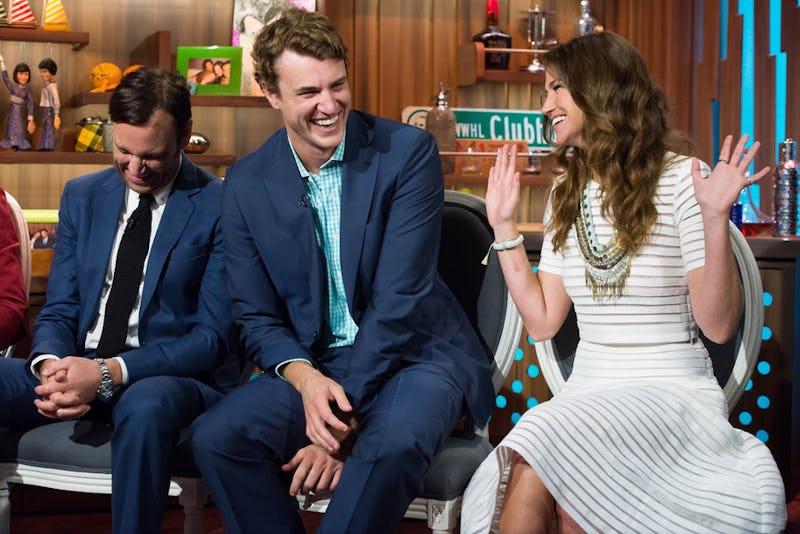 Bravo is truly proving itself time and time again to be the gift that keeps on giving. Southern Charm is one of those shows that will fulfill the emptiness in your soul. It's everything you need. And, fans have all seen the tension between Shep and Landon on Southern Charm . Those two don't ever share a scene together that isn't filled with flirting and adorableness. So, as a fan, I need to know if Shep and Landon are going to date on Season 3. It's of the utmost importance.
It seems like it's inevitable, doesn't it? According to her Bravo bio, Landon met Shep way back in their college days. Later, Landon married her now ex-husband. Obviously that would have been a pretty significant roadblock for their potential love blossoming, but now they are both free to come together. How perfect is that timing? They are both single together. Somehow I don't think this coincidence will be lost on them for very long. Last season, I was really starting to root for them. They always seem to support each other and they are always there to help each other.
Here are a few times when these two were adorably perfect together. This should be all the evidence needed to convince them to just fall in love already.
They Look Like A Couple
It's science.
They Are With The Band Together
Look. They are taking photos with band members. That's something you do with your boo... at least you do for the sake of the argument that I am trying to make.
They Drink Hennessy Together
Those who think alike drink alike. Or something like that.
They Vacation Together
Who goes to Aspen with someone who isn't your lifelong soulmate? No one does. That's who.
They Look At Each Other Longingly
Those looks? That fire? Love. Just date, already.
They Surf Together
Look at them. They should get married, clinking mint juleps while majestically surfing an epic wave.
Basically, Shep and Landon need to get together immediately. I expect to see something amazing to come out of Season 3, and it better be these two falling in love. Either that or Patricia hiring more butlers. Either way, I'll be tuning in tonight for the premiere of Southern Charm to find out.
Images: Charles Sykes/Bravo