How Your Snapchat Game May Let You Travel For Free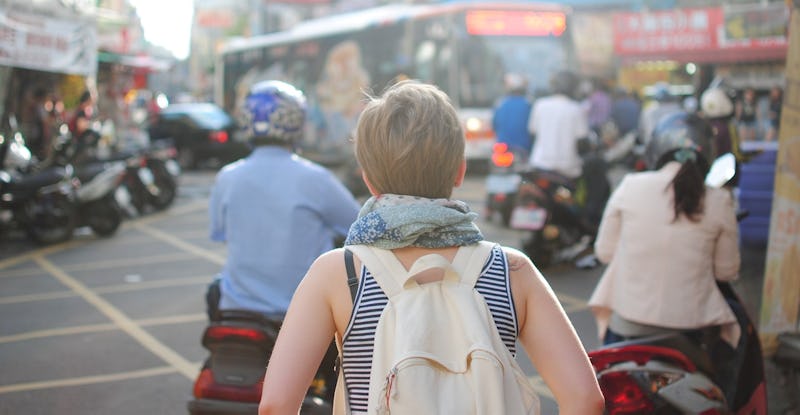 You know what's awesome? Snapchat. You know what else is awesome? Free vacations. You know what combines the two? WOW Air's SnapTravelers program, which promises to send four particularly creative Snapchat users to destinations around the world — provided they document it all on social media, of course. Recently, the low-cost Icelandic airline announced a search for "creative, fun and interesting people" to travel to four of WOW Air's 28 destinations, which include Barcelona, Amsterdam, and San Francisco.
According to the Daily Dot, the cities will be chosen at random, and SnapTravelers will be asked to take part in two Snapchat-worthy activities (chosen by the airline) per trip. Each mini-vacation is set to last between three and eight days, during which all flights, hotels, and activities will be taken care of; there's even a travel allowance, because Snapchats only get cooler when you have actual money to spend. The resulting videos will be posted to WOW Air's Snapchat Story, along with some of their other social media profiles.
If this sounds up your alley, applying to the program is super simple: Just create a two-minute Snapchat Story in English, save the video, and upload it to the SnapTraveler page on the airline's website, along with your relevant social media handles. However, you might want to get a jump start on the process — applications close on May 8, and the trips are supposed to begin in June. According to Business Insider, the winners will be announced on May 17.
Considering that WOW Air is a relatively young airline, it's no surprise that they plan on harnessing the power of social media users to promote their brand. Snapchat in particular lends itself well to traveling; unlike other social media platforms, Snapchat allows users to post short videos that play chronologically on their Stories. The result is, well, a story. Furthermore, tourism is largely built on word-of-mouth, and there's no better way to spread the word than through getting creative on social media.
Besides, it's totally free. Free. Need I say more?
Images: Stephen Lewis/Pexels, Giphy (2)