Meet The Newest Addition To 'Little Women: NY'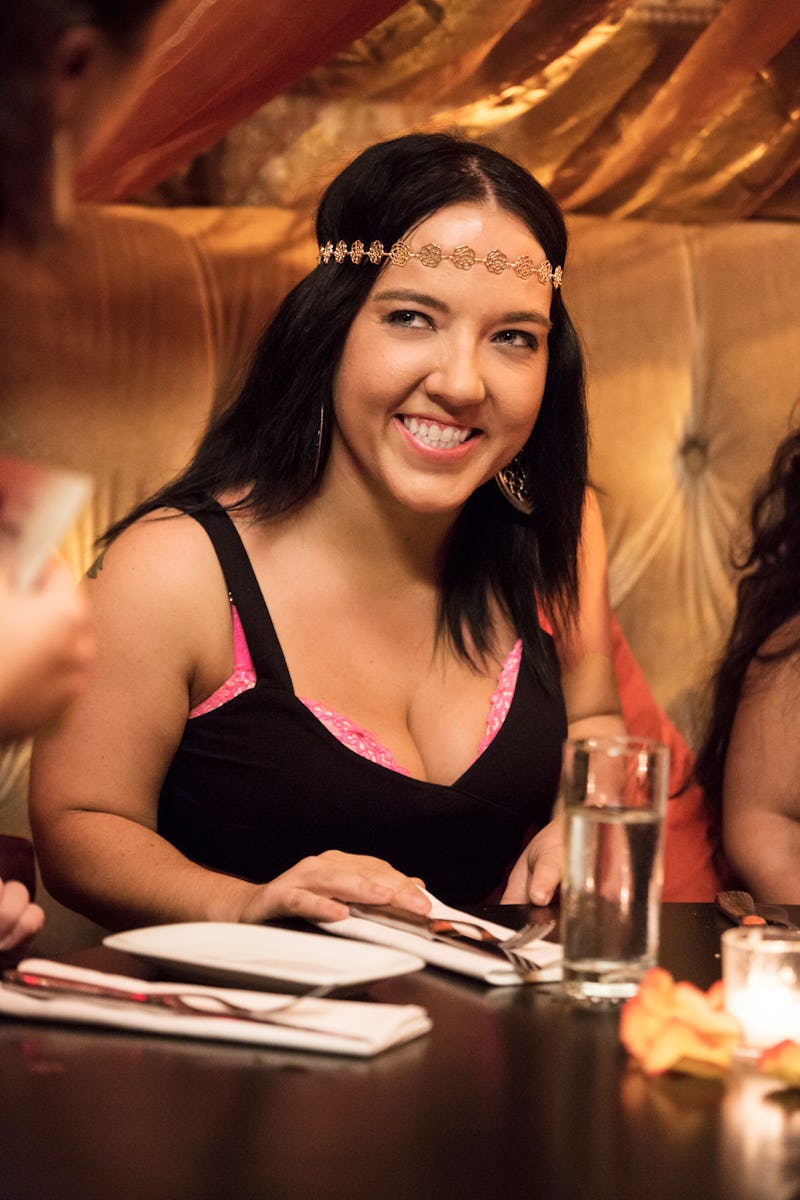 It looks like things change on Little Women: NY faster than a New York minute. Case in point: Season 2 of the Lifetime docuseries has said goodbye to Season 1 cast members Misty Irwin, Jordanna James, and Kristin Zettlemoyer and will say hello to two newbies. We'll soon get to know all about these new cast members when Season 2 of Little Women: NY premieres Wednesday, May 4 at 10 p.m. ET, but it certainly wouldn't hurt to see who Jessica Capri is, one of the new additions to the show this season.
From the Little Women: NY promos, I can already tell that Jessica is going to be a fiery newcomer to the show. She does say "I might be small, but I have a big mouth" in one spot, after all. Another promo shows her getting into it with returning cast members Dawn Lang and Jazmin Lang, so we know that statement to be true.
Clearly, Jessica brings a lot to the table as far as entertainment value is concerned, but that's not all she'll be adding to the new season of Little Women: NY. Jessica led a pretty fascinating life before the Lifetime show came knocking on her door. Get to know her a bit better below, and you'll soon see why Little Women: NY is only the latest intriguing project she's working on.
She's A Jersey Girl
Jessica may be taking on the Big Apple these days, but she used to call the Garden State home, according to her official show bio on Lifetime's website. Her bio also states that she'll be bringing "her Jersey 'authenticity' to the NYC group," so it sounds like it's about to get mighty real on the upcoming season of Little Women: NY.
She Was A Wrestler
Before Jessica was getting into verbal feuds with her Little Women: NY castmates, she got into physical fights for a living as a wrestler, according to her show bio. She competed in Hulk Hogan's Micro Championship Wrestling under the apropos name of Jersey Jess and appeared on the promotion's eponymous truTV series in 2011.
Unfortunately, if you were hoping to see Jersey Jess in action, I've got bad news for you. Jessica said she is no longer wrestling and has retired for the most part, although she does do a promo gig every once in a while, she revealed in a video posted on Facebook in April. But I have a feeling her Little Women: NY castmates will still have something to say about her former profession.
She's Besties With Katie
Jessica's fellow Little Women: NY rookie Katie also hails from the wrestling world, and the two used to party out on the road, according to her show bio. Katie will actually be living with Jessica this season of Little Women: NY while her boyfriend figures out whether or not he wants to focus on his music career in Seattle, her bio on Lifetime's website says. Here's hoping these roomies leave their drama at the door. Oh, but who am I kidding?
She's All Tatted Up
Jessica loves to make a statement with large, colorful tattoos, including one of a skull with wings on her back and some more recent ink of Beauty and the Beast's Belle as a pin-up girl (above), as seen on her Instagram profile. This lady is pretty hardcore.
Snapchat Is Her Social Media Of Choice
If you really want to keep up with Jessica's adventures, that's where you'll find her.
You'll Want Her Dog To Appear On Little Women: NY
Jessica's little pup Chi Chi is basically too cute not to be on TV. I mean, really.
Jessica has certainly piqued my interest. I can't wait to see how else she spices up Little Women: NY this season.
Images: Zach Dilgard/Lifetime (2)