Peter Went To Trial On 'The Good Wife'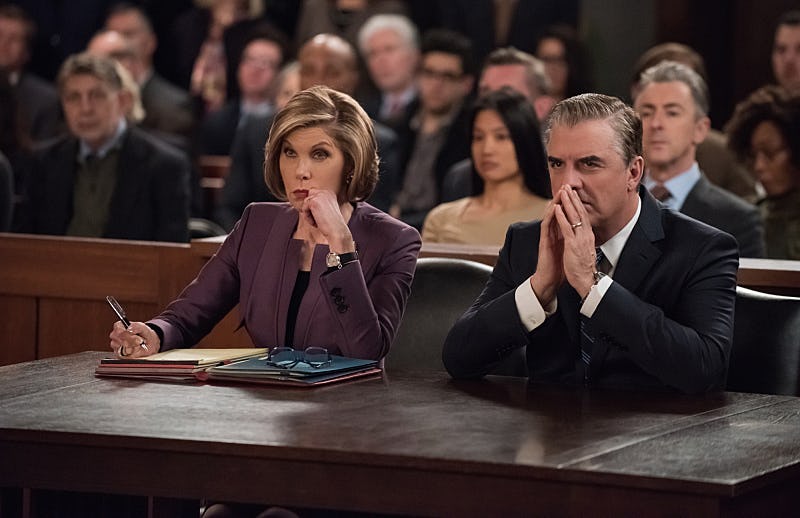 After months of speculation and mystery, Peter finally saw his day in court on The Good Wife . Accused of accepting a bribe while acting as State's Attorney, Peter went in to court determined to prove that he did not throw a murder case in return for super pac donations from Lloyd Garber, the would-be murderer's father. Alicia and Eli both attended the trial to support Peter, with Alicia even putting on a show of wifely affections for the jury. With the public support of his wife and Diane Lockhart as his attorney, Peter went to trial on The Good Wife , and a verdict is coming.
Peter's trial was a somewhat nutty who's who of past prosecutors in the State's Attorney's Office. Testifying for prosecutor Connor Fox were Matan Brody, Geneva Pine and Cary Agos, who was forced to testify after another witness stated that he handled all the evidence on the murder case. All in all, it was Geneva's testimony that was the most explosive. The ambitious prosecutor alleged that Peter had dismissed evidence on purpose, something Peter flatly denied. When Jason Crouse and others looked into Geneva, they found reports that she was actually lying to get back at Peter for breaking off a years-long affair. (Again, Peter denied any affair with Geneva, but, really, why would anybody believe him?)
Peter ended up taking the stand to deny all charges against him, but it's tough to say what good it did him. After the jury went on deliberations, Fox approached Alicia with a new deal: two years in jail (just one year less than the three-year deal previously offered), and just when Peter was prepared to take the deal, the jury returned with a verdict...which we will have to wait until next week to hear.
Throughout Peter's trial, one thing remains unclear: is he guilty? Alicia seems to believe in Peter's innocence, but it's obvious that nobody else does. And, based on what was shown of Peter's trial, it's anybody's guess as to whether or not Fox made a good enough case against Peter to warrant a conviction.
I am going to go on the record right now and say Peter will be found not guilty. If I'm right, we won't have to spend the series finale of The Good Wife watching Peter head to a life behind bars.
Images: Jeff Neumann/CBS; reneegoldsberry/tumblr