Let's Talk About Jon Snow's Eye Color On 'GoT'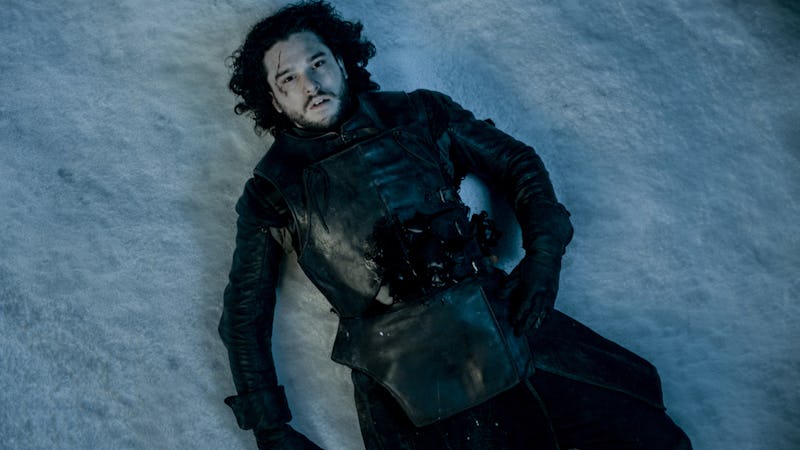 Did you think that Jon Snow's resurrection would put an end to theories and overanalyzing details? To steal a line from Ramsay Bolton, then you have't been paying attention. Let's get into it! For example, Jon Snow's eyes aren't blue on Game of Thrones, meaning he's not a White Walker — phew! But, what does his eye color mean?
This isn't the first time that Jon's eye color has been a point of interest. Remember last year, when Jon Snow died? Isn't it lovely that we can talk so calmly about that now? It's all behind us. Anyway, back then fans speculated that Jon Snow's eye color changed after being stabbed. Did they flash purple, confirming that he's a member of Team Secret Targaryen? Since Daenerys' eyes aren't purple in the HBO series, that seems like a pipe dream.
Now that his eyes are open again, we can have another look. Has the color changed? Maybe they're too dark now. A (not at all distracting) Google image search proves that Kit Harrington's eyes seem to be a lighter shade of brown than we see on Jon's face — but that could easily be because of the setting and the lighting on the show. Personally, I don't think it's safe to say that his eyes have changed in any way. Take a look for yourself.
This is good news! I don't want him to be changed in any kind of weird way by Melisandre's magic. I don't want Jon Snow to be a White Walker. If his eyes are normal, that makes it more likely that he's normal. (Fingers crossed.)
Image: HBO