About That 2nd 'Civil War' Post-Credits Scene...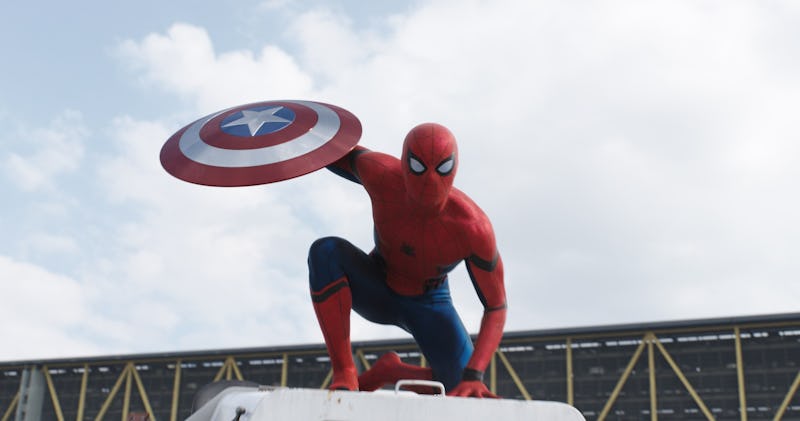 By now, superhero fans know pretty much what to expect from each new Marvel movie. There's gonna be a bunch of wisecracking Avengers, hanging out or battling each other or, most likely, doing a mixture of both; a Stan Lee cameo that's blink-and-you-miss-it fast; and a post-credits scene or two, teasing the studio's upcoming films. Thankfully, Captain America: Civil War doesn't disappoint in any of these areas, especially when it comes to the footage shown after its conclusion. There are two post-credits scenes in this film, and while the first one is the bigger hint at what's to come for Marvel, it's the second Civil War post-credits scene that'll leave fans cracking up as they leave the theater.
In the first scene, audiences watch as Bucky, one arm gone and running from the law, is taken by Captain America and Black Panther back to Wakanda. There, Black Panther lets him hide in safety, as a way of apologizing for wrongly accusing him of killing his father. Not much is said, but it's clear from the shot of a massive Black Panther statue in the background that the scene is meant to set up that character's 2018 film. It's your typical post-credits scene, a serious, if not drama-filled, way of hinting at the studio's cinematic future.
The second post-credits scene, though, is a different story. Unlike the first one, this scene is much more light-hearted, with a focus on Civil War's most entertaining character: Spider-Man. In it, the teenage Peter Parker is shown back home in Queens, after being thrown out of battle by Iron Man. He's seen playing with some Spidey gadgets given to him by Tony, but is interrupted by Aunt May, who questions why Peter has a black eye and looks worn from battle. And get this — Peter tells the truth (well, kind of). He blames "Steve from Brooklyn" for the shiner, referring, of course, to Captain America.
But the big reveal comes when Aunt May leaves. Only then does Peter take his gadgets back out — and when he does, he displays his Spider Signal on the ceiling, with the words "Spider-Man will return..." appearing on-screen. How cool is that?!
So while the first Civil War post-credits scene may be the more serious event, it's the second one that's the most fun. When you see Civil War, stay for both, and get a sneak peek at two exciting movies coming up soon in the Marvel Universe.
Image: Disney/Marvel; Giphy