This Media Startup Is The Future Of Business News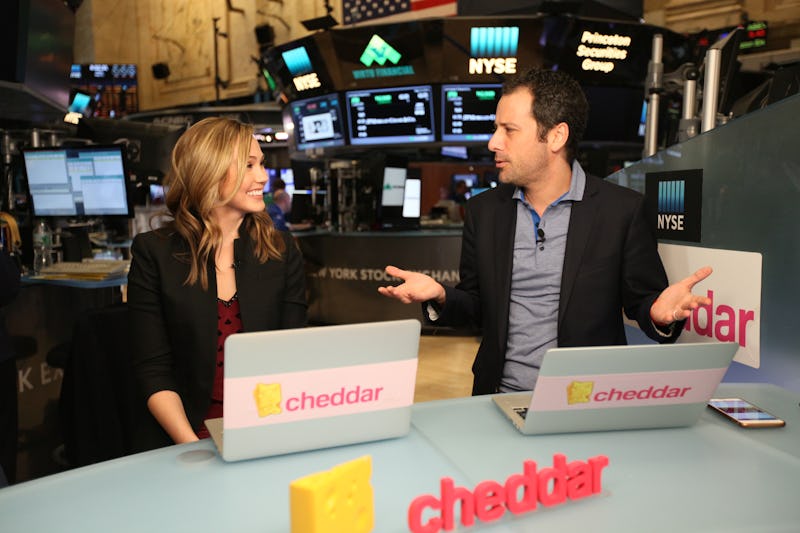 At 9:30 a.m., the opening bell of the New York Stock Exchange rings, and live from the trading floor, Cheddar anchor Kristen Scholer and co-host, founder, and former BuzzFeed president Jon Steinberg report on the latest in business news while also interviewing big names in the industry — from the startup space, to public company CEOs, to investors. Who's tuning in? Via platforms like Facebook Live and Vimeo, the broadcast reaches viewers around the world, namely business-minded Millennials seeking news that's easily digestible and informative about topics and companies they care about. Already coined the "CNBC for Millennials," Steinberg's startup Cheddar is a groundbreaking news marketplace changing the way Millennials get their business news. Full disclosure: Jon Steinberg is a member of Bustle's board.
The Cheddar team is small, but has already accomplished major milestones during the startup's relatively short existence. It has set up its studio on the floor of the NYSE, broadcasting live every weekday morning. It's one of the first companies to broadcast via the streaming platform Facebook Live. And, it recently launched a subscription service for its content using Vimeo. I spoke with two members of the team, producer and reporter Krysia Lenzo and anchor Kristen Scholer, to learn more about Cheddar and how it's making big waves in the business.
CEO of the New York Stock Exchange Tom Farley and Kristen Scholer
One of the most remarkable things about the Cheddar model is how it's reshaping the landscape of broadcast journalism. Lenzo hits the nail on the head when she asserts that "the industry needs to appeal more to Millennials; we are not involved in watching certain channels that are more geared to our parents." While Cheddar caters to a specific niche to reach a younger audience, "operating with Millennials constantly in mind," Scholer thinks that their product is "high quality, informative, engaging," not necessarily limiting to any particular generation, but accessible in a way that's very new and very now. For starters, shooting from the floor of the NYSE gives the broadcast what Scholer calls "a live pulse," as it is literally situated at the heart of the action.
"The industry needs to appeal more to Millennials; we are not involved in watching certain channels that are more geared to our parents."
Reporting via live video that's accessible through media platforms that are already popular, like Vimeo, as well as more uncharted territory, like Facebook Live, is just the tip of the iceberg for Cheddar. "The way in which we're talking about the news, we're doing it in a way that deals with the people's interest," says Lenzo, speaking of Cheddar's coverage that focuses on businesses that get young people excited — tech companies, startups, and up-and-coming movers and shakers. Additionally, Cheddar's broadcasts are interactive, with viewers sending in comments as they're speaking live. Lenzo adds that they're "reaching out to the viewers and seeing what they think is the next trend." We're no longer in an age where news is limited to being a television on in the background with a complete lack of connection to the viewer. Instead, with Cheddar, there's instant feedback. "It's frightening and exciting," says Lenzo. "Cheddar really encapsulates that whole vision."
Cheddar Producer and Reporter Krysia Lenzo
Much of Cheddar's success can be attributed to the startup's ability to work as a team. Lenzo notes, "we're all supportive, we're all able to adapt, we're all able to roll with the punches — that's not necessarily something that happens at bigger corporate media companies." Because the team is so young, they don't have those roadblocks. What they do have is experience in corporate media, so they can understand how to adjust the established model, "already avoiding the road blocks that might potentially arise," says Lenzo.
Lenzo and Scholer also note Steinberg's ability to hire top performers who bring with them different backgrounds and different skill sets. The team showcases a variety of specialties within different past companies, each offering expertise in different areas of Millennial business interests. Scholer, who's been with Cheddar for just over a month, was previously a reporter at The Wall Street Journal writing about the stock market and the economy with a focus on consumer tech, and before that was a writer and producer at CNBC after studying journalism and economics at Northwestern University. Lenzo, who got her master's in journalism at New York University after graduating from Harvard and working as a financial analyst, worked at Fox and then CNBC before hearing about the opportunity at Cheddar.
"Women as a whole in this industry are very supportive."
Both Lenzo and Scholer look up to Maria Bartiromo, whom Lenzo credits with having "founded this industry in terms of financial journalism," as the first reporter, man or woman, to report live on the floor of the NYSE. As the Cheddar team now reports and breaks news live from the trading floor, Lenzo and Scholer celebrate Bartiromo's career, recognizing her as reshaping the potential of broadcast journalism while eliminating huge boundaries in the field.
President of Slate Media Group Keith Hernandez, Kristen Scholer, and Cheddar CEO and Founder Jon Steinberg
When asked what it was like to work in a male-dominated industry, neither Lenzo nor Scholer said they saw it that way. While both admit that the financial service industry is still predominantly dominated by men, they have found their experience, especially in the field of journalism, to be more balanced and haven't necessarily faced challenges specific to their gender. "Wall Street itself was considered a boys club for some time," notes Scholer, but that isn't necessarily the case today. Lenzo notices that "more and more women are interested in the industry because it's becoming cool." Women are just as interested in business and should not be intimidated. "Women as a whole in this industry are very supportive," says Lenzo. She contends that finance is "not as hard as people make it seem" but there's "a lot of jargon thrown around" that women can see as an obstacle. Instead, both urge women to learn on their own, using sources like Cheddar to better their knowledge and understanding of the industry.
Pssst! Check out our podcast, The Chat Room, for all things internet.
To those looking to get into the field, Lenzo and Scholer say go for it. "Not being intimidated by finance is key," advises Lenzo. Read as much as possible about companies that interest you and stay up to date with The Wall Street Journal, CNBC, and Cheddar every day. "If you subscribe, you can hear the perspectives of venture capitalists and CEOs," says Lenzo, who also recommends to "get as much credibility as you can" by knowing every possible thing there is to know in your field. You have to know the industry, but the great news is it's fun. It's an exciting time for business, and much of what is going on directly affects Millennials. Immerse yourself and embrace the new. Staying informed is as easy as streaming directly from your Facebook feed.
Editor's note: This post has been updated from its original version.
Images: Cheddar (4)