Stephen Mangan Plays An Icon In 'Houdini & Doyle'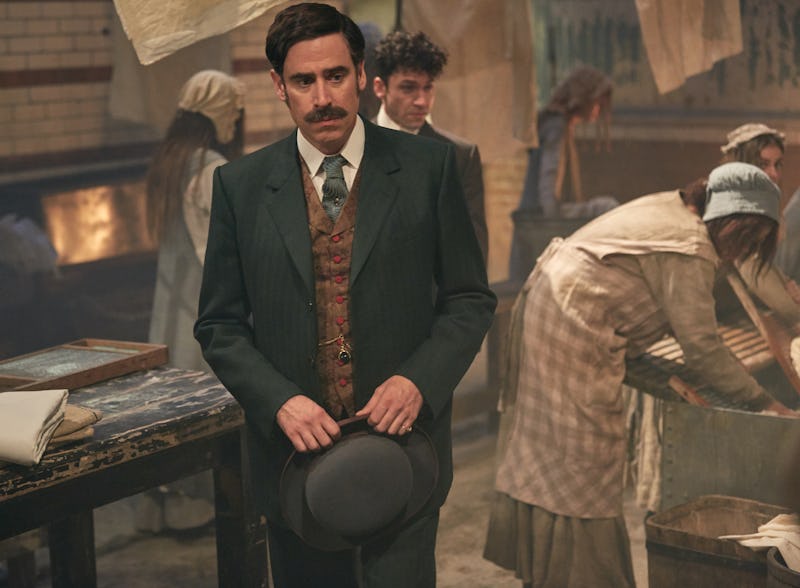 Fox's newest series Houdini & Doyle is a different type of crime procedural. The series brings together two creators of histories' greatest mysteries and puts them to task solving crimes. Since Harry Houdini and Arthur Conan Doyle are well-known personalities despite having been popular over a century ago, the stars of the FOX series have some awfully big shoes to fill. But I'm sure that British actor Stephen Mangan, who plays Doyle on Houdini & Doyle, is up to the task.
Doyle is best known for creating the character Sherlock Holmes and writing the many stories that feature the popular crime-solving detective. Doyle's legacy is massive, even influencing television and novels in the multiple adaptations of Sherlock Holmes that air on television today. His ability to craft meticulous, intelligent crimes for his hero to solve make him a likely candidate for crime-solving assistance, and Mangan is absolutely the right choice of actor to portray the author. Mangan is a classically-trained actor who has a great deal of experience acting in everything from classic pieces of Shakespearean theater to traditional sitcoms. Here are just a few examples of Mangan's work that prove he's a perfect fit for the role.
Episodes
Mangan's most visible role in America has been as television producer Sean on Showtime's Episodes, following the career of a fictionalized version of Matt Leblanc as he maneuvers through the business of television. Sean is sardonic, clever, but an ultimately flawed personality. What could've been a simple sidekick is fleshed out by Mangan to become a living, breathing character.
Would I Lie To You?
The British panel show doesn't feature traditional acting, but being a good liar does involve having some acting talent. What is an actor if not a liar of the grandest scale? Mangan has been featured on multiple episodes of the show, giving him practice in being one of the best liars – that is to say, actors – in Britain.
Birthday
While Mangan has a history of playing comedic roles, he's also an accomplished theatrical actor. He's been featured on many West End stages and assists some plays in making their transition to television. His most recent television role before Arthur Conan Doyle was in the TV adaptation of Birthday, a play in which a child is born from his father instead of his mother.
Mangan's range of acting makes him a perfect fit for the complexities of Arthur Conan Doyle. While much of his most recent work is in comedy, Mangan will be far from the first actors with a history for comedic roles to make a name for himself as a lead in a dramatic procedural. In fact, that's the exact same course of action that Hugh Laurie took when he became famous for playing the role of Dr. House on House M.D. Mangan has the chops to become the next big network crime star, and there's no role is better suited to make it happen than that of Arthur Conan Doyle himself.
Image: Robert Vigliasky/FOX