14 May The Fourth Memes For Star Wars Day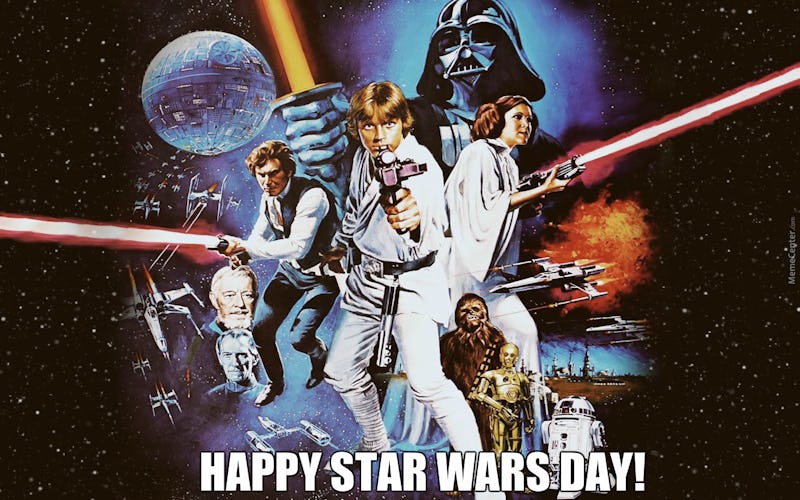 For many, today is a Wednesday like any other — you're halfway through the week, you're daydreaming about the weekend, and you probably still have *NSYNC stuck in your head, namely the 2000 single "It's Gonna Be Me," and more precisely, the line in which Justin Timberlake declares, "It's Gonna Be May ." For Star Wars fans, it's not just Wednesday but the fourth of May a.k.a Star Wars Day, a day for celebration punctuated by unbridled proclamations of "May the Fourth be with you," and obviously May the Fourth be with you memes. The famous one-liner will be repurposed in the punniest way to infiltrate every last inch of the internet.
So you don't live and breathe Star Wars? Don't think you're in the clear. Just as it's nearly impossible to make it through the last few days of April without facing an onslaught of memes starring a fresh-faced ramen noodle-haired JT, consider yourself warned that it's unlikely you'll get through the day without your share of Star Wars puns specifically relating to May the Fourth. Date-related memes hardly discriminate, so before you can scroll through your social media feed to see what's up in the world, you're almost guaranteed to discover eight new ways to deliver the punny one-liner "May the Fourth be with you!" Even if you self-identify as an innocent, internet-using bystander, that doesn't mean you can't nerd out and get in on the fun. In case you're worried about not getting your fix, plan on beating your friends to the punch, or want some anti-"May the Fourth" ammo to keep your Star Wars fan friends in line, here's a roundup of some of the best May the Fourth memes.
You can never be too prepared.
Because he didn't get enough attention four days ago.
Move over, Justin.
When suddenly every friend in your newsfeed is a die hard Star Wars fan.
If you want to be grammatically correct (in Yodish).
A couple time zones too late? The struggle is real.
Take that, everybody else.
If you're feeling those O.G. vibes.
Let's be accurate here, guys.
What's in a name, anyway?
Happiness isn't for everybody.
Don't let it get to this point.
Wise words.
Or if you're just totally, completely, utterly over it.
Images: MemeCenter (3), MemeGenerator (6), MemeMaker, QuickMeme (6)