You Need These 5 Essentials At Your Wedding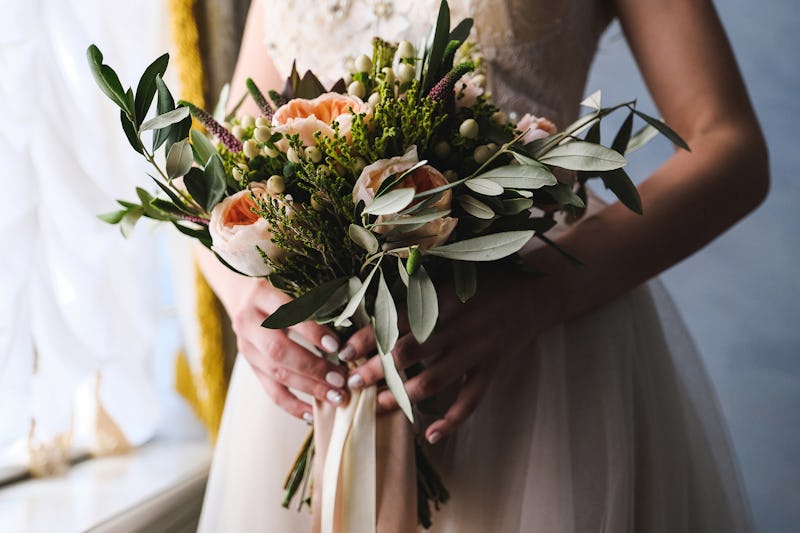 Aleksandr Zubkov/Moment/Getty Images
Putting together the perfect plans for your wedding day is often a process that takes many months, and sometimes even many years to pull off. It will require lots of Excel spreadsheets, in-person pow-wows with wedding vendors and planners, and vision boards that seem to spread out and take over both your coffee table and your dining room table (not to mention your life). But, even with all that planning, there are certain things brides say they wish they had at their weddings that you might not think to have, despite your thorough attention to detail.
No matter how many times you triple check your to-do list or spend late nights browsing message boards, reading tips and tricks from brides who have already made the trip down the aisle, there will be things here and there that you wish you had done differently, and maybe even perhaps things you wish you had that you had no idea you needed to plan for. This is totally normal — but easily avoidable.
To help you show up to your big day without wanting or wishing you did anything differently, here are five common things brides wish they had at their wedding day. So take note!
1. An Extra Pair of Hands
Whether it's a wedding planner, a day-of go-to gal pal, or even just a designated member of the bridal party to stick close by to your side, it's common to wish you had an extra pair of hands on cue to help with everything and anything that comes up.
You may want someone to be there to field phone calls that pop up on your phone throughout the day, or to pass along info and changes to vendors before the wedding begins. If you don't have any extra funds left in your wedding budget, ask a trusty family member or a loyal bridesmaid to take on this role for you on the day of your wedding.
2. A Survival Kit
Having a bag of survival items close by will save you or your bridesmaids the hassle of having to drive to a convenience store or raid the hotel for items that are needed throughout the day. Toss together a bag of essentials, like Band-Aids, Advil, safety pins, and even scissors, to bring with you on your wedding day. Store it in the bridal suite and let everyone know that you're fully stocked and prepared for the last minute emergencies that invite themselves to your wedding day before you head down the aisle.
3. A Videographer
We all know that a picture is worth a thousand words, but sometimes, a video is worth even more. Brides usually opt-out of a videographer if they need to find a little extra wiggle room of cash in their wedding budget — and later regret it.
If affording a two person camera crew is out of the question for your wedding day, put friends and family members in charge of filming key wedding moments on their household cameras or iPhones. After the wedding, have them send you those clips and you can put together your own wedding video for free.
4. A Change of Clothes
Even though you spent a couple of thousand dollars on the dress of your dreams, there's a good chance you're only going to wear it for eight hours, or less. A lot of brides desperately wish they had a change of clothes with them on their wedding day.
It gets hot underneath those wedding dresses. Plus, after a night of dancing and hugging guests, you may feel a bit uncomfortable in your dress. Whether you're heading to an after party or just back to the hotel for a good night's sleep, have a change of clothes at the venue that you can slip into when the official party is over.
5. A Plate of Food To-Go
One of the main things most wedding guests remember from your big day is how deliciously yummy the food was. But often times, during the night, you may find yourself all over the place and nowhere near your fork or dinner plate.
In order to get a taste of the food you so carefully crafted and picked out for the night, ask the venue ahead of time to prepare a to-go plate for you. That way, you can devour it during cocktail hour, before going out and greeting guests, or on the car ride home, when you finally have a second to take a deep breath.
Images: Getty Images (6)