Nintendo Is Teaming Up With Vans For A Shoe Collab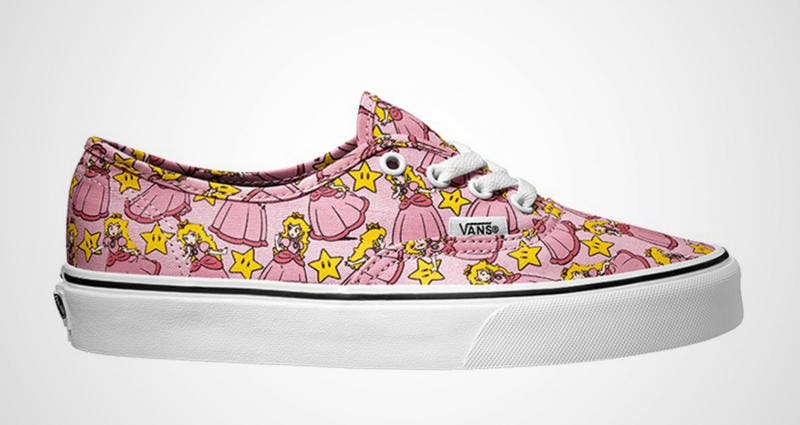 Now you can relive your childhood in the most fashionable way possible. Bringing a classic into modern times, Nintendo teamed up with Vans for a shoe line that's perfect for people of all ages. This time the shoe company is taking it way past the white canvas classic it's known for with some colorful prints starring all your favorite in-game characters. Vans isn't just stopping at sneakers either. This range has got something for every single shoe lover.
Whether you're looking for a Mario high-top sneaker or a Princess Peach slip-on, Vans has got your covered. I can't promise that these shoes will give you star power, but you'll definitely look great wearing them. Along with the gang of familiar Super Mario faces comes characters from Duck Hunt, Donkey Kong, and Zelda as well. That means there's something to fit all your '90s needs. Along with high tops and low-cut sneakers, the company also created a flip flop, so no matter your style, the collab has you covered.
According to Kotaku, there are 10 shoe designs with a different character printed on each one as of now. The collection wasn't supposed to be unveiled until May 23, according to the shoe site, so there could be even more options that we've yet to see. Everything about these shoes screams '90s, but of course, the silhouette gives them a modern update. Once you see these colorful designs, you'll be counting down the days until the launch date.
1. Donkey Kong Low-Cut
How cool is that print? I love the bright color mixed with the black background.
2. Super Mario High Top
The gang's all here for one of two high-top designs, but it's Mario who gets the standout spot.
3. Zelda Slip-On
Mixing the Zelda characters and a geographic print makes for a fashionable game lovers dream.
4. Princess Peach Tie-Up
Looking pretty in pink, I can't think of a better way to highlight the Princess.
5. Rainbow Flip-Flop
There's even a flip-flop for the those of you looking to keep it a little more casual.
6. Controller Printed High Top
Can't choose between all your favorite characters? Opt for the classic controller print instead.
7. Duck Hunt Sneaker
There's even a camouflaged Duck Hunt tennis shoe to keep you on your toes.
8. Character Round-Up
Or you could just wear them all, if you'd prefer.
9. Yoshi Slide-Ons
How adorable are all the different colored Yoshis?
10. Tie-Dye Throwback
This shoe manages to capture the '90s in all aspects.
Images: Vans (7)