Twitter Is Going Crazy For The UD Vice Lipsticks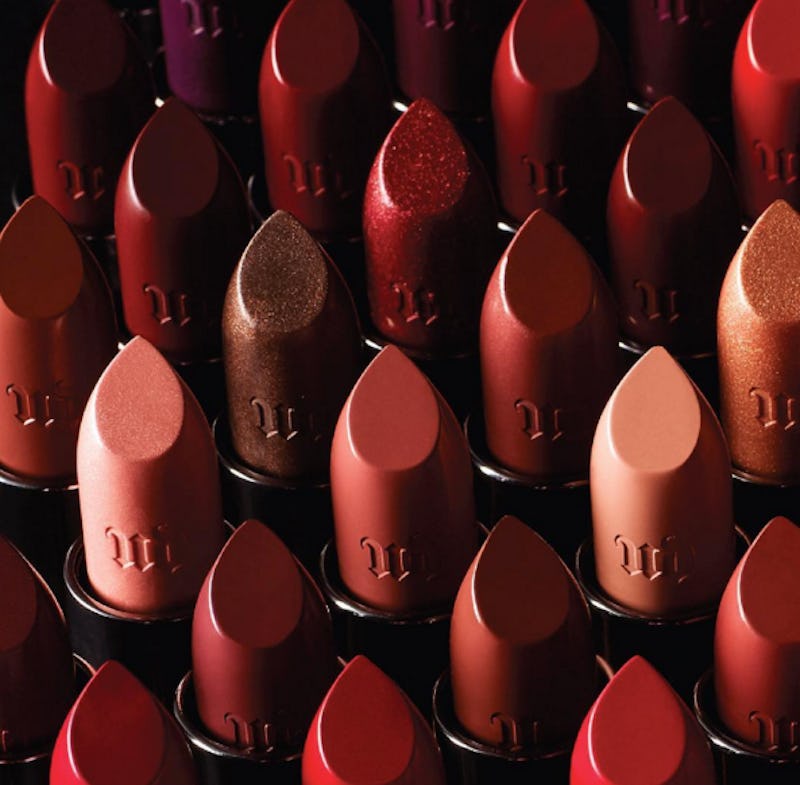 If you're already a fan of this beauty brand, then you know that what's happening right now is full-on makeup lover mayhem. Urban Decay is clearing out its shelves (physically and virtually) to make room for a complete lipstick revamp. See the 13 best Twitter reactions to Urban Decay's Vice lipstick launch because people are dying to get their hands on these shades.
If you're looking to snag your favorite shades (at a discount) then you're going to want to shop them before they're all sold out. After that, you'll have to wait until June 5th for your favorite shades to re-launch along with even more colors to love. These 100 lipstick colors come in six finishes including mega matte, metallized and sheer shimmer. So, it's pretty much safe to assume that there's one shade and finish combo that you'll just fall in love with.
If you're like most people who have already seen the swatches online, then you have fallen in love with more than just one of them. More like… all 100 of them! The anticipation for these lippies is really real, and these tweets will prove it. The Internet can hardly contain its excitement for these babies to launch, and I can see why!
The most incredible lipsticks are coming, and I can't handle it!
1. Awe Struck
I hope you were seated when you heard the news.
2. All The Lippies You Could Ever Need
Seriously, though, you'd never have to make another purchase again.
3. Literal Hearts For Eyes
This is as pure as love gets.
4. Always Room For More
Better start clearing some space.
5. Perks
Will work for free lipsticks, you feel me?
Want more fashion and beauty tips? Check out the video below and subscribe to Bustle on YouTube!
6. Color Palette
When it works, it works, you know?
7. When Can I Buy?
My wallet's ready and waiting.
8. Best Parts Of Life
When new lipsticks make you feel alive.
9. Decisions, Decisions
You know you're going to eventually want to buy all of them.
10. In Love
It just doesn't get better than this.
11. It's Official
Yep, pretty much.
12. Need ASAP
I needed these, like, yesterday!
13. Biggest Launch Ever
This really is the biggest thing to happen to lipsticks.
*Squeals* Can it be June, yet?
Image: urbandecaycosmetics/Instagram (1)