11 Moves That Should Be In 'Magic Mike's Live Show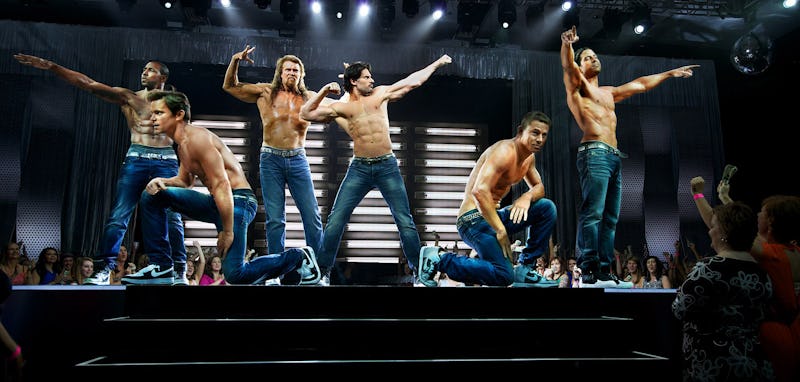 Hold onto your ponies, friends, because the men of your male revue dreams are coming to a Las Vegas stage near you. On Wednesday, Channing Tatum announced that he is partnering with Cosmopolitan.com to create a Las Vegas stage version of Magic Mike at the Hard Rock Hotel & Casino, but instead of watching it in 2-D, audiences will be able to see these men dance their hearts out in real life. And, no, this is not a drill. This is actually happening, people. In early 2017, according to the video Channing Tatum released with the announcement. "We want to create a place for women that is their gentlemen's club, their Playboy club. It shouldn't be sleazy. [You shouldn't feel] nervous to go there because you feel unsafe; we want to create the polar opposite of that," Tatum told the website. But if he really wants the show to be a success, there are some very specific dance moves from Magic Mike that the live show needs.
You know the ones: They're the moves that stuck in your memory long after you left the theater, so much so that, sometimes, when you're at home on a Saturday night, watching reruns of Gilmore Girls and eating an entire pizza by yourself, you close your eyes and remember those moves. They're that good. Here are some of the most memorable dance moves from Magic Mike that a live version of this film wouldn't be the same without.
1. The I'm King Of The World
But who will be able to play this character with as much bravado?
2. The Salute To America
Because nothing is more patriotic than men in camo with long... sticks.
3. The Reverse Twerk
Such a crowd pleaser.
4. The Moonwalking Worm
It's like half Michael Jackson, half I-can't-look-away.
5. Whatever This Magical Move Is
It's classic Magic Mike. The show wouldn't be the same without it.
6. The Floor Hump
Oh, come on. Like there's any other name for this.
7. The Pony
Because, if they didn't add this song to the list, you know audiences would be up in arms.
8. And The Crowd Goes Wild
It wouldn't be a male revue without getting the crowd involved.
9. The Crab Squat
Also a great leg workout, in case you were interested.
10. It's Raining Men
Because it's a classic. No stage full of half-naked men would be the same without it.
11. The Gun Show
Welcome to it, my friends. Welcome to it.
Now excuse me while I go book my tickets to Las Vegas immediately.
Images: Legendary Entertainment; Giphy (13)