Tara & Paris Bring The Revenge On 'Catfish'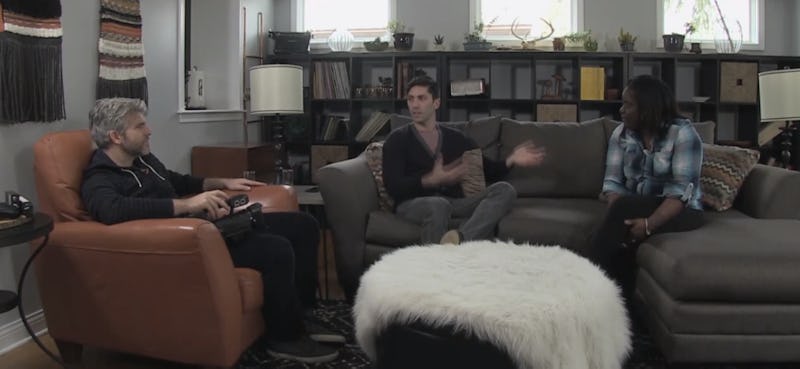 Ready for another Catfish investigation? After last week's emotional roller coaster between Courtney and Kayla, I'm ready for a good old fashioned Internet love story — or maybe the opposite. On this week's Catfish , Paris loves Tara, but they've never met in person. It's the same old song and dance; Tara refuses to Skype it out and dodges her attempts to meet face to face. Obviously, the only people capable of getting down to the bottom of this is Nev and Max. What would the lost online lovers of the world do without them?!
As Paris tells it, it was love at first chat when she and Tara, a girl from Chicago, first started talking online and fell in love. But then, it all went wrong, as it always seems to do on this show. After trying to meet up for real, Tara ghosted on her, which is one of the biggest signs that she's definitely being shady. This prompted Paris to do a little research herself, which led to a surprising discovery: Thanks to a Google reverse image search, she now knows that one of the photos Tara sent her isn't her — the photo belongs to someone else. She knows Paris is hiding something, but what? That's where the Catfish team comes in.
At the start of the research phase, Nev and Max had several suspects who could be playing the part of Tara, so they started shooting off emails, trying to see who will talk to them in the hopes of narrowing down the possibilities. But right off the bat, it became obvious that Tara is lying at least about her appearance. Nev and Max were able to get ahold of Dana, the girl in Tara's photos, and it's not her. Next, Mary — Paris' ex — calls them back, and calls their relationship the worst she's ever been in. And now that she's married and has moved on, she doesn't want to get too involved in this situation. In fact, she even accused Paris of catfishing people herself.
But regardless of that drama, Nev still called up Tara to find out if she'd be interested in meeting Paris. Tara's response? She texts Paris and says, "if you want to meet me, tell me you love me." What?! Then, Tara calls back and agrees to meet them... and gives them a little update. She's not actually from Chicago, she's from Syracuse. Lie number two revealed!
Once they arrive at Tara's house, she asks them to come around back so the neighbors don't see. And when she answers the door? You guessed it: It's Mary! She's really married, she really has kids, and now... this is her way of getting revenge on Paris for what she's put her through. Apparently, she offered Mary, her mother, and her kid a place to stay, and but it didn't work out, so they moved to South Carolina, where Mary met her wife. She seems happy now, so why the revenge?
And the icing on the cake: Mary's wife is in on it, too, because she's the one who's been talking to Paris on the phone this whole time. The next day, Nev and Max meet Mary to get more of the story without Paris around, and it's a doozy. After leaving everything she knew to live with Paris, it was devastating when it didn't work out and Paris dropped her off at a woman's shelter when she arrived. And she admitted that although it started as revenge, she eventually formed a friendship with her again and wanted to make sure she was OK. Is this complicated or what?!
In the end, they both ended up owning up to what they did wrong in their relationship and hugged it out. It's good to see that they got the closure they needed... even though in the update, Paris admitted they haven't talked since. Maybe it's for the best?
Image: MTV