8 Fun Cleaning Robots For Floors, Windows & More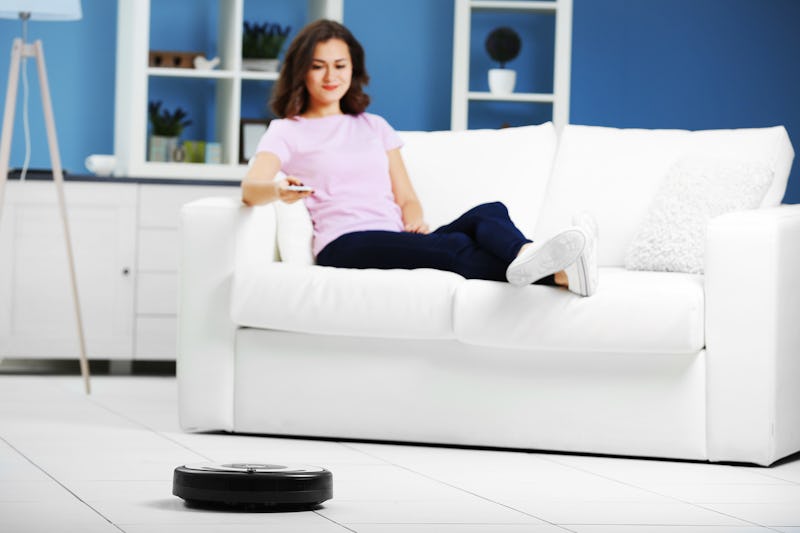 Cleaning my house is usually the last item on my "to do" list, but I'm well aware that it's actually one of the most important ones. Instead of doing a subpar job myself, though, I've decided to get out of chores by embracing the future: I, Robot-style. After all, robot vacuums for hardwood floors, grimy windows, and other places I'd rather not get up-close and personal with are handling these gross cleaning tasks just fine — better, even — without my help.
The best robot vacuums and cleaners do everything from unclogging your gutters to ensuring your floors appear absolutely sparkling — these robot vacuums even clean up pet hair, too! And aside from getting out of doing work yourself, using robotic cleaners to clean your home makes the most sense when it comes to being hygienic, too. After all, your kitchen sponge, washing rags, and mops harbor some of the most offending germs of all. (Trust me, my family leveled up to a Roomba years ago, and I'm now a full fledged robot-convert.)
So, do you really need a robot vacuum? That depends on how much free time you have and how thoroughly you clean. If you're like me, free time is nonexistent, and on the thorough-cleanliness side — there is always room for improvement. Ahead, eight awesome robot house cleaners that will save you time (and germs) down the road.
Sweep Up Dust & Pet Hair With Electrostatic Technology
O-Cedar O-Duster Robotic Floor Cleaner, $25, Amazon
This wallet-friendly robot is an excellent gateway gadget for anyone looking to work a little tech-savviness into their daily chores. The plastic floor-cleaning robot is outfitted with a flexible mesh base, which helps the robot navigate sharp corners on its own without scuffing up your baseboards. The cleaning design is best suited for sweeping hard floors like wood or tile, as it uses disposable electrostatic cloths to pick up dust and other irritants (you simply discard cloths after use!). Set it on a quick 30-minute run, or let it go longer for a thorough 120-minute cleaning. One user even said, "The O'Cedar duster not only saves time but is also so very easy to use. Our floors are actually clean at least twice a day now!" If you're sick of walking around barefoot and feeling little bits of grit and grime beneath your toes, then this robotic sweeper's your perfect match.
Pick Up Dust Without Knocking Into Furniture
Trendbox 9-Inch Wireless Home Robot, $19, Amazon
This wireless robot will take sweeping your floor off your 'to-do' list for good. The compact bot is tiny enough to crawl under couches and beds, whereas you'd have to move them, and automatically senses table legs and corners, in order to steer clear. The gadget works by employing microfiber tissues to pick up the dust on the floor, and one reviewer mentioned, "This little device is able to go where I am unable to with a traditional broom and does a wonderful job picking up small particles that would otherwise be difficult."
Entertain Your Pets & Take Care of Shedding
Kingfansion Automatic Rolling Ball Sweeping Robot , $10, Amazon
Here's a fun cleaning hack — if your pets are the main reason your floor is covered in excess debris (holy shedding), get the sweeping robot that serves as a source of adorable entertainment for your cat, in addition to retaining all their shed fur. These little microfiber-covered balls are made from a propene polymer that picks up dust and hair, which unzips for cleaning. Underneath the cover, they contain a simple AA battery-powered device, which propels the ball across the floor in random directions. Each ball comes with four covers, so you can switch them out as needed, and reviewers confirm that it's "so adorable and picks up so much dust and other stuff!"
Get the Heavier Crumbs & Grit With Three Cleaning Modes
Pure Clean Robot Floor Cleaner, $76, Amazon
If you or your roommates are particularly sloppy when it comes to your kitchen floors, it's better to be safe than sorry — nothing's worse than when breakfast crumbs and other food debris are tracked back into your bedroom. Ensure even the kitchen corners you normally forget about receive a deeper clean from this three-speed robot, which uses its self-programmed navigation feature to work its way around any room that deserves a thorough sweeping on the reg. Set it for ten, 20, or 90 minutes, and when it's finished, the handle pops up for easy transport back to the closet. The nice part is its easy pop-open garbage collection drawer, which makes emptying the floor cleaner easy and way less gross than traditional bagged options. Plus — it means all you need is the floor cleaner, no need to continuously buy new bags to refill it over time.
Take Care of Mopping & Vacuuming All At Once
Moneual RoboVacMop, $200, Amazon
If you've had it up to here with taking time out of your day to clean your floors, but you're not about to pay a few hundred every single month to have someone else do it: rejoice! This top-rated robot not only vacuums your hardwood floors and carpeted rooms, but it has the ability mop, and it even can operate under a hybrid version of the two. The innovative robot has a camera on top, which surveys your ceiling for a more accurate way to navigate your home, and users say it runs longer than their other robotic vacuums ever have. One reviewer said the dual mode "is pretty amazing," and that it's particularly great at vacuuming. It's warranty lasts you 12 months, and its ability to traverse all kinds of flooring makes it especially valuable in homes with lots of decorative rugs and mats.
Finally Get Streak-Free Windows That Sparkle
Winbot T he Window Cleaning Robot , $200, Amazon
This robot is an absolute necessity for anyone whose space benefits from getting plenty of natural light (aka: everyone). When you leave windows streaky with visible smears, not only does it often look worse than if you hadn't even cleaned, but the porous glass areas retain gunk and can become permanently cloudy. This window cleaner ensures both framed and frameless windows get the thorough cleaning they need, from the top of the panes all the way down to the bottom. One happy user said, "The 35 feet of windows which makes up a wall to my condo has never looked so good — even better than when I've used professional window cleaners..." The bot works by using pathfinder technology to scan your window's size and shape, which it then uses to build an efficient custom cleaning path, absorbing dirt and squeegeeing water off the window as it goes. Plus, you never have to deal with buckets, rags, or professional window cleaners again.
Deep Clean Your Grill While Hanging With Guests
Grillbot Automatic Grill Cleaner, $99, Amazon
If you're an avid griller (or your partner or roomie is, and they're gearing up for primetime grilling season), don't crack open that grill top until you've got one of these on deck. This robot can clean up after grilling sessions in ten, 20, or 30-minute intervals, freeing up the grill master, so they can head back to the guests. The bot will be taking care of business for as long as eight years, and you just have to charge it back up between uses. Its brushes can be cleaned in the dishwasher, and one pleased reviewer said, "When it finished cleaning and I opened the grill, I was very surprised to see the grates looked as though I had cleaned them myself with a wire brush."
Control Vacuuming & Mopping Via Remote
iLife V5 Robot Vacuum Cleaner With Mop, $179, Amazon
Take care of the floors from the comfort of your couch. This dual mop and vacuum not only looks like an Instagram waiting to happen ('grammers love gold accents), but the functions can be controlled via remote. Plus, this robot runs a full two hours, and reviewers say its bristles reach deeper and provide a better clean than previous robotic models. The iLife V5 also returns to its charging port all on its own when it's time to reboot, and happy users are saying it has no problem moving from carpet to hardwood while vacuuming. One fan said, "Overall, it is quiet enough, powerful suction, it does a gentle job while bumping onto furniture."
Bustle may receive a portion of sales from products purchased from this article, which was created independently from Bustle's editorial and sales departments.
Images: Fotolia (1); Amazon (8)