'Grey's Anatomy' May Lose Callie Torres — UPDATE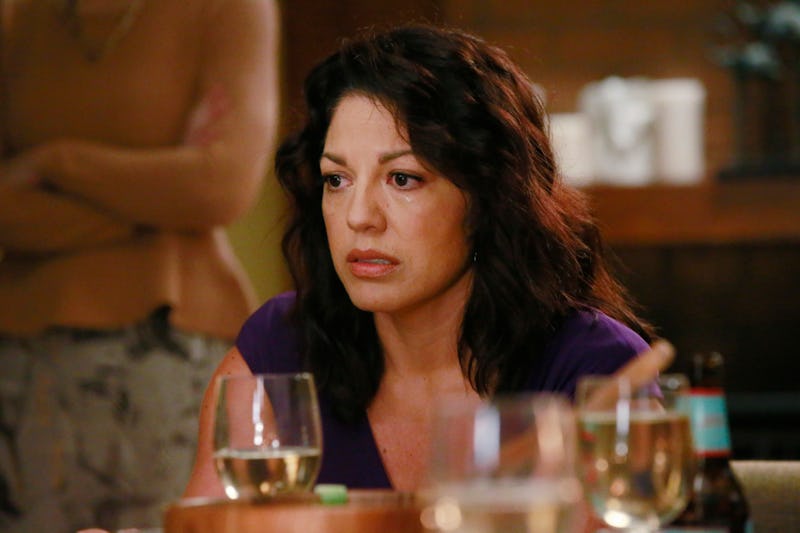 Well, hot dog, Grey's Anatomy fans — do we have quite the mess on our hands with Callie Torres and Arizona Robbins or what? They've been having their custody battle over Sofia for weeks now, and now we finally have a winner — Arizona has been granted sole custody of their daughter. I honestly thought it would go the other way, with Callie winning. Now that she's lost her kid, will Callie Torres leave Grey Sloan and Grey's Anatomy?
Update: On Thursday, May 19, Sara Ramirez released a statement to US Weekly in which she confirmed that she would be departing the show. "I'm deeply grateful to have spent the last 10 years with my family at Grey's Anatomy and ABC, but for now I'm taking some welcome time off. Shonda's been so incredible to work for, and we will definitely continue our conversations! I send my love to Ellen [Pompeo], the rest of the cast and crew, and I look forward to always being a part of the Shondaland family!" Shonda Rhimes also added, "I will miss Callie tremendously, but am excited for what the future holds for Sara. She will always have a home at Shondaland."
Earlier: All of this custody stuff started because Callie wanted to follow Penny, her girlfriend, to New York for a job, and Callie just assumed that Sofia would be moving to New York City with them. Arizona, as you would expect, was not that pleased. In court, Callie tried to rake Arizona over the coals, having her lawyers talk about how Arizona works all the time and has to choose her profession over her kid to save other kids, but the judge saw through that and went with the person who just wanted the best for Sofia. How could Callie stay now? What is left for her in Seattle? This storyline of Callie losing seems to perfectly coincide with a cryptic tweet that Sara Ramirez, who plays Callie Torres, recently tweeted:
Um, does Ramirez mean a wrap on Callie just for the season… or forever? At first I thought that people were just misunderstanding what she said, but now I think that Callie Torres is really on the way out at Grey's Anatomy . If Penny leaves with her, Callie has no reason to stay in Seattle. She could go anywhere and practice medicine and be a badass at it. Come to think of it, only bad things have happened to her in Seattle. Maybe she should give New York City a shot — there have to be far fewer disasters at Columbia Presbyterian (and the like) than Grey Sloan.
Images: Mitchell Haaseth/ABC