10 Books That Make Great Graduation Gifts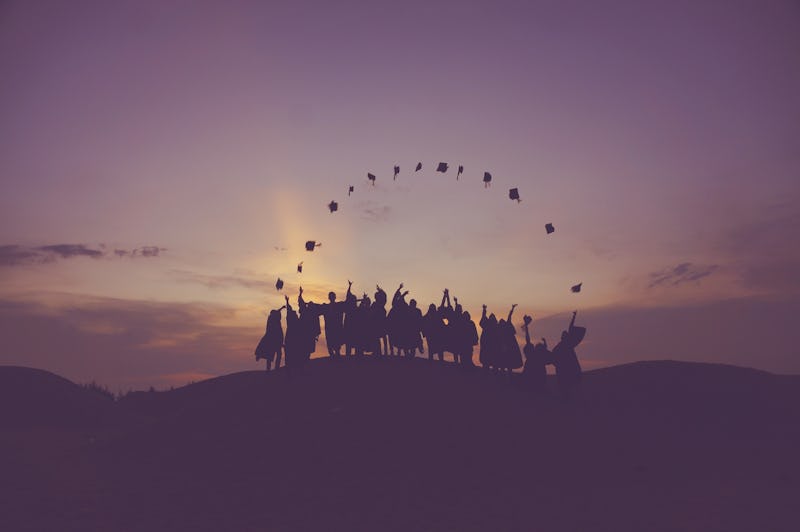 When you're celebrating a loved one's academic achievement, presents that might once have made the cut — a good pen, an engraved paperweight, a business card holder — no longer make sense for grads entering today's job market. But books always make great graduation gifts, because, c'mon, you can't go wrong with a present that imparts wisdom and lasts for years.
That imparting wisdom bit is important. High school and university might prepare you for lots of things, but life is not St. Elmo's Fire, and no one tosses her cap in the air with 100 percent confidence about her life choices. To the soon-to-be and recent grads, if you haven't figured it out by now, let me tell you: we're all flying by the seats of our pants and doing the best with what we have at the time. That's it. That's the secret of life.
However, that isn't to say that a good book can't help your graduate navigate her post-school life. Any title that inspires her to do better, teaches her how to find and apply for jobs, and helps her make wise decisions is a book that will make a great graduation gift. If you need a bit of inspiration yourself, check out my 10 recommendations below.
Dr. Seuss' picture book about the possibilities of life is a timeless classic that any grad will treasure.
I love a good career guide, and Leave Your Mark is a fabulous choice from a personal branding expert.
3. This Is Water by David Foster Wallace
A few years before his untimely death, David Foster Wallace gave his only public speech about his philosophy of life when he delivered Kenyon College's 2005 commencement address. Here it is, in book form.
High school and college grads often have to downsize as they transition into the next stage of their lives, so Marie Kondo's wildly popular decluttering guide will make a great, practical graduation present.
5. Nudge by Richard H. Thaler and Cass R. Sunstein
The environment in which you make a decision is just as important as the choice you ultimately pick. Nudge will help your graduate choose confidently.
In a world filled with rejection letters and "we have not decided to move forward with your application" emails, the happy shine of a new degree wears off quickly. Rising Strong can help your graduate make the most out of her failures.
Here's another commencement address, from Philadelphia's University of the Arts in 2012. Neil Gaiman's impassioned speech on the creative life is a must-read for any artsy grad.
Is your graduate planning to further her education with an advanced degree? If she's even considering it, give her a copy of The Professor Is In : Karen Kelsky's essential guide to finding a job with a terminal degree.
From Graduation to Career Ready might be tailored for English majors, but grads of all disciplines can learn from Dear English Major founder Alyssa W. Christensen's lessons on job hunting, self-promotion, and negotiation.
This collection of 10 short titles will brighten any new grad's bookshelf. Here are stories of instinct, work philosophy, company culture, hyperconnectedness, and more. Your grad will love them.
Image: Baim Hanif/Unsplash