12 Reasons Cole Is The Perfect Match For Chelsea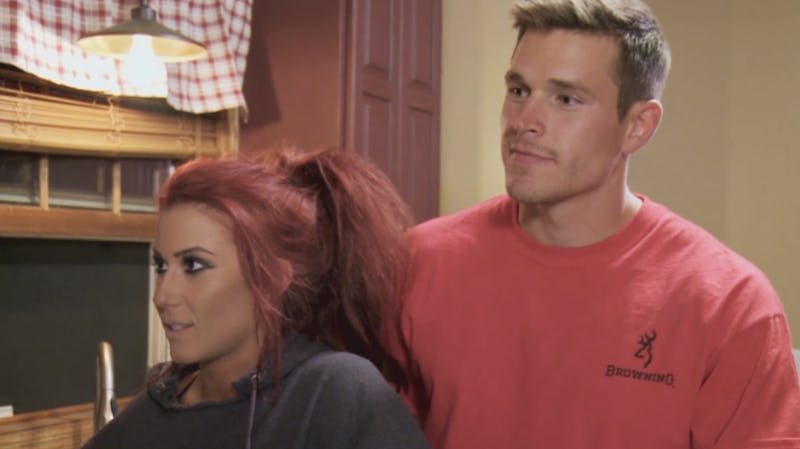 It seems like almost the entire time that fans have been following Teen Mom 2 favorite Chelsea Houska, she has waited for someone like Cole DeBoer to enter her life. In the middle of raising her daughter, Aubree, becoming an esthetician, and dealing with the endless drama that inevitably comes with Aubree's dad, Adam Lind, Houska never gave up on finding The One — and now she has (all the tears). As anyone who has followed Chelsea and Cole's love story can attest (whether that's by watching the MTV show or following the couple on social media), one crystal clear fact emerges: Cole DeBoer is pretty much the perfect guy.
To view Cole as a breath of fresh air after everything she's gone through with Adam is probably a little too simplistic. While Cole's hunk is god-like in comparison to many of the other men featured on the show, Cole is a hell of a good guy in his own right. In fact, he's such a catch that it's almost like someone should just compile a list of all of his incredible qualities and post it on the Internet...
Let's do it: How do I love Cole DeBoer? Let me count the ways...
1. He's There For Aubree
One of Cole's greatest qualities is how much of a hands-on father figure he is for Aubree, even accompanying her to a father-daughter dance. It's even more heartwarming to see how Cole interacts with Aubree, playing with her and loving her as if she was his own.
2. He's So, So Good To Chelsea
Anyone who has followed Chelsea's storyline from 16 & Pregnant through the early seasons of Teen Mom 2 is well-aware of just how much drama she went through with Adam. Cole, on the other hand, treats Chelsea with the utmost respect, care, and love. He knows what he wants — and he would never let her slip away.
3. He's Hotter Than Holy Hell
Um. Just saying.
4. He's Randy-Approved
Chelsea's dad has always wanted the best for his daughter, which means that his approval for Cole (and unbridled happiness for his daughter) means that he really is something special.
5. He & Chelsea Had The World's Sweetest Meet-Cute
They literally met at a gas station, OK?
"He was across at the other pump. And I looked, and he was staring at me. We didn't even talk. We just kept looking at each other because we're both shy," Chelsea told Us Weekly . "And then we were passing each other when we left because we lived out towards the same way."
"I went home to my friend and I was like, 'I just saw the guy I'm going to marry at the gas station, but we didn't talk,'" she said. SAD TIMES.
"And a few days later, he contacted me on social media and was like, 'Hi. I got gas next to you the other day,'" Chelsea recalled. "And I was like, 'Thank you, Jesus.'"
And the rest, as they say, is history!
6. He's Goofy
Always an important quality.
7. He's Private
While Chelsea is used to filming for MTV, Cole has always been more on the shy side in front of the camera. The couple did not film their engagement, and they will not be filming their wedding — and there's something to say about deciding to keep such precious moments private, for just the two of them and their families.
8. He's Romantic
When he popped the question to Chelsea, he took her into the woods where he had strung photos of himself and Chelsea on trees. He also asked Randy's permission to marry Chelsea, which is super sweet (and super traditional).
9. He Kills All The Spiders
This story will haunt your dreams and I'm sorry.
9. He Loves Plaid
Almost as much as Chelsea loves plaid, which, judging by her Instagram, is a whole lot.
10. And Animals
PETE THE PIG.
11. He's Super Family Oriented
And not just close with the Houska clan, either — he's clearly tight with his brother and his lady, whom he and Chelsea traveled with on vacation.
12. And Lastly, He's Not Adam Lind
Prayer hand emojis in the air for that one.
Image: MTV