16 Ways To Make Indian Food At Home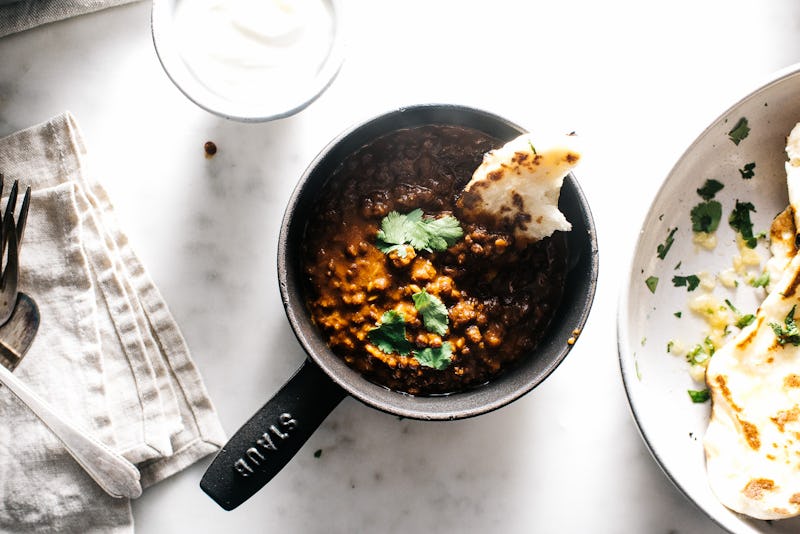 Everyone has their go-to meals to make at home, which may range from simple pasta dishes to hearty grain bowls — but go-to takeout meals are a different story. While may people may turn to their local Indian restaurant when they need to satisfy their naan, dal, or chana masala craving, you can actually make Indian food at home if you give it a shot. With the right collection of spices and the right techniques, it's totally possible to satisfy that craving in your own apartment — and you can have fun while doing it.
Indian food is one of the most delicious cuisines, but its intricate balance of textures and flavors can easily seem intimidating to someone who has never made it before. Whether you opt to make a curry dish or any other sort of meal, most Indian dinners should be served with rice — usually basmati — and also naan, or some other kind of flatbread. When you make creamy dals or curry sauces, rice and bread will help you to sop up all that tasty flavor.
Indian food may be one of the best takeout foods, but that doesn't mean you can't bring its flavors and traditions into your own cooking. These 16 healthy and easy recipes are bound to satisfy.
1. Vegetarian Tikka Masala
Although traditional tikka masala is often made with chicken, A Beautiful Mess whips it up using vegetarian-friendly tempeh for a hearty alternative.
2. Red Dal
Dal is a traditional Indian dish made with lentils. A Cozy Kitchen makes it using generous servings of spices like cardamom, coriander, and cumin.
3. Indian Fish Coconut Curry
No shortcuts are necessary to make an Indian dish that's totally aromatic and perfectly spiced. Steamy Kitchen makes a curry paste from scratch for this healthy meal.
4. Naan
What's a bowl of curry without some naan on the side? Mel's Kitchen Cafe breaks down how to work with the yeasted dough to create the ideal flatbread.
5. Black Dal
I Am A Food Blog uses butter and cream to make this black lentil dal taste even richer. Top it off with a dollop of yogurt and a sprig of cilantro.
6. Red Lentil Masala With Spinach
One of the most important aspects of Indian cooking is the spices, as Naturally Ella shows in this dish. Think of this as an opportunity to grow your spice collection.
7. Quick Vegan Chana Masala
Chickpeas, tomatoes, and plenty of spice — chana masala is a relatively simple dish, but it never fails to satisfy. Cookie and Kate shows how to make it in a cinch.
8. Eggs Bhurji
Why not try some Indian cuisine for breakfast? The Kitchn's spiced scrambled eggs are the perfect way to start your morning.
9. Indian Chickpea Dal With Coconut Broth
It only takes 15 minutes to make this wholesome gluten-free recipe. Steamy Kitchen combines tomatoes, chickpeas, and coconut milk with plenty of garam masala.
10. Indian Butter Chicken
There's nothing like a combination of chicken cooked in a silky, fragrant sauce, and a fresh batch of basmati rice. Mel's Kitchen Cafe creates a lightened version of this favorite by using half-and-half instead of cream.
11. Cauliflower And Chickpea Curry
Not interested in feasting on a lentil-based curry? Opt for one with chickpeas instead — Naturally Ella makes one that even beginner chefs can master.
12. Tomato And Lentil Curry
Inspired by the more traditional dish makhani, Cookie and Kate makes a filling vegetable-centric meal.
13. Carrot Halwa
Think of this dish by The Kitchn as Indian cuisine's answer to carrot cake — except it's much thicker, smoother, and covered in pretty chopped pistachios.
14. Indian Rice
Any batch of curry is incomplete without some rice. A Spicy Perspective makes a colorful, fragrant batch with turmeric, curry leaves, and more.
15. Indian Curry Tofu Over Swiss Chard
Savory Sweet Life's tofu-based curry dish may not be 100 percent traditional, but it's bound to please. Yogurt makes the sauce extra smooth and creamy.
16. Golden Red Lentil Dal
Leave it to Oh She Glows to make a totally rich yet totally vegan dal. Cilantro-speckled basmati makes the perfect complement.
Images: I Am A Food Blog (2); A Beautiful Mess ; A Cozy Kitchen (2); Steamy Kitchen (2); Mel's Kitchen Cafe (2); Naturally Ella (2); Cookie and Kate (2); The Kitchn (2); A Spicy Perspective; Savory Sweet Life; Oh She Glows