Jimmy Fallon's Puppy Predictor Fails This Year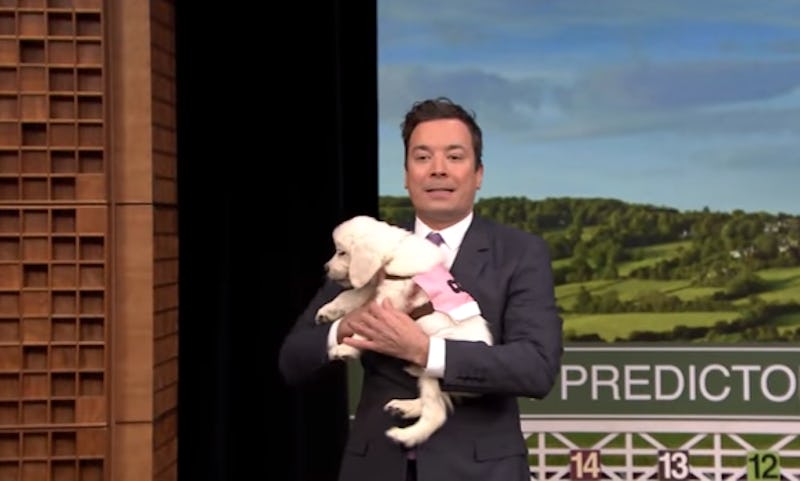 The 2016 Kentucky Derby winner has been crowned, and the horse with the most was the favorite Nyquist. Sadly, this means Jimmy Fallon's puppy predictor has failed to correctly pick the 2016 Kentucky Derby Winner after last year's success. In Fallon's first puppy run, American Pharoah's puppy stand in was the first puppy to make it to the kibble trough, and the horse American Pharoah went on to make history as a three-time winner of the race.
Things went differently this year. Fallon's race was a photo finish with Mor Spirit coming in first. The eager beaver pup booked it out of the gate and staked his claim on the delicious kibble trough at the finish line. His horse counterpart was way less motivated though. The real Mor Spirit didn't even come in the top five at the race. He lagged somewhere in the back. Maybe he just needed better motivation? I mean really, if you gave the poor horse something interesting to run toward he might have felt more compelled to dig his hooves in and knock Nyquist out of the race.
At least his puppy counterpart ensured that Mor Spirit will not be forgotten. The little cutie was not only the fastest puppy, but also clearly the most ambitious. When Fallon tried to pick him up he protected his section of kibble with both paws. Clearly, he was meant to be Nyquist, especially since puppy Nyquist did not set any records once the gates were open.
As for Fallon, his puppy predictor now has a 50 percent correct prediction rate (but it still ranks 100 percent in adorableness). Next year will be the true test. Can Fallon's puppy brigade correctly predict the 2017 Kentucky Derby winner? He has 365 days to find a new group of possibly psychic puppies.
In the meantime, pop on your most outrageous hat and pour yourself a mint julep. The horse race is over, but you can watch Fallon's puppy race on repeat all day if you want to. (And let's be real, you are going to want to.)
Image: NBC