21 Stylish & Sporty Wide Width Shoes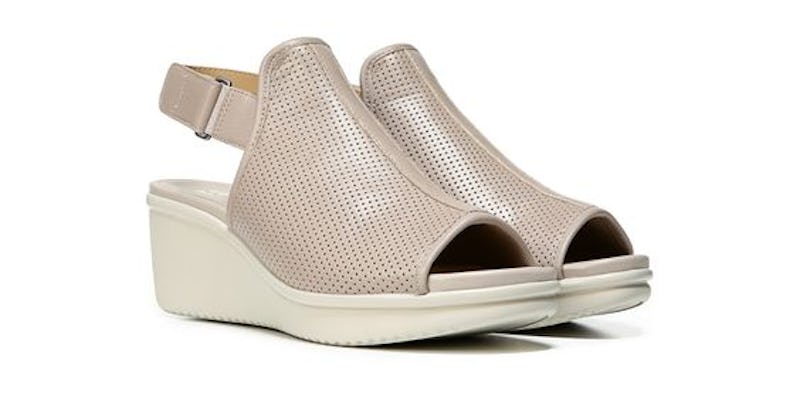 There are few things better than a pair of cute, comfortable shoes. Sporty wide width footwear like sneakers or slip-ons is my favorite way to keep my outfits on-trend while still making sure my feet stay happy all day long. If, like me, you have a hard time finding shoes that look good while giving wide feet a little extra wiggle room, you might find that sport-inspired styles are the solution you've been looking for.
With the rise of athleisure in the past several years, athletic casual-wear has gone from the gym to the streets, and it looks like this trend is here to stay. I, for one, am a big fan of a sporty chic look; it's a great opportunity to mix high and low, dressy and casual, for a unique look that still feels super comfortable and easy.
For years, I tried to convince myself that high heels weren't that uncomfortable, thinking that my only other options were overly sweet ballet flats or dumpy, "comfort-fit" kicks. When I discovered sporty minimalism, it was a huge relief, both to my feet and my attitude.
While sporty shoe styles are a little more forgiving for wider feet in general, there are also a few brands that make your favorite athletic-inspired silhouettes specifically in wide widths. So, if you're looking to keep your hard-working feet cool and content, check out these super cute styles that will seriously upgrade any casual outfit.
1. Snake-Embossed Sneakers
Nimbus Sneakers, Sizes 6W - 11W, $195, Ted & Muffy
Clean simplicity with a touch of edge, these sneakers from Ted & Muffy have it all. Snake embossed leather and a pointed toe combine in an athletic look that doesn't skimp on the chic.
2. Perforated Platforms
Ardel Wedge Sandals, Sizes 7W - 10W, $89, Naturalizer
Stay cool this summer with a perforated leather sandal in a soft, stone shade. An adjustable ankle strap and walkable wedge heel are just a few of the comfort-loving details this design offers that will keep even the most sensitive feet happy.
3. Polka-Dot Flats
Black Spot-Print Pump, Sizes 6W - 12W, $35, Evans
Go for some low-key quirky cuteness in the form of these black, tie-front polka dot flats. Wear them with boyfriend jeans and a fun, patterned top for an easy, playful look that doesn't take itself too seriously.
4. Shiny Slides
Criss-Cross Platform Slide Sandal, Sizes 7W - 12W, $49.95, Lane Bryant
It doesn't get much easier than a pair of slip-on-and-go slides. A bright white platform sole and metallic silver straps will make sure you look put-together, even on your laziest days.
5. Camouflage High-Tops
Enice Sneakers, Sizes 6W - 11W, $99.99, Woman Within
Try a new trend with these camo-patterned, high-top sneakers. A low, two-tone wedge will give you just a touch of height when you want it.
6. Floral Trainers
Air Zoom Pegasus, Sizes 5W - 12W, $150, Nike
For high-performance kicks you can take to the gym and beyond, these floral patterned running shoes from Nike can give you the best of both style and function. If florals aren't your style, they're also customizable in several different prints and colors.
7. Metallic Sport Sandals
Silver Adjustable Comfort Sandal, Sizes 6W - 12W, $59.50, Evans
Channel effortless normcore with these adjustable-width sport sandals in an understated pewter-toned metallic. A padded footbed and velcro straps make these the functional basics you can wear happily all day long.
8. Animal-Printed Slip-Ons
Fenrir Trainers, Sizes 6W - 11W, $195, Ted & Muffy
This sporty standard is upgraded with a whimsical wolf's head printed on the toe. Metallic leather in a silvery, two-tone palette will keep your casual outfits distinctively eye-catching.
9. Athletic Oxfords
Zerogrand Wing Oxford, 5W - 12W, $200, Cole Haan
Mix it up with a pair of sporty flats that are 50 percent Oxford, 50 percent sneaker, and 100 percent fun. Black suede with laser-cut brogueing and white rubber soles will give you the perfect eclectic tomboy look.
10. Tropical Flower Flats
Champion Laceless, 5W - 10W, $55, Keds
These bright and cheerful Keds sneakers will offer a little extra spring in your step. The slip-on style couldn't be easier.
For more inclusive style and inspiration, check out the podcast below, and be sure to subscribe to The BodCast for more body positivity.
11. Pink-Piped Flats
Kail Snake-Print Slip-Ons, Sizes 7W - 11W, $69, Naturalizer
These luxe-looking casual slip-ons have just the right cool, feminine touches for an understatedly sophisticated take on the athleisure look. Metallic snake-print leather and dusty pink piping take a simple shape and make it shine.
12. Ankle-Strap Platforms
Stallion Flatform Sandals, Sizes 6W - 11W, $145, Ted & Muffy
These cute, chunky sandals are hard to resist. Soft leather and a thick, platform sole will keep you feeling as good as you look.
13. Colorful Kicks
New Balance Minimus Running Shoe, Sizes 5W - 12W, $114.95, Zappos
Make your athletic outfits stand out with these purple and coral running shoes from New Balance. Breathable mesh uppers and a flexible Vibram sole give you a barefoot feel you won't want to take off.
14. White Leather Lace-Ups
Champion Original Leather, Sizes 5W - 13W, $50, Keds
It doesn't get much more clean and classic than a fresh pair of white Champions. This feel-good, genuine leather style goes up to a size 13W, so you can enjoy great style no matter your shoe size.
15. Simple Slides
Adidas Duramo Flip-Flops, Sizes 6W - 11W, $26.49, Simply Be
Kick back in a classic warm-weather style that's at home just about anywhere. Whether you love lounging by the pool or catching an early morning yoga class in the park, these easy slides will get you there.
16. Pink Knit Sneakers
Lace-Up Sneaker, Sizes 7W - 12W, $49.95, Lane Bryant
Keep it light and easy in these simple, hot pink sneakers. The lightweight foam sole and stretchy knit design are so comfortable, you might even forget you have them on.
17. Lace Slip-Ons
Black Lace Skaters, Sizes 6W - 12W, $39.50, Evans
Add just a touch of femininity to an otherwise no-frills skater style with pretty black lace. You may never wear heels again.
18. Soft-Soled Booties
Shadow Booties, Sizes 6W - 11W, $140, Ted & Muffy
You'll feel ready for anything in these pull-on, soft-soled booties in rich, ink-blue suede. Light yet sturdy, these simple staples will take you anywhere you want to go.
19. Black Elastic-Strap Sandal
Violet Sandal, Sizes 7W - 12WW, $74.99, Woman Within
The epitome of athletic-inspired simplicity, these black and white sandals will go with just about any outfit. From cropped culottes, to breezy maxi dresses, to wide-legged jeans, all your favorite summer pieces will work well with these sporty essentials.
20. Floral Lace Sneaker
Sole Diva Lace Sneaker, Sizes 6W - 10W, $44.95, Simply Be
You don't have to be a minimalist to try out a sporty look. These sky blue lace sneakers are a romatic take on athletic footwear that's perfect for a more feminine style.
21. White-Soled Loafers
Navy Sporty Loafer, Sizes 6W - 12W, $49.50, Evans
Freshen up a traditional flat with a sporty white sole. These loafers are a great way to bring a little casual cool to the office.
Whether you've always loved athletic style, or you're just dipping your toe into the athleisure trend, these sporty wide width shoes will give you the comfort you need, and a fresh look that you'll love. No matter what your day might bring, these fun, active designs will make looking good feel easy.
Images: Courtesy Brands