8 Comfortable Shoe Brands That Are SO Chic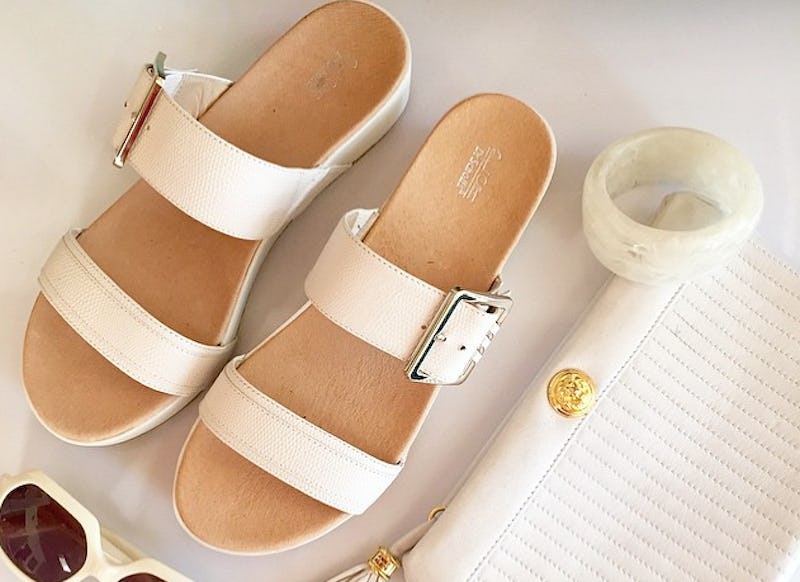 You probably already knew that normcore sandals and sneakers were in, but what you probably didn't know is that your shoe inspiration can come from the most unlikely places. It's easy to stick to the brands you know best, like Nike or ASOS, but I'm here to tell you that there are some surprising contenders out on the market, like Crocs or Dr. Scholl's. You're probably cringing right now, reminiscing about how your grandparents wear the same type of shoes to your Florida vacation every year, but hear me out.
Not only do these brands make some chic styles, but they're also insanely supporitve. Summer is the time when we walk around the most (duh), and it's definitely not the time to experiment with those adorable but painfully strappy heels that give you blisters within a block radius. Whenever you're ready to embrace the normcore/athleisure lifestyle, I promise you will not regret it. My feet have never been happier, and consequently, I have never been happier. You never realize how miserable carrying around a pack of Band-Aids and extra commuter flip flops in your bag makes you.
These shoes are comfy enough that you won't have to do that awkward chicken dance outside the subway to change into ballet flats, and they're stylish enough that your coworkers won't give you side-eye. Sure, your mom might not understand the trend (mine doesn't – the fact that Birkenstocks are trending again really confuses her), but in this millenial generation, we're definitely more Eva Chen (the ultimate normcore queen) and less Paris Hilton.
Now, before you go and imagine the traditionally horrifying "I just came from the chirapractor's look," take a gander at some of my picks below. Trust in the comfort and you'll never look back.
Silver Two Strap Sandals, $98, Dr Scholls Shoes; White Cross-Over Sandals, $88, Dr Scholls Shoes
Teva x Nasty Gal Sandals, $90, Teva; White Flatform Sandals, $29, Amazon
Black Print Sneakers, $100, New Balance; Solid White leather Sneakers, $135, The Walking Company
Silver Strap Sandals, $95, Amazon; Black Patent Leather Sandals, $135, Amazon
Kate Spade x Keds Red Print Slip-Ons, $85, Keds; Kate Spade x Keds Black Polka Dot Sneakers, $75, Keds; Grey Slip-Ons, $50, Keds
6. Ugg Australia
Black Leather High Tops, $120, A mazon ; Black Quilted Sneakers, $110, Ugg Australia
7. Hunter Boots
Black High Heeled Booties, $160, Hunter Boots; Black Slide On Sandals, $54, Hunter Boots
8. Crocs
Camo Print Espadrillas, $25, Crocs
Images: Instagram/madisonfraser (1); Courtesy Brands (16)