When To Get Married, According To Your Zodiac Sign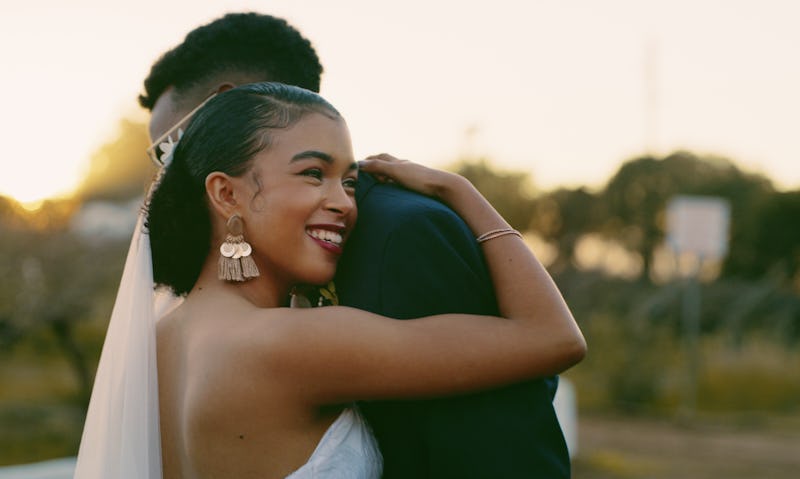 Delmaine Donson/E+/Getty Images
You and your partner are ready to take the plunge and live forever in matrimonial bliss; this, you're sure of. But do you know when you should get married according to your zodiac sign? If you often look to the stars for a little guidance, or just for some astrological entertainment, then considering particular seasons, months, or days to tie the proverbial knot may be right up your alley. If you are on the fence about a particular date, it might be worth checking in to see what the universe thinks about your plans.
With so many new questions coming at you about which venue to choose, how many guests to invite, and whether to let Uncle Ralph lead the champagne toast when you know he always causes a scene, it can be relaxing to know you have got a little help in the decision-making department when it comes to saving the date. You may think you don't care when the wedding is now, but remember, wedding dates decide your anniversary, so you had better like it enough to get excited for it every year.
Check out what the stars say about when you should get married, according to your zodiac sign.
Aquarius
The Aquarius woman is as wild as the wind, and she can't be bottled up. As a bride, the Aquarius is best suited to a setting and climate that fills her desire to buck the norms. A spring wedding would appeal to the Aquarius bride's love of all things airy and bright. Decor reflective of the Aquarian's affinity for shades of lavender and blue could make an appearance, with plenty of cherry blossoms to float through the air.
Pisces
As the consummate dreamer of the zodiac, Piscean babes need a wedding date reflective of their romantic nature. Getting married during a full moon would be ideal for this mysterious and sensual mermaid. An outdoor venue to take in the stars and moonlight is all the setting this bride needs to feel the full intoxication of the evening. That and tons of champagne.
Aries
Aries, the ram. This girl is impulsive and craves adventure. The only thing she wants to plan on for her wedding is having no plan. Of all the days on the calendar, the Aries bride and her partner like the one you can't predict the best, which makes a random, romantic escape and elopement ideal for this adventure seeker. The biggest rush to this girl may be waking up one morning and slyly suggesting that today be their special day.
Taurus
Sensual and earthy, the Taurus woman should enjoy a wedding day that is all about connecting with the elements. A date on or near the autumnal equinox in September would be appropriate for this practical beauty. With fall foliage in full effect, Taurus will enjoy feeling close to the earth on her special day.
Gemini
The Gemini woman's desire to keep everyone guessing means that a surprising wedding date would be her ideal. Maybe a wedding on Halloween would be just crazy enough to give this quirky personality the opportunity to indulge in her creative side, and encourage her guests to do the same. With a reputation for always having two sides to her personality, Oct. 31 could be just the date she's looking for to play both roles.
Cancer
As a natural nester, the Cancerian bride will likely want to be surrounded by her closest family and friends on her special day. This makes a summer wedding an ideal scenario for Cancer, since it's likely her guests will have enough free time to relax, unwind, and enjoy the celebration. If it's a destination wedding this Cancer girl is planning, guests are more likely to be able to attend with vacation time from work or school.
Leo
The Leo lady has a flair for the dramatic, and loves to make an impression. What better way to start a marriage than with a bang? Leo brides would love the excitement and celebration that comes with a New Year's Eve wedding. Loads of sparklers, fireworks, and of course, one giant countdown to the big moment.
Virgo
Practical and precise Virgo would benefit from a well-planned affair. Critical, but kindhearted and ever the perfectionist, nuptials between a Virgo woman and her partner will be organized very far in advance of the event, which makes almost any date a great date for this wedding. An off-season date in months like January or March would appeal to Virgo's practical side, because they're a great way to cut down on venue costs.
Libra
Fashion, elegance, and good taste are all noticeable traits of the Libra girl, so a wedding for her and her partner will doubtless reflect the same. Because she'll not want to be behind on this season's dress trends, it makes the most sense for Libra to pick a date after, say, spring designs emerge? This bride would love to throw a fete complete with the latest trends for wedding decor and music, too. She'd be best to check out dates in June or July when the DJ will be ready to spin the newest summer mix, and her gown is fresh off the runway.
Scorpio
This bride is not afraid to go on a spending spree, so the dates for her wedding are likely to be those the venue considers competitive, thus, more expensive. She'll want to splurge on a party that rivals a Gatsby affair, so planning in advance for such a huge event is a must. Many brides avoid the month of September because it is the peak of the season and everything is more expensive because of that, but if Scorpio doesn't mind a splurge, it's a great bet for her and her partner.
Sagittarius
Yes, the straight-talking, adventure-seeking Sag woman is going to have very particular ideas about when she wants to tie the knot. These ladies tend to have the answers most of the time, or at least feel like they do, so the ideal wedding date for her is whatever date she has the strongest gut reaction to. That said, this focused sign may benefit from checking out the more complicated aspects of choosing a wedding date with astrology, which correlate to particular events according to the year.
Capricorn
Capricorn women tend to be insecure when at their worst, so it will be important for this sign to check in with their VIP guests to make sure whatever date she's thinking of is good for them. The last thing this girl needs is to be stressing that she chose a wedding date that isn't going to work for her bridesmaids. Instead of blindly pointing to a day on the calendar six months from now, the Capricorn bride should hold a conference call with her besties and throw some ideas out there. Together, they will come up with the perfect day for this nurturing and amazing bride-to-be.
Images: Delmaine Donson/E+/Getty Images; Giphy.com (12)