Wilmer Valderrama Nails This BSB Classic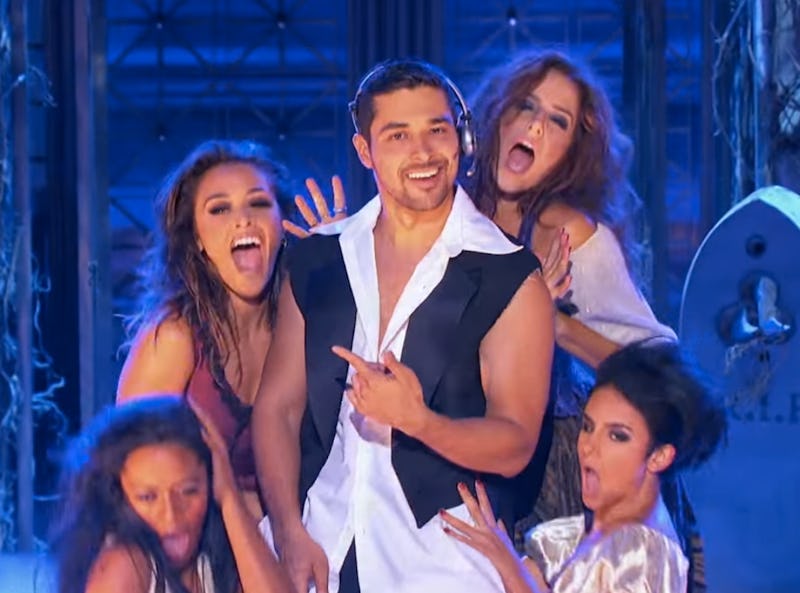 Demi Lovato sure knows how to pick 'em. In an upcoming episode of Spike TV's Lip Sync Battle, actor Wilmer Valderrama goes up against Jane The Virgin's Gina Rodriguez — and he's taking on the 1998 Backstreet Boys hit song, "Everybody (Backstreet's Back)." And, in just the preview of the episode alone, it's clear that Valderrama's cover of the Backstreet Boys — if cover is the right word for lip syncing — is everything. He not only channels the Halloween theme from the band's original music video, but he also wears the classic ripped suit look, and rocks some serious boy band-inspired moves. Basically, Valderrama is the honorary Backstreet Boys member we have been missing.
However, he actually isn't the first person to perform one of the Backstreet Boys' classic hits on Lip Sync Battle. In fact, Backstreet Boys members themselves assisted in Gigi Hadid's Lip Sync Battle performance to the song "Larger Than Life" during her performance this past February when the Victoria's Secret model had both Nick Carter and A.J. McLean join her on stage. But Valderrama doesn't need any outside help. He's got this. And it seems like Gina Rodriguez's audience reaction alone proves that he may as well be in the band.
It's hard to ignore the sudden intense levels of nostalgia at play. Not only is Valderrama's performance one to take note of for boy band fans everywhere, but it's also really similar to the song's initial video. Similarities between the two include the outfits the back-up dancers are wearing, horror-themed tombstones, and identical choreography from the chorus of the song. In fact, if you watch the original music video from the 4:50 mark to the five minute mark, you'll notice that the identical dance moves from the clip mark of 22 seconds through the 28 second mark. Sure Valderrama only dances in the beginning of the choreography moment, but he still doesn't fail to dominate the stage.
Considering that what we've seen so far is nothing more than a simple preview, it's hard to fully judge how he does at this point. I'm expecting a whole lot more from the full clip. I've even got my fingers crossed for mummies, a Phantom Of The Opera mask, and maybe even some costume changes in honor of each of the boys. But, even if he doesn't make his performance exactly like the "Everybody (Backstreet's Back)" music video, what we do have is close enough to give fans all of the feels. Let's just embrace the original music video for a minute.
Oh, the '90s. If only we could go back in time. In the meantime, Valderrama's episode of Lip Sync Battle against Gina Rodriguez is as close to a time machine as we're going to get.
Images: LipSyncBattleOnSpike/YouTube