17 Maddie Ziegler Dances You Have To See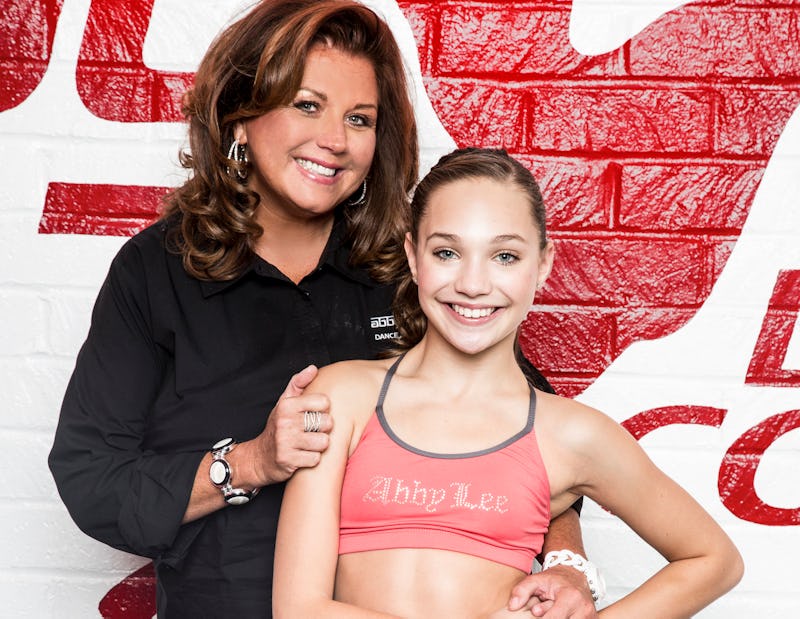 Dance powerhouse Maddie Ziegler officially left Dance Moms during the May 3 episode, "One Last Dance." Despite all of the mom drama that her exit caused, could Maddie return to Dance Moms in Season 6B? She has an outrageously busy schedule coming up as she's going to focus on her acting career, but just because she won't be regularly competing on Dance Moms anymore doesn't necessarily mean you should completely rule out her visiting her fellow Abby Lee Dance Company (ALDC) dancers at the studio or teaching a master class come the summer premiere.
During the "ALDC Does Vegas" Dance Moms episode, Maddie made it clear that while she's working on her movie career, she's not going to abandon the ALDC. "Of course, not to be rude, but am I gonna choose a movie or a competition? Obviously I'm going to choose a movie," Maddie said to her mom, Melissa, in the car. "But my team is always what I'm gonna go back to. I mean, they're my best friends and I love dancing with them."
Her teacher and choreographer on Dance Moms, Abby Lee Miller, even hinted at the prospect of working with Maddie again in "Dance Moms After Party Live!" — a YouTube live video chat — on May 3, although it wasn't clear if it would be on Dance Moms or not. Abby talked about what a difficult decision it was for Maddie to leave the show, but based on the young dancer's busy work schedule, Abby believed she made the right choice since Maddie pursuing acting will conflict with the filming of Dance Moms.
Yet, Abby also said during that YouTube chat:
And hopefully, wink wink, Maddie and I will work together again. She's still at my studio. That's never going to change. But, hopefully we're going to be working on another project that you might just see on your television screen or even your computer screen in the future. Keep your fingers crossed. I am ... positive.
But, if Maddie isn't able to make it back to the show any time soon, my best consolation for you is to watch 17 of Maddie's best solo dances from the show that made her a star. While I can't guarantee any Season 6b or Season 7 Dance Moms cameos from Maddie, I can guarantee these dances will remind you why Maddie was Abby's favorite all of these years.
1. "Cry" — Season 1, Episode 2
Maddie showed her super star power right when Dance Moms started with this dance that led to her mom calling her a "little angel."
2. "A Cappella" — Season 1, Episode 4
As Maddie becomes more famous, she has been doing less tap dances since lyrical dances highlight her acting skills more. Yet this tap dance not only had Abby saying Maddie's taps were "clear as a bell," but it was featured in the May 3 Dance Moms episode as one of Maddie's first — and best — solos.
3. "Manhattan" — Season 1, Episode 11
Look at the wide array of emotions the young Maddie expresses ... not to mention her amazing turns.
4. "I Can't Find the Words" — Season 2, Episode 20
Each year, Maddie becomes a more polished dancer and a better actor, as she proved in this Season 2 lyrical piece.
5. "Sugar & Spice" — Season 3, Episode 4
It's not technically a solo, but this Season 3 duet with her BFF gave Maddie the chance to stand out as the sugar to Kendall's spice.
6. "Amazing Grace" — Season 3, Episode 37
She had a couple little flubs in this dance, but overall, it's one of her most gorgeous dances that showed off her feet, extension, and control.
7. "Ballerina" — Season 4, Episode 5
How appropriate is it that Maddie will be working on a movie called Ballerina now that she has left Dance Moms?
8. "Timeless" — Season 4, Episode 10
In this slightly subdued dance, it's clear why Sia decided to recruit Maddie.
9. "The Game of Love" — Season 4, Episode 12
Maddie's charisma was highlighted in this classic and dynamic tap dance — she's like a mini Gene Kelly (the highest compliment I could possibly give.)
10. "Come to the Cabaret" — Season 4, Episode 15
Maddie continued to have charisma in spades in this Cabaret-inspired piece.
11. "She's History" — Season 5, Episode 4
Maddie's serious and dramatic side — and her crazy turning skills — were on display in this Season 5 dance.
12. "All God's Creatures" — Season 5, Episode 5
This Maddie dance is so memorable, it even caused a feud in Season 6 when new ALDC dancer Brynn danced a similarly-themed number.
13. "Vertigo" — Season 5, Episode 10
Maddie kept her control in this frenetic dance, perfectly channeling the title of the dance, "Vertigo."
14. "The Mannequin" — Season 5, Episode 11
Maddie put the avant-garde skills she picked up from Sia to good use in this Season 5 doll/mannequin dance.
15. "Bond Girl" — Season 6, Episode 4
"Bond Girl" marked a new level of dance maturity for Maddie in her final season on the show. Someone please cast this girl in a Bob Fosse-choreographed musical!
16. "Lizzie Borden" — Season 6, Episode 10
Maddie may have been slinky in "Bond Girl," but she nailed creepy in "Lizzie Borden" — showing off her wide range of performance skills, not to mention dance technique.
17. "The Hostage" — Season 6, Episode 18
Her last competition solo on Dance Moms was appropriately an emotional and powerful one with one of the judges calling it "flawless."
Maddie has performed hundreds of dances with the ALDC over the years — solos and group numbers. And, though she's looking to become an actor, Dance Moms will always be a part of her career and a dance talent like hers isn't going away anytime soon.
Image: Zach Dilgard/Lifetime