This 'Voice' Star Has A Talented GF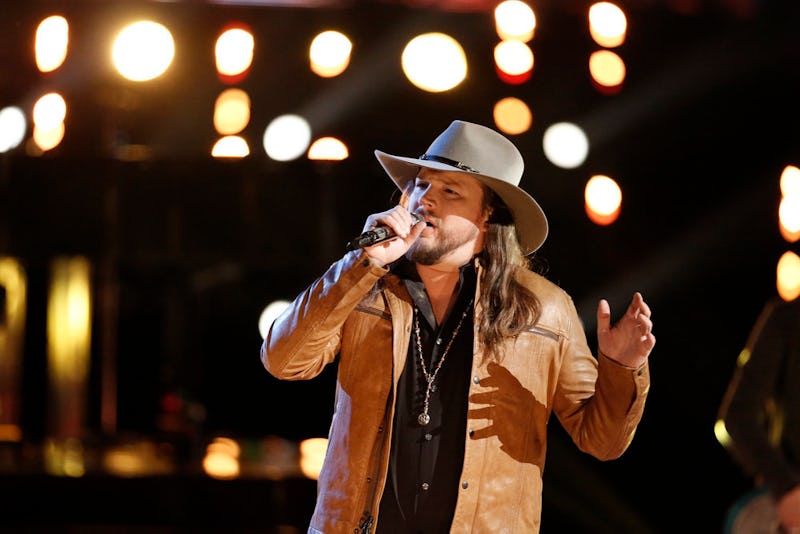 The Voice introduces all of America to a select group of talented performers, and in showcasing their voices also tells the stories of these individuals and The Voice contestant Adam Wakefield's story, is no different: He's a young man from Nashville who has a penchant for country music and a big heart. And while he may be the series' latest country heartthrob, it doesn't seem like he is looking to get involved with anyone new anytime soon, as he's deeply in love. That's right, folks: The Voice's Adam Wakefield has a girlfriend: fellow talented musician, Jenny Leigh.
Jenny Leigh is an accomplished country musician in her own right, and has even made appearances on reality singing competition shows before her boyfriend ever did. Leigh's singing career might be nationally known yet, but she's got the talent, the drive, and a partner by her side that could help her go all the way. Leigh and Wakefield's one-two power punch of country music could make them the power-couple of country music — I'm talking about the Jay-Z and Beyoncé of Nashville. OK, that may be a little farfetched, but it's not that outlandish. And just in case you're doubting me, here are some of Jenny Leigh's best vocal performances as proof, and to, you know, to give fans something to look forward to if her career continues to grow:
"This Time"
"This Time," off of Jenny Leigh's 2013 Tipping Point EP, was co-written by Wakefield and follows the traits of many country love ballads that have come before. Mournful lyrics, soft acoustic guitar, and a gentle vocal performance make "This Time" one of Leigh's most heartfelt performances. The video even features cameo appearances from Wakefield at the end.
"Swingin' Door"
This performance, a cover of the song "Swingin' Door" by Eden's Edge, showcases just how great Leigh and Wakefield are when they're working together. They're two independently talented people who are even better together — which is the hallmark of a great creative relationship.
"Boots Off"
"Boots Off" is a fun and frisky track about... well, the things that happen when you and someone else share "one jar of shine and two like-minds." Leigh proves that she can tackle a fun pop-country number just as well as she can perform a traditional ballad.
"Crossroads"
One of Leigh's earliest songs, and her most popular music videos on Youtube, "Crossroads" is a song all about making decisions and following your heart. It also features the best fiddle solo you're likely to hear all day.
"Gunpowder & Lead"
Leigh's cover of Miranda Lambert's "Gunpowder & Lead" shows how much power and ferocity Leigh can bring to a song. She's a strong singer, but is possibly an even stronger performer as she proves in the performance as she commands the stage and makes the song her own.
"Yesterday"
How's this for not giving up on your dreams — this video of Leigh and Wakefield rehearsing for The Voice was uploaded in 2012, and it wasn't until 2016 that Wakefield appeared on the television show. It was a long, multi-year process but this talented couple is finally getting their time in the spotlight, and people are taking notice.
Leigh may not be enjoying the same fame her boyfriend is at this moment, but it seems that for these two, a rising tide lifts all boats. Their mutual love for each other comes through in their music, and makes these two the absolute definition of #relationshipgoals. Get ready for this power couple to take the country music world by storm.
Image: Tyler Golden/NBC