Wakefield's Top 10 Performance Was A Sweet Tribute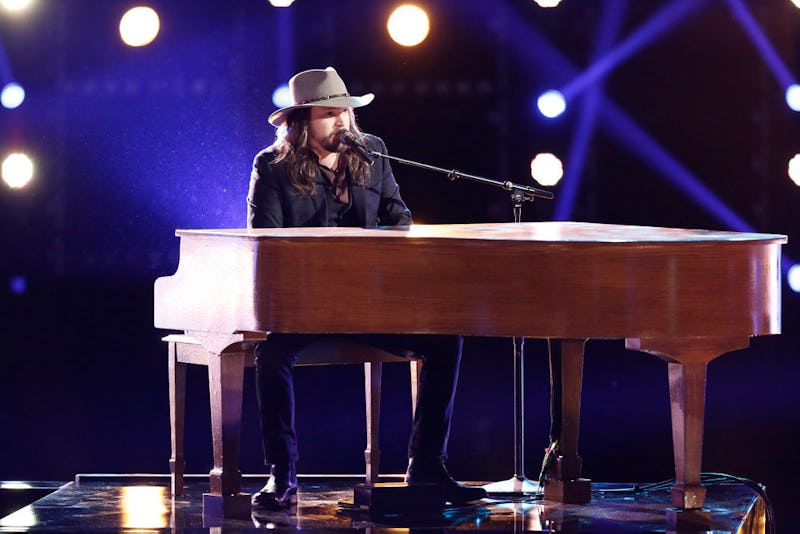 Adam Wakefield is tearing up The Voice competition and tonight he's thanking his girlfriend, Jenny, for his success. The country rocker performed a special tribute to his girlfriend on tonight's The Voice Top 10 and it was just about the sweetest thing I've seen all season. Wakefield honored Jenny with Ray Charles' "I Got A Woman" and it was even better than I ever could've imagined. Seriously, this guy is good and his performance tonight proved why he deserves to be here. Wakefield continues to impress by showing off new sides of his talent and it could just be that type of innovation and dedication that earns him a spot in the finale.
Wakefield's performance immediately won me over when he announced that it was a tribute to his girlfriend, but it was the vocals that solidified it as an amazing performance. The meaning behind the song clearly fueled his passion in the lyrics and took the performance to a whole new level. Wakefield's passion mixed with his powerful vocals quickly elevated his Top 10 performance to the best of the night.
There's no denying that Wakefield is one-of-a-kind in this competition, and that's what will help him make it through to the end. On top of being incredibly cool, his country rock vibes are totally unique. Though this seems like such a niche genre to categorize himself into, his voice is surprisingly versatile and ready for any challenge. While I don't see him taking on a Beyonce song anytime soon, Wakefield certainly has a slew of songs to choose from when it comes to delivering a mic-drop-worthy performance. This versatility has helped him win over a large fan base and will contribute to his success in this competition for weeks to come.
Image: Tyler Golden/NBC