What's Going On With Piper In 'OITNB'?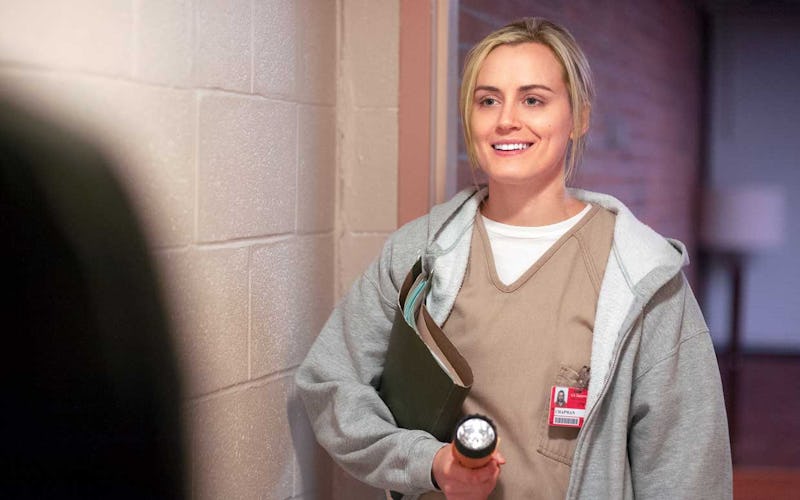 Piper Chapman is definitely in over her head. In a new longer, still very much mysterious Orange Is The New Black Season 4 trailer, Piper is at odds with, well, what seems to be everyone currently holed up at Litchfield Penitentiary. Because of this, Piper is expressing some concern about her current situation at the prison, which is in a state of overcrowding after being converted to a private instead of a state-run facility. "I've been in Litchfield for awhile now," Piper says. "And I have started to feel unsafe." Cue the shots of Piper looking very uncomfortable around her fellow inmates and Maria Ruiz getting in her face in the yard to let her know, "I am going to bury you." Basically, Piper has managed to find herself in a situation where she doesn't only have to worry about surviving prison, but about surviving period. So, how did Piper, who originally planned to keep her head down and serve her 15-month sentence as the perfect inmate, get to where she is now?
Piper has always had a knack for rubbing people the wrong way. From the minute she stepped foot into Litchfield with her blonde hair and better-than-thou attitude, she was a target — and an easy one. She managed to insult Red, leading the then-head cook at the cafeteria to refuse to feed her. She got on Tiffany "Pennsatucky" Doggett's bad side by disrespecting her religious views and nearly kills her. These moments, one could say, are out of Piper's hands, that she was the victim. That her lack of prison skills got her mixed up in things she knew nothing about. But in Season 2 and 3 we got to see the darker side of Piper's personality.
She'll do anything to get her way. She'll rat out her on-and-off lover Alex Vause, revealing her parole violation, which gets her thrown back in jail. She'll begin a dirty panty crime ring under the guise that she's helping her prison mates, when really she's pocketing the money herself and leaving them with extra ramen noodle flavor packets. After she catches Stella stealing from her, she plants contraband in Stella's bunk that sends her to maximum security prison.
Viewers quickly learn that the prison life may be a little much for Piper, in the sense that she likes it a little too much. She brags about being a thug because of her business, but, in the end, it leaves her vulnerable to these other women, all of whom have grievances with her and Piper with nowhere to hide. So, when Piper says in this new trailer, "I think I pissed off the prison," and we see her looking scared as she then reveals, "I didn't mean for it to get this bad," it's not easy to know exactly what she means. But it's clear things couldn't be worse.
Last year, Vulture dared to ask the question, "Is Piper Chapman Actually The Worst?" answering with a resounding "yes." "Piper never learns," Vulture wrote. "She's been the worst from the beginning because she has always thought about herself, with little regard for anyone else. Not to mention she has a tenuous relationship with the inmates who were assisting with her business, who have unionized in an attempt to get paid."
It's true, the women who were helping Piper with her business have no reason not to go after her. And the photo below, which Netflix released as a teaser for the new season, seems to make it clear there will be retaliation and there will possible be blood.
Jenji Kohan has always made it clear that Piper was on a journey, even telling reporters at this year's Television Critics Association (TCA) press tour, "I think Piper is definitely on a journey and we work the vicissitudes of likability." This may also mean that Kohan does think Piper has to learn from her mistakes. Piper's pissed off a whole lot of people in her short time at the prison and without anyone to protect her, they will get their revenge.
So, does this trailer set up Piper's major downfall in Season 4? It may depend on what "downfall" means in prison. Piper could pay physically for the sins she's committed against her inmates, who have more experience in this world than she ever will. She could have to try and reconcile who she's become as she waits out her sentence. She may just fade away, leave the prison as the person she's become, learning very little from her experience.
It's something Kohan seemed to hint at during the TCAs. "This was always intended as an ensemble show," Kohan said. "Piper was our entrée to our world. She's always a presence and we're invested in her story, but as it grows, we're invested in everyone's story." Perhaps Piper's downfall is that she was never the star of this show. We were never meant to see her succeed outside of these prison walls; she was always just another casualty of the prison industrial complex.
Image: JoJo Whilden/Netflix (2); Giphy