Schmidt & Cece Finally Tied The Knot On 'New Girl'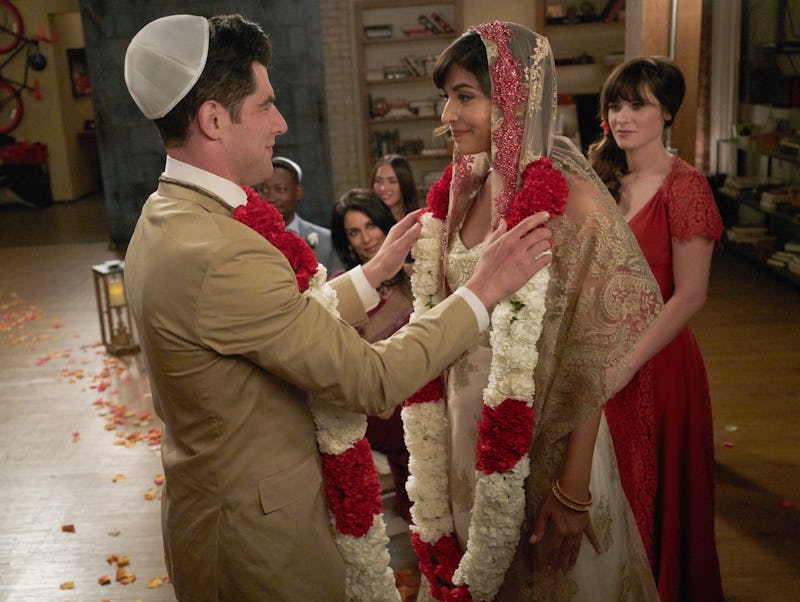 It only took five seasons of back and forth hijinks, but Schmidt and Cece are now officially married on New Girl . During Tuesday night's New Girl Season 5 finale, viewers witnessed as this dynamic duo made the best out of every situation, starting with the fact that Schmidt completely missed the entire reception due to the fact that he was trapped on an airport runway. (Thanks, Cece's mom!) But thanks tot he power of LTE, he was able to FaceTime the gang for most of the event, which proved to be all sorts of adorable. And when he finally did manage to get home later that evening, the ceremony was there waiting for him.
I've always loved Schmidt and Cece's relationship together, but it's this season in particular where their love has truly become the stuff of fairytales. There is no doubt in my mind that these two crazy kids are going to be able to make it work and watching them exchange their vows in front of their family and friends only solidified that fact. Was it the ideal wedding they had planned? No, but they still managed to make it a magical day that focused more on how much they love each other rather than experiencing the perfect wedding.
It'll be interesting to see where their storyline goes from here now that they've managed to successfully tie the knot. Could we eventually see a Schmidt baby at some point down the line? Will they move out and get their own place or remain in the loft? All of things are currently up in the air, but I know that no matter what happens, they'll be able to face whatever comes their way. Congrats to the happy couple! You both more than deserve it. (I'm not crying. I just have something in my eye.)
Image: Adam Taylor/FOX