Melissa McCarthy Is Back On The 'GG' Set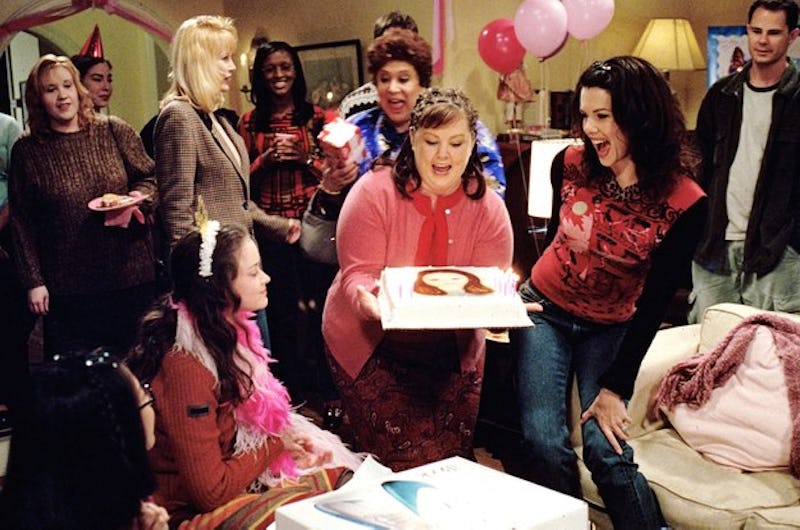 The best reunion is currently happening on the Gilmore Girls revival set — Melissa McCarthy is back in Stars Hollow! On Tuesday, May 10, Yanic Truesdale, the actor who plays Dragonfly Inn Front Desk Manager Michel, tweeted that he was spending the day working with McCarthy, meaning that her official return as Sookie is finally happening. Hearing the news that Sookie is on set totally turned my day around, because after all of this back and forth about whether or not McCarthy would return to the revival, I'm so glad she's officially back. The fact that she's also working with her old Dragonfly Inn cohorts, apparently, just feels like icing on the cake.
My relief and sudden swell of feelings has something to do with the fact that it was touch and go there for some time when it came to whether or not McCarthy would return to Stars Hollow. While fans hoped and prayed that she would make it into the revival, her schedule and some communication issues seemed to be getting in the way of getting her back to the Gilmore Girls set. But earlier this year, she revealed that she was coming back, and on Tuesday, both Truesdale and McCarthy's husband, Ben Falcone, confirmed that the talented actor and comedian was back on the Gilmore Girls set. Falcone even tweeted a word of encouragement to his wife and her Gilmore Girls alter ego:
I couldn't agree with that sentiment more. After nine years away from Stars Hollow and an illustrious acting career, including such hits as Bridesmaids and The Heat, McCarthy is back on the set fans first got to know and love her, and that idea makes me truly giddy. Plus, the tweet from Truesdale gives me major hope that Sookie is still working at the Dragonfly Inn. If she's spending the day on set with Truesdale, I think it's totally possible that in the revival, fans will find her whipping up something magical in that kitchen.
So here's to Sookie being back in Stars Hollow, and for a wonderful, McCarthy-filled Gilmore Girls revival.
Image: Warner Bros. Pictures