Here's Why Boomerang Changed Its Logo Today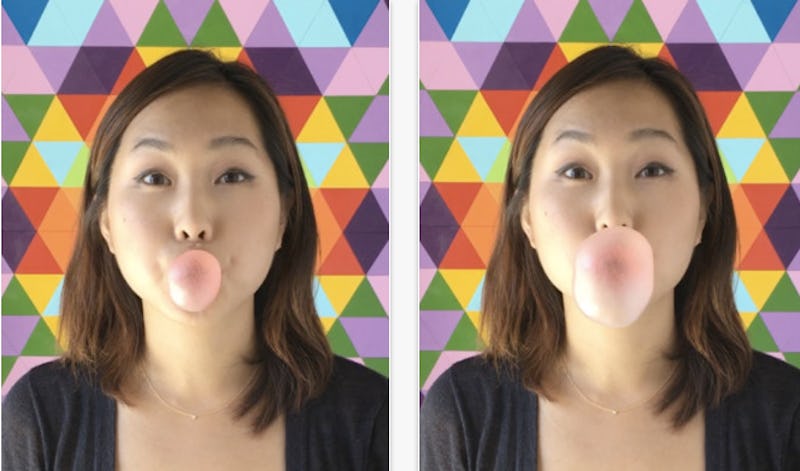 Today a lot of us were so distracted by the new Instagram logo and all of the Instagram update design changes that it might have escaped a lot of people's notice that there is a new Boomerang logo as well. Boomerang, and Instagram app that takes mini videos and plays them in forward and reverse, is known for its quirky image capture and the ease users can upload them into their 'grams. Today it debuted a brand spanking new logo that seems to a be a surprisingly radical shift from the logo they had before.
It turns out, though, that this is all part of the Insta grand plan. In restructuring their design, Instagram also gave their apps Layout, Boomerang, and Hyperlapse brand new looks so that they would all match cohesively. Now when you line them all up on your phone screen, they'll all look like one big happy image sharing family. Instagram took the iconic little rainbow in the left top corner of its original logo and user it as the inspiration for the brand new series of app icons, which all have it incorporated somewhere in their design. You can see the shift the most on the change from the Boomerang app. Here's what it looked like before:
While it already had a rainbow design, it was significantly different from the rainbow on both the old Instagram logo and on the one debuted today. The new Boomerang logo has also been changed from an arrow to an infinity sign, which is a lot more representative of what the app does to images. You can see it here among Instagram's whole lineup of app's new icons:
Psst, check out our podcast, The Chat Room, for talk about all things internet.
As far as functionality goes, there are no actual changes to how Boomerang works or how users will be able to upload their images to Instagram or any other platform. Users will notice in Instagram today that the design has changed to a more sleek and minimalist interface that is mostly black and white, but that too won't affect the way people use and interact with the app, which has otherwise remained the same.
Images: Instagram